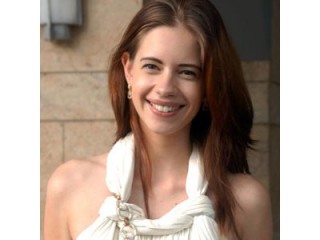 Kalki Koechlin
Date of birth : 1983-01-09
Date of death : -
Birthplace : Pondicherry, India
Nationality : Indian
Category : Arts and Entertainment
Last modified : 2011-07-21
Kalki Koechlin is an Indian film actress of French descent who debuted in Anurag Kashyap's critically acclaimed 2009 Hindi film Dev.D. She played the character of Chandramukhi in Dev.D, which is a modern take on Sarat Chandra Chattopadhyay's Bengali novella Devdas and eventually won the Filmfare Award for Best Supporting Actress for it.

Kalki was born to French parents in a small village in Pondicherry. Her parents had come to India 38 years ago and settled there after they fell in love with the country. Her parents are devotees of Sri Aurobindo.

Koechlin was studying in Ooty when her parents insisted she attend university. Koechlin studied drama and theatre in Goldsmiths, University of London, where she also worked with a theatre company called Theatre of Relativity for two years. She performed in various plays like David Hare's The Blue Room, Marivaux's The Dispute and a devised play The Rise of the Wild Hunt in her two year stint with the theatre group.

Koechlin later decided to move to Mumbai to try her luck in Hindi cinema. She was doing modeling assignments for television commercials before being shortlisted for the role of Chandramukhi (Chanda) in Dev.D. Koechlin can speak Tamil, English and French while she had to learn Hindi to prepare for her role in Dev.D. About her role Koechlin said My character is much younger and there's much more to it than just being a prostitute. When she is not entertaining customers, she dresses up like any other girl in jeans and stuff and leads a normal life. My role in the film has a controversial streak to it, but I still don't know what would have been an ideal role to debut with. I've got the chance to work with a good director in Dev D and I feel I'm lucky enough. Koechlin was apprehensive about how people will judge her after seeing her in the role.

Upon release, her portrayal of the modern Chandramukhi, who goes from an innocent schoolgirl (Leni) to a vivacious prostitute (Chanda) was critically acclaimed saying Kalki shows sparks in the scenes. Hindustan Times said, Enter Chanda, the multilingual call girl who can seduce in Hindi, Tamil, English and French. With her bee-stung lips, unusual face and refreshing lack of acting guile, Kalki Koechlin imbues the part with a touching fragility. For her work in Dev D, she was awarded the Filmfare Award for Best Supporting Actress in 2010.

Koechlin paired with Imran Khan, nephew of Aamir Khan, for a Coca Cola advertisement. The advert was voted the best of the IPL by the TOI Advertisement awards. She will be seen next in Kashyap's That Girl in Yellow Boots and in Ram Gopal Varma's Happy Journey, as well as in Zoya Akhtar's film Zindagi Milegi Na Dobara alongside Abhay Deol, Hrithik Roshan and Katrina Kaif. Kalki also helped her husband Anurag Kashyap to write a 2011 film That Girl in Yellow Boots.
She married filmmaker Anurag Kashyap on April 30, 2011. The two have been dating each other since the release of Dev.D. Following Dev.D., the two associated in That Girl in Yellow Boots again, with Kalki working as a co-writer as well.
She won The Hindu Metro Plus Playwright Award 2009 along with Prashant Prakash for their co-authored entry Skeleton Woman. She had also acted in the play Hair directed by Ajay Krishnan. She won the Filmfare Award for Best Supporting Actress for her performance in her debut film Dev.D.

View the full website biography of Kalki Koechlin.