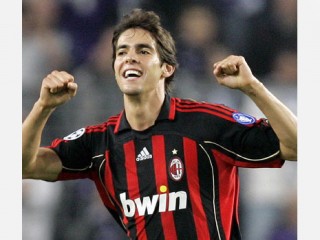 Kaká
Date of birth : 1982-04-22
Date of death : -
Birthplace : Brasília, Brazil
Nationality : Brazilian
Category : Sports
Last modified : 2010-06-15
Ricardo Izecson dos Santos Leite (born 22 April 1982), commonly known as Kaká, is a Brazilian football midfielder who currently plays for Real Madrid C.F. and the Brazilian national team. He started his footballing career at the age of eight, when he began playing for a local club. By then, he also played tennis, and it was not until he moved on to São Paulo FC and signed his first professional contract with the club at the age of fifteen that he chose to focus on football. In 2003 he joined A.C. Milan for a fee of €8.5 million. While at Milan, Kaká won the Ballon d'Or and FIFA World Player of the Year awards in 2007. In addition to his contributions on the pitch, Kaká is known for his humanitarian work. In 2004, by the time of his appointment, he became the youngest ambassador of the United Nations' World Food Programme.

Even though he was born in Brasilia, he moved with his family to Sao Paulo as a kid and started playing soccer there. He made his Sao Paulo debut at the age of 19 and in a short time he showed that he was different. Skillful, relentless and possessing an excellent shot, he scored 30 goals in his first two seasons.. Many big clubs in Europe set their sights on him, but it was AC Milan who claimed him after paying 8 million dollars.

In Italy he became a great player and won many titles with the Rossoneri. He won the Serie A, a UEFA Champions League trophy, a FIFA Club World Championship and earned a series of personal trophies as well. In 2004 he was the Player of the Year in Serie A, but the avalanche of achievements would come in 2007, when he obtained the Golden Ball, the FIFA World Player trophy and the man-of-the-match award in the FIFA Club World Cup.

He also had a great run with the Brazilian national team. He was rarely-used champion in Japan-Korea 2002 and participated in Germany 2006, where his team was eliminated in the quarter-finals.

In 2009 he was came back to the spotlight when Real Madrid decided to put together yet another team of Galacticos, hiring him for the whopping sum of 65 million euros, the third most expensive transfer in history after Cristiano Ronaldo and Zinedine Zidane's.

Strengths: Highly skilful player, a great shot, superb vision for a pass.
Weaknesses: Despite his height, his aerial game is not his best feature.

Career high: Winning the 2007 UEFA Champions League, finishing top scorer with 10 goals.
Career low: A lot was expected from him in the 2006 World Cup, but after a disappointing showing, his team was eliminated in the quarter-finals.

Style: A cerebral player who always thinks in terms of his entire team.

Quotes: "I have no doubts. To me, Kaka is the best player in the world, because he is the most complete player. I see him a notch above Messi and Cristiano Ronaldo," said Pelé.

Trivia: When he was 15, he fractured a vertebra when jumping from a springboard into a pool, and his career was in doubt. But he recovered fully. He attributed his recovery to God's help, and from that moment became an "Athlete of Christ".

Soccernet says: After overcoming a series of injuries that prevented him from playing at his best level during 2008, Kaká recovered to look better than ever. At the age of 27, and as part of a star-studded Real Madrid, he possesses everything to succeed in the competitive Spanish Liga. And if he shows the same level of his last few appearances with the national team in the Confederations Cup and the World Cup qualifiers, he should help Brazil bid for the title in the 2010 World Cup.
View the full website biography of Kaká .