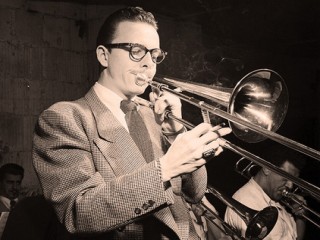 Kai Winding
Date of birth : 1922-05-18
Date of death : 1983-05-06
Birthplace : Aarhus, Denmark
Nationality : Danish
Category : Famous Figures
Last modified : 2012-03-16
Kai Chresten Winding was a popular Danish-born American trombonist and jazz composer. He is well known for a successful collaboration with fellow trombonist J. J. Johnson.

One of the founders of bebop, Danish trombonist Kai Winding, called "Mr. Trombone" and "The Gentleman of Jazz," retained some of the coarse, gritty elements of hard-edged jazz in an era that moved toward the smooth big band sound. An elegant European producing more style than tone, he was a master at choosing the songs that turned gold and platinum. He performed on a 2B model King trombone built for him by Chuck Ward and chose a Giardinelli mouthpiece to suit his playing style. As B. J. Major summed up on the Incredible Kai Winding--His Official Website, "Kai was an 'upstream' player and a form of Type IV in the Pivot System," the technical term for holding the mouthpiece low and blowing air upward.

Kai Chresten Winding was born on May 18, 1922, in Aarhus, Denmark. He and his parents emigrated to the United States in 1934, shortly before Kai discovered the big band jazz phenomenon. The first to experiment with groups of trombones, Winding led the revival of the instrument as a solo sound. In 1940, at age 18, he began playing with Shorty Allen's band and worked for band leader Alvino Rey before entering the Coast Guard at the beginning of World War II. He participated in the Coast Guard Band acting as a morale booster. After the war, Winding settled in New York to soak up modern jazz. He performed with Benny Goodman, then joined pianist Stan Kenton's band as soloist. Such contributions to the trombone section as "Spellbound" and "My Jo-Ann" remained big band staples long after Winding moved on to other opportunities. His Krazy Kats recorded a single, "Loaded"/"Sweet Miss," for Verve in 1946, Winding's debut as soloist and bandleader. The post-war years also matched him with Charlie Ventura in 1947 and Tadd Dameron in 1948 before he teamed with Miles Davis for the session known as Birth of the Cool, a refinement of the jazz aesthetic.

Winding made a lasting impact on jazz after his collaboration with fellow trombonist J. J. Johnson, who balanced his bluesy, melodic lead with a precise pitch that rivaled the tenor saxophone and trumpet. From 1954 to 1956, the two, known as "K. and J. J.," performed together, sometimes on a pair of tromboniums, a hybrid instrument built like a baritone horn to produce a mellow brass sound. They recorded classic works, including Jay & Kai in 1947, Modern Jazz Trombones in 1951, and Nuf Said in 1955, which features two takes of "That's How I Feel about You" and "Yes Sir, That's My Baby." These successes prefaced their full-time teaming and Trombone for Two, 1956, a classic album that juxtaposed "The Whiffenpoof Song" with "Turnabout" and "This Can't Be Love." The pair reached a subsequent height with The Great Kai & J. J. in 1960, backed by Bill Evans on piano. The disc, comprising six numbers arranged by Winding and five by Johnson, features "Trixie," "Going Going Gong!," "I Concentrate on You," and "Just for a Thrill."

Over the course of the seven albums the duo recorded for five companies--Savoy, Bethlehem, Debut, Prestige, and Columbia--Winding provided a unique treatment of the latest hits: strut and swing numbers like "Waitin' for the Robert E. Lee" and cheek-to-cheek dance tunes like "Stars Fell on Alabama," "Georgia on My Mind," "The Days of Wine and Roses," "September Song," and "Someone to Watch Over Me." He had an uncanny sense of the popularity of country greats like "Oh, Lonesome Me" and "Bye Bye Love," show themes like "Oklahoma!," and such movie memorables as "Whistle While You Work" from Walt Disney's Snow White, "The Umbrellas of Cherbourg," "A Man and a Woman," and "Theme from Picnic, "the era's teen heartbreaker. Of the behind-the-scenes job of arrangement, Winding, as quoted on his official website, explained the duo's method: "When we had a session to do we'd divide the arrangement between us.... At the end of that period we decided to go our own way for many reasons but always remained friends."

Critic Les Line, reviewer for Jazz: 52nd Street online, depicted this stage of Winding's development as a period of master craftsmanship, instilled with "an amazing variety of tonal colors and dynamics and with improvised solos neatly integrated into the written parts." From this impetus, the trombone renaissance inspired numerous multi-trombone albums, many for Columbia. In later years, the duo trombonists often reunited, including the duet album for Impulse in 1964, to recapture the sweep, harmony, and alternating lead refined by the string tones of guitarist Billy Bauer.

Winding capitalized on danceable, singable melodies. The four-trombone Kai Winding Septet--comprising Carl Fontana, Wayne Andre, and Dick Lieb on trombone; Roy Frazee on piano; Kenny O'Brien on bass; and Tom Montgomery and Jack Franklin on percussion--thrived for five years on such crowd-pleasing fare as "Frankie and Johnny" and "I Can't Give You Anything but Love." Winding accepted the post of the musical director for Hugh Hefner's Playboy Clubs in 1961 and recorded for Creed Taylor's Verve label, performing arrangements by Claus Ogerman. After two decades in the music business, Winding produced a top ten single, "More" in 1963, the theme from the movie Mondo Cane. For the remainder of the 1960s, he mixed jazz with country, bossa nova, groove, and the Beatles. Two tours featuring Winding, Dizzy Gillespie, and Thelonious Monk billed the trio as the Giants of Jazz. While he briefly signed with A&M Records, in the 1970s Winding found no steady home for his recordings.

In 1977 Winding, along with second wife Ezshwan, departed for Spain and semi-retirement at their villa called El-Kai. During this period, Winding composed many of his 99 original pieces. He dedicated one, "Lady H," to his wife. As his art director, she worked with him on the album covers for Solo, Caravan, and Danish Blue, sketching the cover for the latter. He performed at the Nice Jazz Festival, toured with Lionel Hampton, and jammed with Curtis Fuller and Giant Bones, which reprised his sound from the "Kai and Jay" era. In his last year, Winding reunited one last time with Johnson after a quarter-century apart during a concert at the Yokohama Stadium in Japan.

Winding worked on a set of instructional jazz trombone textbooks, completing two and part of a third before his death on May 6, 1983, in Yonkers, New York, after a five-month hospitalization fighting a brain tumor. Throughout his final days, friend Chuck Mangione insisted that his trombone stay within hand's reach. The Kool Jazz Festival in New York issued a tribute to Winding six weeks after his death. In 1995 an International Trombone Workshop at the University of Nevada celebrated his music with a workshop and concert backed by the Nevada Symphony Orchestra and broadcast by Radio Pacifica. Many of his arrangements are housed at the Eastman School of Music.
View the full website biography of Kai Winding.