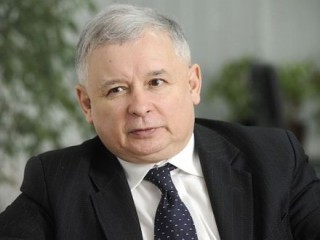 Kaczyński, Jarosław
Date of birth : 1949-06-18
Date of death : -
Birthplace : Żoliborz, Warsaw
Nationality : Polish
Category : Politics
Last modified : 2010-04-11
Jarosław Kaczyński (born June 18, 1949) is a conservative Polish politician who was Prime Minister from July 2006 to November 2007. He presently is the chairman of the Law and Justice party, which he co-founded in 2002. He has a Doctor of law degree. He is also the identical twin brother of the late Polish president Lech Kaczyński. After the 2007 electoral defeat of PiS, Kaczyński stepped down from office as Prime Minister following the first meeting of the new Sejm.

Jarosław is the identical twin brother of the late Lech Kaczyński, the former President of Poland. Jarosław and Lech were born in Warsaw, Jarosław 45 minutes before Lech. The Kaczyński brothers are sons of Rajmund (an engineer who served as a soldier of the Armia Krajowa in World War II and a veteran of the Warsaw Uprising) and Jadwiga (a philologist at the Polish Academy of Sciences).

As a child, Kaczyński with his twin brother starred in the 1962 Polish film The Two Who Stole the Moon, based on a popular children's story by Kornel Makuszyński.

Kaczyński was the Law and Justice prime ministerial candidate in the September 2005 Polish parliamentary election. However, when the party emerged as winner of the election, he pledged that he would not take the position, expecting that his nomination would reduce the chances of his brother Lech Kaczyński, who was a candidate for the October presidential election.

Kaczyński was the architect of the coalition with the left wing populist Self-Defense of the Republic of Poland (Polish: Samoobrona) and the deeply conservative Christian League of Polish Families party. Party-member Kazimierz Marcinkiewicz was appointed Prime Minister.

In the succeeding months, he was described as a frontbench MP and the leader of his party. Many also described Kaczyński as Poland's most influential politician. He was said to have enormous influence on the Prime Minister's decision-making process.

Following reports of a rift between Kaczyński and Kazimierz Marcinkiewicz, the latter tendered his resignation on July 7, 2006, and Kaczyński was appointed Prime Minister by the President Lech Kaczyński on July 10, and officially sworn in on July 14, following the formation of cabinet and a confidence vote in the Sejm. During Lech Kaczyński's election campaign in 2005, he had pledged that should he win, Jarosław would not become Prime Minister.

Despite gaining votes, Law and Justice lost the parliamentary election on October 21, 2007, finishing a distant second behind Christian-democratic and conservative liberal Civic Platform. Kaczyński was succeeded as Prime Minister by Donald Tusk, remaining chairman of Law and Justice and becoming a leader of the opposition.

View the full website biography of Kaczyński, Jarosław.