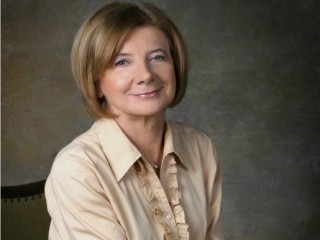 Kaczyńska, Maria
Date of birth : 1942-08-21
Date of death : 2010-04-10
Birthplace : Machów, Lublin Voivodeship
Nationality : Polish
Category : Famous Figures
Last modified : 2010-04-11
Maria Kaczyńska (21 August 1942 – 10 April 2010) was the First Lady of Poland from 2005 to 2010 as wife of Lech Kaczyński, the then President of Poland.
Maria Kaczyńska, wife of the President of the Republic of Poland, comes from a patriotic Polish family from the Vilnius region in Lithuania. Her mother, Lidia Mackiewicz, was a teacher; her father, Czesław Mackiewicz, was a specialist in forestry. The family settled within the present Polish borders after the Second World War. During the war her father was taking part in guerrilla warfare against the German forces occupying the Vilnius region; one of his brothers fought at Monte Cassino in Italy as a soldier of the Polish Corps of General Władysław Anders. The second brother, an officer of the Polish Army, was killed at Katyń Forest.

Maria Kaczyńska attended primary and secondary schools in Rabka Zdrój in southern Poland. She graduated from the Department of Maritime Transport of the Higher School of Economics (now the University of Gdańsk) in Sopot on the Baltic coast. After receiving her diploma she worked at the Maritime Institute in Gdańsk, where she conducted research into the developmental perspectives of maritime freight markets in the Far East.

In 1978 she married Lech Kaczyński, at that time an assistant research fellow at the Faculty of Law of Gdańsk University, an activist of the democratic anti-Communist opposition in Poland. In June 1980 she gave birth to her daughter, Marta, and shortly afterwards, in August 1980, widespread labour strikes broke out in Gdańsk and other Polish cities; the "Solidarity" trade union movement was established. When the Communist authorities cracked down on "Solidarity" and introduced martial law in Poland in 1981, her husband was interned for almost a year; after his release he was active in the underground "Solidarity" movement. At that time Maria Kaczyńska was on maternity leave; finally she decided not to return to work at the Maritime Institute. She engaged in tutoring and worked as a freelance translator from English and French; at the same time she was bringing up her daughter and helping her husband in his fight against the Communist regime in Poland.

After the fall of the Communist regime, during the period of political transformation of the country, when her husband held several important public offices, Maria Kaczyńska always supported charitable and cultural initiatives, especially when Lech Kaczyński was Mayor of Warsaw in 2002-2005. When she became the First Lady of Poland in 2005, her public activities took on a new dimension. As First Lady she co-operates with Polish and foreign non-governmental organizations focusing on social, medical and humanitarian issues. She participates in charity projects, using her position to help impoverished and handicapped persons, notably children with health problems and disabilities. She supports initiatives enriching Polish cultural life, acting in concert with artistic and intellectual circles. She is committed to promote her country abroad and to strengthen the positive image of democratic Poland in the world. She sometimes acts as Special Envoy of the President, representing her husband at official functions in various countries. She is involved in the international promotion of Polish cultural heritage.

Maria Kaczyńska takes an interest in literature and art; she loves music, ballet and the theatre. She likes travelling, which gives her an opportunity to gain an insight into the lives and traditions of other countries. She values both family life and social life. She enjoys spending her time with her granddaughters Ewa and Martyna. She speaks English and French and possesses some knowledge of Spanish and Russian.

The First Lady admits to having a strong personality. Her pleasant manner, cheerfulness and a fine sense of humour have won her a lot of friends; she is always open to new ideas. In matters of dress and personal adornments she prefers restrained, classical style.

Death
On 10 April 2010, 10:56 MSD (06:56 UTC) Maria Kaczyńska, and her husband Polish President Lech Kaczyński, died when the Polish Air Force Tupolev Tu-154M they were aboard crashed while attempting to land at Smolensk-North Airport in the Russian city of Smolensk.
Seven crew members and all 89 passengers on board were killed, including the President and his wife.

The Kaczyńskis were traveling with several senior government figures on a trip to mark the 70th anniversary of the World War II Katyn Massacre, in which thousands of Polish Military officers were executed by the Soviet secret police.
View the full website biography of Kaczyńska, Maria.