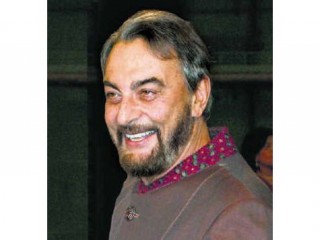 Kabir Bedi
Date of birth : 1946-01-16
Date of death : -
Birthplace : Punjab, India
Nationality : Indian
Category : Arts and Entertainment
Last modified : 2011-07-21
Kabir Bedi is one of the most famous international actors to have come out of India. His career has spanned 3 continents including India, the United States and many European countries in 3 mediums: film, television and theatre. He is noted for his role as Emperor Shah Jahan in Taj Mahal: An Eternal Love Story. He is best known in Europe for playing the pirate Sandokan in the highly popular TV miniseries and for his role as the villainous Gobinda in the 1983 James Bond film Octopussy. He is very popular in Italy in particular, and is fluent in Italian.
Kabir Bedi is based in India and lives in Mumbai.

Kabir Bedi was one of three children born into a Punjabi Sikh family in India that had devoted itself to India's fight for independence from British colonial rule. His mother, Freda Bedi, later converted to Tibetan Buddhism. His father, Baba Pyare Lal Bedi, was an author and philosopher from the Sikh faith, his clan found its roots with the first Sikh Guru. Kabir Bedi did his schooling at Sherwood College, Nainital.
Bedi married three times and has three children, Pooja, Siddharth and Adam. He was married to Protima Bedi, an Odissi dancer, and their daughter Pooja Bedi grew up to be an actress in Hindi films. She is now a magazine/newspaper columnist. Their son, Siddharth, who went to University in the USA, had a long history of schizophrenia and committed suicide in 1997 at the age of 26.

As his marriage with Protima began to break down he famously started a relationship with Parveen Babi. They never married. He later married British born fashion designer Susan Humphreys, and their son Adam Bedi is an international model who recently made his Bollywood debut with the thriller, Hello? Kaun Hai! This marriage ended in divorce.
In the late 1990s, Bedi married TV and radio presenter Nikki Bedi. They had no children and divorced in 2005. Since 2006, Bedi has been in a relationship with no one.
Kabir Bedi is a firm supporter of the freedom struggle in Burma, and has become an official Ambassador of the Burma Campaign UK.
Kabir Bedi began his career in Indian theatre and then moved on to Hindi films. Bedi is the only international actor from India to have originated from Bollywood, worked in Hollywood, and become a big star in Europe.

As a stage actor, Kabir has performed Shakespeare's Othello as well as portrayed a mad historical Indian king, Tughlaq; and a self-destructive alcoholic in The Vultures. In London he also starred in The Far Pavilions, the West End musical adaptation of M. M. Kaye's novel, at the Shaftesbury Theatre.
In the James Bond film Octopussy, he played the villain's aide Gobinda who battled Roger Moore from start to finish.

Kabir has acted in over 60 Indian Bollywood films. In the historical epic Taj Mahal: An Eternal Love Story, Kabir starred as the Emperor Shah Jahan. Other starring Bollywood roles include Raj Khosla's Kacche Dhaage, Rakesh Roshan's Khoon Bhari Maang and Farah Khan's Main Hoon Na.

Kabir also played pivotal roles in Columbia Pictures' The Beast of War, a film on the Russian war in Afghanistan, directed by Kevin Reynolds, as well as the acclaimed Italian film Andata Ritorno, by Marco Ponti, winner of the prestigious David di Donatello Award.

Kabir's extensive roles on American television - primetime and daytime, series and miniseries include Hallmark's African epic Forbidden Territory, and Ken Follett's On Wings of Eagles and also Red Eagle. He played Friar Sands in The Lost Empire, for NBC. Kabir also played roles on Dynasty, Murder, She Wrote, Magnum, P.I., Hunter, Knight Rider and Highlander: The Series amongst others.

In Europe, his greatest success was Sandokan, the saga of a romantic Asian pirate during British colonial times; an Italian-German-French TV series which broke viewership records across Europe. Kabir also recently starred in a prime-time Italian television series, Un Medico In Famiglia, on RAI TV, the country's biggest broadcaster.

In an impressive performance that brought out a very different and hitherto unrevealed aspect of his acting he starred as the ancient Patriarch Abraham, both in his young as well as old age, for a special one-episode only, in the 1995 TV series Bible Ki Kahaniyan an epic series in Doordarshan India. The series was later discontinued as a result of troubles between the producers and the sponsors.
For over a year, Kabir starred in The Bold and the Beautiful, the second most-watched television show in the world, seen by over a billion people in 149 countries.

He recently had his own cinematic talk show on Indian TV, Director's Cut, a 13-part special series interviewing the country's leading directors.

Since 1982 Kabir is a voting member of the prestigious Academy of Motion Picture Arts and Sciences, who are responsible for presenting the Oscar awards. He is also a voting member of the Screen Actors Guild.
He has also won numerous film, advertising and popularity awards across Europe and India.

By decree of the President of the Italian Republic of 2nd June 2010 Kabir Bedi was officially knighted. He received the highest ranking civilian honour of the Italian Republic and was bestowed the title of Cavaliere (Knight) of the Order of Merit of the Italian Republic.

View the full website biography of Kabir Bedi.