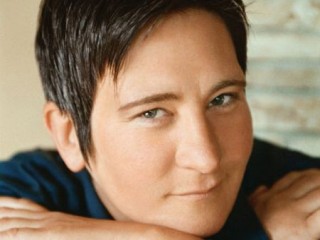 K.D. Lang
Date of birth : 1961-11-02
Date of death : -
Birthplace : Consort, Alberta, Canada
Nationality : Canadian
Category : Arts and Entertainment
Last modified : 2010-08-24

Sidelights

One of the finest vocal talents to emerge from Canada, k.d. lang--who was inspired by poet e.e. cummings to spell her name with lower case letters--has earned a large following among fans of both country and contemporary pop music. Lang's ability to transform songs such as Roy Orbison's "Crying" and Patsy Cline's "I'm Down to My Last Cigarette" into her own emotional vocal statement is the hallmark of a top-rank interpreter. Controversial in some quarters because of her sexual orientation, lang has nonetheless developed a fervent following of fans and has garnered numerous awards in the United States and Canada.

She was born Katherine Dawn Lang on November 2, 1961, in the tiny prairie town of Consort, Alberta, Canada. Lang was the youngest of four children born to Audrey and Fred Lang. She grew up in a musical family, where her mother would drive the children to music lessons that were located in a town over an hour away, regardless of the weather. Desiring to study music and art, lang left Consort in order to attend school at Red Deer College, which was located some 90 miles south of the province's capital of Edmonton. While there, lang dabbled in performance art while increasingly growing disenchanted with her studies. She eventually dropped out of school in order to concentrate more fully on her musical performances.

Musically, lang was drawn to country, and even claimed to be the modern-day embodiment of Patsy Cline, the famous country crooner who died in a 1963 plane crash at the height of her popularity. Stylistically, however, lang defied categorization and conventions. Her costumes and stage appearances were an eclectic mix of punk and country, as seen in her short, closely cropped hair, long square dance skirts, chunky boots, and bulky socks.

Lang got a job as a singer with an Edmonton-based country swing band in 1982, but the group disbanded shortly thereafter. Undaunted, she decided to form her own group, calling them the Reclines, in honor of Patsy Cline. In 1983 lang and the Reclines released their debut effort, Friday Dance Promenade, on the Canadian independent label Bumstead, followed the next year by A Truly Western Experience. She toured across Canada and managed to find a spiritual home in Toronto, where audiences there loved her eclectic mix of rockabilly and country. Lang's avant garde nature impressed Seymour Stein of Sire Records, who signed her and the band to a recording contract. Her first major label album, Angel With a Lariat, was released in 1986, and netted her a Canadian Juno Award for Best Country Vocalist. Her sophomore effort, Shadowland, was released in 1988. Both albums featured lang and the Reclines' funky cowpunk melodies and vocals and highlighted lang's impassioned crooning and torch song stylings.

Lang began to amass a large fan base and win over critics. She won her first Grammy Award in 1988 for Best Country Vocal Collaboration, for her duet with Roy Orbison on the remake of the latter's 1962 hit "Crying." She won her second Juno Award in 1989, for Country Music Entertainer of the Year. Despite all the critical accolades, lang was ignored by the country music establishment in Nashville. She commented to the London Observer's Alan Jackson, "I guess they don't think a girl should look or act the way I do. Nashville is very much a white male Christian society, and if you don't play by its rules, you don't really exist."

Her third album, Absolute Torch and Twang, was released in the summer of 1989, earning lang a Grammy for Best Country Female Vocal Performance. Later in 1990 Absolute Torch and Twang achieved gold record status in America.

Lang began to focus her attention and musical skills in other areas, most notably pop, jazz, and torch song crooning. Commenting on her change in focus, lang told the New York Times's Michael Specter that "country music was a part of my life. Now it isn't. We had a good relationship, really, but we wanted each other at arm's length. The people in Nashville didn't want to be responsible for my looks or my actions. But they sure did like the listeners I brought."

The year 1992 saw Shadowland certified gold in America. It also marked the release of the first non-country-influenced album by lang. Ingenue was the first album wholly credited to lang, not lang and the Reclines. It was a lounge-tinged collection of torch songs and sweeping ballads. The pop cabaret stylings of Ingenue won lang new legions of fans, especially among adult contemporary music aficionados, and critics praised the album and lang's new incarnation.

Her new approach to music was amply rewarded in 1993 when Lang won the Favorite New Adult Contemporary Artist award at the American Music Awards. She also landed her third Grammy for Best Pop Female Vocal, for the top ten adult contemporary smash hit single "Constant Craving." Ingenue was certified platinum in America in 1993. Lang also won Juno Awards for Album of the Year for Ingenue, Songwriter of the Year, and Producer of the Year. The video for "Constant Craving" earned lang a 1993 MTV Video Music Award for Best Female Video. Toward the end of that award-winning year, lang released the soundtrack for the film Even Cowgirls Get the Blues.

Lang kept a relatively low-key profile until early 1995, when she was named Best International Artist at the BRIT Awards in London. In autumn of that year, she released All You Can Eat. It would be two years before she released another album, the jazz-inspired Drag. In 1997 lang received the honor of the Office of the Order of Canada. Discussing her success with the Chicago Tribune's Jack Hurst, lang commented, "I'm a living example of success via the media. I've never had radio airplay. I'm a media thing."

Lang switched over to Warner Bros. for 2000's Invincible Summer. The smooth eleven-song set featured ten lang compositions and co-creations, and reached the top ten in internet sales. Equally fine was her final disc for the label, an audio version of her A&E television special Live by Request, a greatest hits album that illustrated her professionalism and growth as an entertainer. Far more successful were her tours and recorded duets with famous pop crooner Tony Bennett. One of their best moments together came via the 2002 Bennett album for Columbia, A Wonderful World, which earned the two singers a Grammy Award for Best Traditional Pop Vocal Album.

Once her Warner's/Sire contract ran its course, lang moved onto the Elektra subsidiary Nonesuch, where she was given full creative freedom. Her first project for the new imprint, Hymns of the 49th Parallel, featured her interpretations of tunes by such Canadian songsmiths as Neil Young, Joni Mitchell, Jane Siberry, and Bruce Cockburn. Lang has earned a secure niche in show business despite the earlier outcry over her lesbian lifestyle. Constantly touring, making television appearances, and taking on an occasional bit acting role, she waited four years to release Watershed. On her Web site, lang described her album of original material this way: "Watershed is like a culmination of everything I've done--there's a little bit of jazz, a little country, a little of the Ingenue sound, a little Brazilian touch. It really feels like the way I hear music, this mash-up of genres, and I think it reflects all the styles that have preceded this in my catalogue."

PERSONAL INFORMATION

Born Katherine Dawn Lang, November 2, 1961, in Consort, Alberta, Canada; daughter of Adam Frederick and Audrey Lang (a teacher). Education: Attended Red Deer College.

AWARDS

Juno Award (Canada), Best Country Female Vocalist, 1987; Grammy Award, Best Country Vocal Collaboration, for "Crying," 1988; Juno Award, Canadian Country Music Entertainer of the Year, 1989; Grammy Award, Best Country Female Vocal, for Absolute Torch and Twang, 1990; American Music Award, Favorite New Artist Adult Contemporary, 1993; Grammy Award, Best Pop Female Vocal, for "Constant Craving," 1993; Juno Award for Album of the Year for Ingenue, 1993; Juno Award, Songwriter of the Year, 1993; Juno Award, Producer of the Year, 1993; MTV Video Music Award, Best Female Video, for "Constant Craving," 1993; BRIT Award (England), Best International Female Artist, 1995; received the Officer of the Order of Canada, 1997; GLAAD Media Award, the Vito Russo Award, 1998; Grammy Award, Best Traditional Pop Vocal Album, for A Wonderful World (with Tony Bennett), 2004; Gemini Award, Best Performance or Host in a Variety Program for Words to Music: The Canadian Songwriters Hall of Fame, 2006.

CAREER

Formed KD Lang and the Reclines c. 1983; signed to Bumstead and released A Truly Western Experience, 1984; signed to Sire and released Angel With a Lariat, 1986; Shadowland, 1988; Absolute Torch and Twang, 1989; went solo and released Ingenue, 1992; Even Cowgirls Get the Blues (soundtrack), 1993; All You Can Eat, 1995; signed with Warner Bros. and released Drag, 1997; signed with the Nonesuch label, 2004; released retrospective Reintarnation on Rhino, 2006; has made numerous appearances on television talk and variety programs and worked as an actress in such films as Teresa's Tattoo, Eye of the Beholder, and The Black Dahlia, 1990-.

WORKS
* Selected discography
* With the Reclines

* Friday Dance Promenade, Bumstead, 1983.
* A Truly Western Experience, Bumstead, 1984.
* Angel With a Lariat, Sire, 1986.
* Shadowland, Sire, 1988.
* Absolute Torch and Twang, Sire, 1989.

* Solo

* Ingenue, Sire, 1992.
* Even Cowgirls Get the Blues (soundtrack), Sire, 1993.
* All You Can Eat, Sire, 1995.
* Drag, Sire, 1997.
* Invincible, Warner Bros., 2000.
* Live by Request, Warner Bros., 2001.
* Hymns of the 49th Parallel, Nonesuch, 2004.
* Reintarnation, Rhino, 2006.
* Watershed, Nonesuch, 2008.
View the full website biography of K.D. Lang.