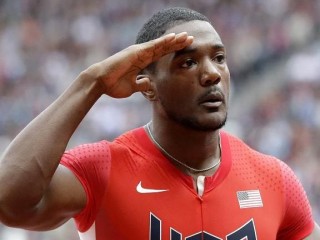 Justin Gatlin
Date of birth : 1982-02-10
Date of death : -
Birthplace : Brooklyn, New York
Nationality : American
Category : Sports
Last modified : 0000-00-00

Justin Gatlin is an American sprinter. He is an Olympic gold medalist, with a 100 m personal best of 9.79 seconds and two-time World indoor champion in the 60-meter dash.

He served a four-year ban from track and field for testing positive for a banned substance; Gatlin had appealed the ban in 2009, but it was later denied.

He tried out for multiple NFL teams during his time away from the track, but returned in 2010 and quickly returned to form. This year, he won gold in the 60 meters at the world indoor championships before taking first place at the U.S. trials with a personal-best time of 9.80 seconds. "Usually, I have a lot of words. I'm almost speechless," the 30-year-old Gatlin said. "Everything just feels so surreal. I just let the heart really go out and do what it had to do." When asked how much faster he can go in London, Gatlin said, "enough to win another gold," but he'll face a daunting challenge from Usain Bolt and his Jamaican teammates. Bolt hadn't yet emerged when Gatlin won gold in Athens, where the American added a bronze medal in the 200 meters and a silver in the 4x100 relay. Gatlin won double gold at the 2005 world championships in the 100 and the 200, receiving the Jesse Owens Award as the top American track and field performer for the second straight year, but he's avoiding the longer sprint in London to focus on the premier running event of the Games.

Gatlin has begun the 2012 season very well recording 3 sub-10 runs already. At the 2012 Diamond League meeting in Doha, Gatlin ran an impressive 9.87 seconds, defeating Asafa Powell by one hundredth of a second and putting himself as a favourite for a medal at the 2012 London Olympics. This victory at the Qatar Sports Club marked his return to the venue where he broke the world record in 2006, only for it to be wiped off the record book following testing positive for testosterone.

On June 24, 2012 Gatlin won the 100m final at the US Olympic Trials in Eugene, OR with a personal best time of 9.80 seconds, the fastest time in history for a man over 30.

On August 5th 2012, at the London 2012 Summer Olympics, he won bronze in the 100m final with a new personal best of 9.79 seconds, behind Usain Bolt, who set a new Olympic record of 9.63 seconds, and Yohan Blake, who equalled his personal best at 9.75 seconds.

View the full website biography of Justin Gatlin.