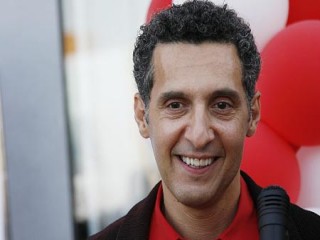 John Turturro
Date of birth : 1957-02-28
Date of death : -
Birthplace : Brooklyn, New York, U.S.
Nationality : American
Category : Arts and Entertainment
Last modified : 2011-01-05
John Turturro is an American actor, writer, and director best known for his roles in the films Barton Fink (1991), Quiz Show (1994), The Big Lebowski (1998), and O Brother, Where Art Thou? (2000). He has appeared in over sixty movies, and has worked frequently with the Coen brothers, Adam Sandler and Spike Lee. He is well known for his ability to change both his demeanor and physique.

One of the top character actors of his era, John Turturro is a fixture of the contemporary American independent filmmaking landscape. Born February 28, 1957, in Brooklyn, NY, Turturro became fascinated by movies during childhood, and after graduating from college he won a scholarship to study at the prestigious Yale School of Drama. He first gained notice in regional theater and off-Broadway, earning an Obie Award for his starring role in Danny and the Deep Blue Sea. He made his film debut in Martin Scorsese's 1980 masterpiece Raging Bull but did not reappear onscreen prior to 1984's The Exterminator 2. That same year, he debuted on Broadway in Death of a Salesman.

Small roles in diverse fare including Susan Seidelman's 1985 comedy Desperately Seeking Susan, Scorsese's 1986 drama The Color of Money, and Woody Allen's masterful Hannah and Her Sisters kept Turturro busy throughout much of the decade, but his breakthrough performance did not arrive until Spike Lee cast him as a bigoted pizzeria worker in 1989's Do the Right Thing. A scene-stealing turn in the Coen brothers' 1990 gangland drama Miller's Crossing followed, and in 1991 the Coens cast him as the titular Barton Fink, a performance which garnered Best Actor honors at the Cannes Film Festival. Subsequent lead roles were infrequent, although in 1992 he wrote, directed, and starred in Mac, a little-seen indie feature that won him a Golden Camera award for Best First Feature at the 1992 Cannes Festival. Supporting turns in acclaimed offerings including Quiz Show, Clockers, and Grace of My Heart (in which he expertly portrayed a Phil Spector-like music producer) followed before Turturro's next starring role, in Tom DiCillo's whimsical 1996 comedy Box of Moonlight. In 1998, the actor again collaborated with both Lee and the Coen brothers, working with the former on He Got Game and the latter on The Big Lebowski. Also in 1998, Turturro wrote, directed, produced, and starred in Illuminata, a comedy set against the backdrop of a struggling, turn-of-the-century New York theater company. The following year, he again took on the New York theater, appearing in Tim Robbins' Cradle Will Rock, an exploration of the relationship between art and politics set in 1930s New York.

View the full website biography of John Turturro.