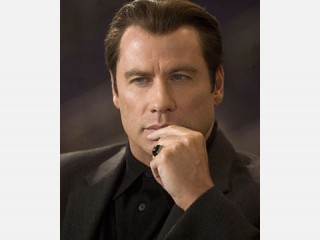 John Travolta
Date of birth : 1954-02-18
Date of death : -
Birthplace : Englewood, New Jersey, USA
Nationality : American
Category : Arts and Entertainment
Last modified : 2011-02-18
John Travolta is an American actor, dancer and singer. Travolta first became known in the 1970s, after appearing on the television series Welcome Back, Kotter and starring in the box office successes Saturday Night Fever and Grease.

Born John Joseph Travolta on February 18, 1954, in Englewood, New Jersey. The youngest of six children born into a family of entertainers, John Travolta dropped out of high school by age 16 to pursue a career in acting. He made his debut in an off-Broadway production of Rain (1972), then joined the Broadway cast of Grease, as well as the hit musical Over Here! starring The Andrews Sisters.

In 1975, Travolta shot to stardom for his role as Vinnie Barbarino in the hit TV series Welcome Back Kotter. The following year, he won the lead in the critically acclaimed TV movie, The Boy in the Plastic Bubble. International fame came with two successive box-office hits, Saturday Night Fever (1977) and Grease (1978). He earned an Oscar nod for his role in the former, becoming an icon for disco nightlife and '70s culture.

At the top of his game, it seemed John Travolta could do no wrong in the late 1970s. What he came up with were a series of hits (Urban Cowboy) and misses (Moment by Moment, Staying Alive, Two of a Kind). By the end of the 1980s, despite a brief comeback with the Look Who's Talking series, Travolta's poor career choices, missed opportunities and horrendous films landed him in the has-been actor category.

Then, in 1994, Travolta made a career comeback when he starred in Quentin Tarantino's crime smash Pulp Fiction. He earned his second Academy Award nomination and went on to win a Golden Globe for his performance in the critically acclaimed film Get Shorty. Other notable films include Broken Arrow, Phenomenon, Primary Colors, The General's Daughter, and Ladder 49.

After a long string of dramatic roles, Travolta returned to his musical roots with the film adaptation of the Broadway smash Hairspray (which in itself was based on the 1988 film by John Waters) in 2007. The film tells the story of a plump young girl who wants to be a performer on a local dance show. Travolta played the girl's mother, Edna Turnblad. With the help of wigs, make-up, costumes, and a fat suit Travolta convincingly transformed himself into a large woman to play the role. He earned a Golden Globe nomination for his performance.

Most recently Travolta voiced the lead role in the Disney film Bolt (2008). In the movie, he plays a lost dog who believes he is a super hero. He also performed the duet "I Thought I Lost You" with co-star Miley Cyrus for the ending credits of the film. In 2009 he appeared in Old Dogs, co-starring Robin Williams and Bernie Mac, a comedic Disney film about two business partners who are unexpectedly charged with the care of 7-year-old twins. In 2010, Travolta demonstrated his acting range, playing the goateed FBI agent Charlie Wax in the action flick From Paris With Love.

Travolta married actress Kelly Preston in 1991. The couple had two children: son Jett, born on April 13, 1992, and daughter Ella Bleu, born in 2000. Tragedy struck the Travolta family when Jett died on January 2, 2009, during a family vacation in the Bahamas. A coroner's report determined the cause of death to be a seizure. In May 2010, nearly 16 months after their son's death, the couple announced that they were expecting another child.


View the full website biography of John Travolta.