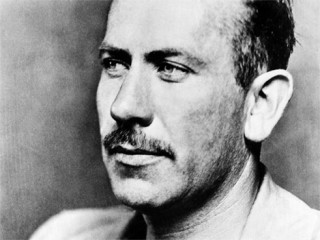 John Steinbeck
Date of birth : 1902-02-27
Date of death : 1968-12-20
Birthplace : Salinas, California, United States
Nationality : American
Category : Famous Figures
Last modified : 2011-06-21
John Ernst Steinbeck, Jr. was an American writer. He is widely known for the Pulitzer Prize-winning novel The Grapes of Wrath (1939) and East of Eden (1952) and the novella Of Mice and Men (1937). He was an author of twenty-seven books, including sixteen novels, six non-fiction books and five collections of short stories; Steinbeck received the Nobel Prize for Literature in 1962.

John Steinbeck was one of the best-known American novelists of the mid-20th century. His frequent topic was the plight of the misfits, the homeless and the hopeless in a fast-changing America. (Those themes sometimes earned him comparisons with his contemporary William Faulkner.) Steinbeck's first novel, Cup of Gold, was published in 1929. His most celebrated book remains The Grapes of Wrath: the story of the Joads, impoverished farmers who migrate to California after losing their Oklahoma land. Published in 1939, The Grapes of Wrath won the National Book Award and the Pulitzer Prize for fiction. (Henry Fonda played Tom Joad in the 1940 film of the novel.) Steinbeck's other books include Of Mice and Men (1937), Cannery Row (1945) and East of Eden (1952, later made into a film starring James Dean). He was awarded the Nobel Prize for Literature in 1962.

Steinbeck wrote the story for the 1944 Alfred Hitchcock film Lifeboat.


View the full website biography of John Steinbeck.