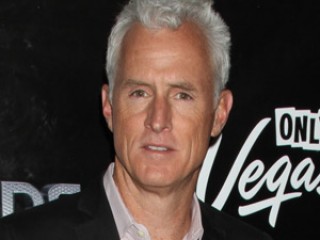 John Slattery
Date of birth : 1962-08-13
Date of death : -
Birthplace : Boston, Massachusetts, United States
Nationality : American
Category : Arts and Entertainment
Last modified : 2011-09-07
John Slattery is an American actor and director, best known for his role as Roger Sterling on AMC's series Mad Men. He has been nominated for many awards, and has won two SAG Awards with the Mad Men ensemble.

Slattery was born in Boston, Massachusetts, to an Irish American family; he is one of six children. He was raised Roman Catholic. Slattery attended high school at St. Sebastian's School in Needham, Massachusetts. He later received a Bachelor of Fine Arts from The Catholic University of America in 1984.

He landed his first TV gig on the 1988 series "Dirty Dozen: The Series" (1988) and has worked steadily since then. His television career has included the short-lived series "Under Cover" (1991), "Homefront" (1991), "Maggie" (1998) and "Feds" (1997); and the mini-series "A Woman of Independent Means" (1995) with Sally Field and "From the Earth to the Moon" (1998), in which he played Walter Mondale. By having recurring roles on "Will & Grace" (1998) as Will's big brother, "Sam"; "Judging Amy" (1999) as Amy's estranged husband; and "Sex and the City" (1998) as a very kinky politician, John has become one of the most in-demand character actors. In 2001, he had a role on NBC's comedy-drama "Ed" (2000), where he played the confident, cool, aloof high school principal "Dennis Martino". This role earned him much notoriety, and made him the subject of debate among "Ed" (2000) fans. John has also had a long, successful and diverse career in the theater. He made his theater debut in the 1989 play "The Lisbon Traviata", which also starred Nathan Lane. He has had several successful collaborations with the playwright Richard Greenberg and appeared in the author's "The Extra Man", "Night and Her Stars" and "Three Days of Rain", for which he earned critical praise for his dual roles of father and son. In 1993, John made his Broadway debut starring opposite Nathan Lane in Neil Simon's "Laughter on the 23rd Floor". Returning to the theater in 2000, John starred in a revival of Harold Pinter's "Betrayal". Making his feature film debut in 1996, John had a small role in the movie City Hall (1996). He has since appeared in the movies Eraser (1996), Where's Marlowe? (1998) and Traffic (2000). In 2002, he will be seen in the Anthony Hopkins movie Bad Company (2002).

View the full website biography of John Slattery.