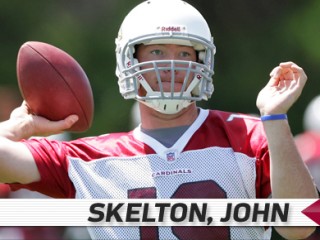 John Skelton
Date of birth : 1988-03-17
Date of death : -
Birthplace : El Paso, Texas
Nationality : American
Category : Sports
Last modified : 2010-11-30
John Skelton is an American football quarterback for the Arizona Cardinals of the National Football League. He was drafted in the fifth round of the 2010 NFL Draft.

College Career:
Started 41 of 43 games for Fordham after taking over the starting duties midway through his freshman season … set school career records with 9,923 passing yards, 69 TD passes, 802 completions and 1,363 attempts … the 9,923 career passing yards are also a Patriot League record … led the NCAA Football Championship Subdivision with 3,708 passing yards in 2009 … totaled 12 games with more than 300 yards passing in his career, including four with 400 yards or more … two-time All-Patriot League selection, earning second-team honors in 2007 and first-team honors in '09 … an All-Eastern College Athletic Conference (ECAC) first-team choice in '09 … had at least one TD pass in 30 of the team's 34 games over the last three seasons and ranked in the top 10 nationally in pass efficiency rating in both '08 and '09.

2009: Started all 11 games and was an All-Patriot League first-team choice after leading the NCAA Football Championship Sub-division ranks with 3,708 yards (school record) … finished 10th in the nation with a 149.9 pass efficiency rating … established school single-season records by completing 284 of 441 passes (64.4%) … his 26 TD passes rank as the second-highest total in school history … added 85 carries for 120 yards and five TDs on the ground which gave him a school single-season record 31 TDs, the fourth-best season total in league history … the Rams finished second in the nation in passing (337.1 ypg) and first in total offense (488.8 ypg) … passed for at least 300 yards in eight contests, including four of more than 400 yards … established Fordham single-game records with 43 completions, 67 pass attempts, 427 passing yards and 473 yards of total offense against Holy Cross (10/31).

2008: Started all 11 games for the Rams and completed 228 of 372 pass attempts (61.3%) for 2,605 yards, 15 TDs and seven INTs … also added 85 yards and two TDs on the ground on 58 carries … ranked second in the Patriot League with an average of 244.5 yards per game in total offense … finished fourth in the nation with a 129.7 pass efficiency rating … threw for over 200 yards seven times, including one 300-yard effort.

2007: Started all 12 games and earned second-team All-Patriot League honors after completing 216 of 383 pass attempts for 2,650 yards, 22 TDs and 11 INTs … added 275 yards and six TDs on 96 carries … ranked second in the league with an average of 220.8 yards passing and 243.8 yards in total offense per game … threw for over 200 yards seven times, including a pair of 300-yard performances … had at least one TD pass in 11 of 12 games.

2006: Appeared in nine games as a true freshman, starting the final seven games of the season … completed 74 of 167 pass attempts for 960 yards, six TDs and eight INTs … rushed for 83 yards and a TD on 56 carries.

Personal:
Full name John Michael Skelton … attended Burges (El Paso, TX) High School, where he and his younger brother, Stephen (tight end), played and his father, John, served as an assistant coach … a multi-sports star, excelled in football, basketball, baseball, and track … the first-team All-District I Class-AAAA and All-City selection was named Offensive MVP by the El Paso Times as a senior on the gridiron … that season he passed for 2,172 yards and 15 TDs … capped off his prep career as the starting QB in the 2006 All-State Game for the city of El Paso … in basketball, garnered all-city, all-district and all-region accolades … earned all-district honors in baseball four times, playing a different position each year … named to the all-city baseball team in 2006.

View the full website biography of John Skelton.