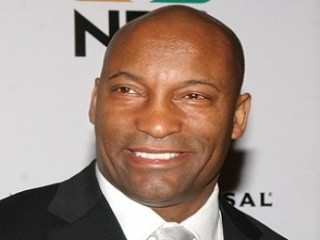 John Singleton
Date of birth : 1968-01-06
Date of death : -
Birthplace : Los Angeles, California, U.S.
Nationality : American
Category : Arts and Entertainment
Last modified : 2011-06-21
John Daniel Singleton is an American film director, screenwriter, and producer. A native of South Los Angeles, many of his films consider the implications of inner-city violence like the critically acclaimed and popular Boyz n the Hood, Poetic Justice, Higher Learning and Baby Boy. He has recently branched out into mainstream territory with the blockbuster 2 Fast 2 Furious and Four Brothers.

John Singleton is a California filmmaker whose first movie, 1991's Boyz N the Hood, made him an Oscar-nominated director at the age of 24. Singleton was still a film student at the University of Southern California when he got the deal to make the feature, which included future Hollywood stars Cuba Gooding, Jr., Laurence Fishburne (billed as Larry Fishburne) and Ice Cube. The movie's success brought gangsta rap and the struggles in south central L.A. to mainstream America, and Singleton became the first black and youngest-ever Oscar nominee for directing (he was also nominated for the screenplay). His movies since then have received mixed reviews and include Poetic Justice (1993, starring Janet Jackson and Tupac Shakur), Rosewood (1997, starring Ving Rhames), Shaft (starring Samuel L. Jackson), 2 Fast 2 Furious (2001) and Four Brothers (2005, starring Mark Wahlberg). Singleton has also produced well-received independent films, including Hustle & Flow (2005, starring Terrence Howard) and Black Snake Moan (2006, with Christina Ricci).

Singleton directed Michael Jackson's music video Remember the Time.


View the full website biography of John Singleton.