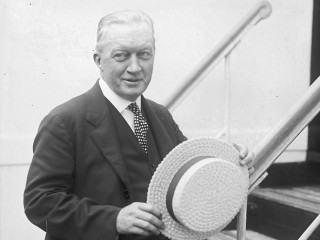 John Russell Pope
Date of birth : 1874-04-24
Date of death : 1937-08-27
Birthplace : New York City, U.S.
Nationality : American
Category : Arhitecture and Engineering
Last modified : 2012-01-19
John Russell Pope (April 24, 1874 – August 27, 1937) was an architect most known for his designs of the National Archives and Records Administration building (completed in 1935), the Jefferson Memorial (completed in 1943) and the West Building of the National Gallery of Art (completed in 1941) in Washington, DC.

Throughout his career, Pope designed private houses (including for the Vanderbilt family: see Vanderbilt houses), and other public buildings besides the Jefferson Memorial and the National Gallery, such as the massive Masonic House of the Temple (1911–1915), also in Washington, and the triumphal-arch Theodore Roosevelt Memorial (1936) at the American Museum of Natural History in New York City. In 1919 he provided a master plan for the future growth of Yale University, one that was significantly revised by James Gamble Rogers in 1921 with more sympathy for the requirements of the city of New Haven, Connecticut, but which kept the Collegiate Gothic unifying theme offered by Pope. Pope's original plan is a prime document in the City Beautiful movement in city planning.

Pope's designs alternated between revivals of Gothic, Georgian, eighteenth-century French, and classical styles. Pope designed the Henry E. Huntington mausoleum on the grounds of The Huntington Library and later used the design as a prototype for the Jefferson Memorial in Washington, D.C. The Jefferson Memorial and the National Gallery of Art were both neoclassical, modeled by Pope on the Roman Pantheon.

Lesser known projects by Pope include Union Station, Richmond, Virginia (1917), with a central rotunda capped with a low saucer dome, now housing the Science Museum of Virginia; Branch House (1917–1919), a Tudor-style mansion also in Richmond (the John K. Branch house, 1919) that now houses the Virginia Center for Architecture ; Baltimore Museum of Art; and in Washington, D.C. the National City Christian Church, Constitution Hall, American Pharmacists Association Building, Ward Homestead, and the National Archives Building (illustration, left). In Milwaukee, Wisconsin he provided a severe neo-Georgian clubhouse for the University Club (1926) and in Oneonta, New York he designed the first building for Hartwick College (Bresee Hall) which was constructed in 1928.

He designed additions to the Tate Gallery and British Museum in London, an unusual honor for an American architect, and the War Memorial at Montfaucon, France. Pope was also responsible for extensive alterations to Belcourt, the Newport residence of Oliver and Alva Belmont. The Georgian Revival residence he built for Thomas H. Frothingham in Far Hills, New Jersey in 1919 now houses the United States Golf Association Museum.

In 1991 an exhibition at the National Gallery of Art, "John Russell Pope and the Building of the National Gallery of Art" spurred the reappraisal of his work, which had been scorned and derided by many critics influenced by International Modernism.
View the full website biography of John Russell Pope.