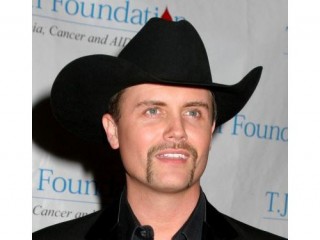 John Rich (musician)
Date of birth : 1974-01-07
Date of death : -
Birthplace : Amarillo, Texas, USA
Nationality : American
Category : Arts and Entertainment
Last modified : 2011-09-05
John Rich is an American country music singer-songwriter. From 1992 to 1998, he was a member of the country music band Lonestar, in which he played bass guitar and alternated with Richie McDonald as lead vocalist.

After being fired from the band in 1998, he embarked on a solo career on BNA Records in the late 1990s, releasing two singles for the label and recording Underneath the Same Moon, which was not released until 2006. By 2003, he joined Big Kenny to form the duo Big & Rich, who released three albums on Warner Bros. Records as well as ten singles, including the Number One "Lost in This Moment". After Big & Rich went on hiatus in 2007, Rich began work on a second solo album, Son of a Preacher Man, which has produced two more chart singles. In 2011, Rich released two Extended Plays, Rich Rocks and For the Kids before rejoining Big Kenny to release the single Fake I.D. In addition to his work in Big & Rich, John has co-written singles for multiple artists, including Faith Hill, Keith Anderson, Jason Aldean and Gretchen Wilson, as well as producing records for several other artists.

With the leadoff single to his first solo project, John Rich has captured the tenor of a troubled age. "Shuttin' Detroit Down," a populist anthem that gives voice to millions of hard-working Americans who have watched an economic elite benefit while the nation's economy collapses, has quickly swept the nation. Its premiere airing on Detroit country radio stations galvanized the working class in the beleaguered blue-collar city, and the universality of its sentiment lit up phone lines across the country and made it the fastest-rising single of Rich's storied career.

The song is a fitting kickoff to Son of a Preacher Man, an album that finds country music's Renaissance Everyman giving full rein to his own creative voice in a project as personal as it is musically arresting. With its release, one of modern music's most prolific and creative spirits opens yet another chapter, stepping into the front ranks of solo performers amid a career in musical partnerships and as someone whose songwriting and producing skills have helped shape the talents of others.

"Shuttin' Detroit Down" is as powerful an entree into a solo career as an artist could hope for.

"It's a humbling experience," he says. "This song is bigger than me. It's bigger than my career. It's one of those divine experiences you have once in your lifetime, if you're lucky, as a songwriter."

And it came to him, as so often happens with art of this import, quickly and unexpectedly. He had been watching news reports involving yet another company whose top brass were buying frills after bailouts from U.S. taxpayers.

"I felt so disrespected as an American taxpayer," he says. "I felt like these guys were laughing at me and laughing at the American people in general, like they're getting away with something, and guess what--they are. I figured I had a choice. I could sit at home and be mad, or I could do what a country songwriter does--pick up a blank sheet of paper, a pencil and a guitar, and write a song about it. And that's what I did."

He played the song live at stations he was visiting as part of a radio tour, and the reaction was so strong he rerouted the tour into Nashville on a Friday night, recorded the song on Saturday, and hit the road again with the CD. Two weeks after he wrote it, it was part of the Son of a Preacher Man album, which to that point had been considered finished.

For those familiar with Rich's wide-ranging creativity, the lessons of "Shuttin' Detroit Down" Rich's finger on the pulse of America, his unbridled creativity and penchant for connecting with his audiences--are nothing new. Few people in Nashville history have had the wide-ranging success that Rich, an entertainer who can truly do it all, has had. He is a three-time ASCAP Songwriter of the Year with 13 top ten hits, including Faith Hill's "Mississippi Girl," Faith and Tim McGraw's "Like We Never Loved At All," Jason Aldean's "Hicktown" and Taylor Swift's "The Way I Loved You"; a sought-after producer who has worked with legends like Randy Owen and John Anderson, pop stars like Jewel and a host of new artists; a TV star, host and ringmaster who has shepherded CMT's Gone Country from interesting idea to well-established franchise; a proven talent scout who helped Gretchen Wilson move from singing bartender to cultural phenomenon; and an accomplished performer who was an integral part of the early Lonestar sound, then half of Big & Rich, whose bigger-than-life personas spearheaded the Muzik Mafia and launched a bona fide country movement. He is also that rarest of commodities--a true character, a walking brand with one of country music's most identifiable faces and voices.

Son of a Preacher Man grew out of a combination of factors that has so often worked magic for him--a creative window and sheer talent. A prolific songwriter--he has written more than 1300--John had a number of songs that were outside the scope of Big & Rich.

"Songs need to fit a certain slot for us," he says, "and I'd written a lot that would never wind up on a Big & Rich record." Then, in late 2007, Big Kenny announced that he wanted to take time off of the road as he dealt with rehabilitation for a pre-existing neck injury and, John says, "I looked at that as a window to go record."

The record is a wide-ranging work, with songs ranging from the upbeat, riff-laden "Trucker Man" to "The Good Lord & The Man" and "Preacher Man," poignant and personal looks at his grandfather and father, respectively; from the aching "Another You" and "I Don't Want To Lose Your Love" to "Everybody Wants To Be Me," a honky-tonk rocker fans will recognize as vintage Rich. Capping it all off is "Drive Myself To Drink," a big band extravaganza that rates as pure musical adventure and which was recorded live.

Overall, the CD is a window into the creative approach of a unique musical stylist, a country music original whose high-profile celebrity status belies his humble origins and reflects his desire to pack everything into the life he lives and the art he creates.

"I'm trying to give people everything I can," he says. "I'm a guy who grew up in West Texas in a trailer, and I remember going to the food bank, and fifteen dollars for a CD is a lot of money when you don't have money. You've really got to appreciate people who will go out and buy one, and the level of respect that shows for me as an artist."

That upbringing shaped his appreciation for country fans by molding him into a fan of the genre. Listening to KMML-FM in Amarillo, Texas, he dreamed as a youngster of being on country radio and playing the Grand Ole Opry. He followed the dream to Nashville, where he got a job at a show at the Opryland theme park. There he met part of the core of the band Lonestar, which he helped launch, writing some of their early hits. After parting ways from the group, he had a short-lived solo deal, then teamed up with friends for a Tuesday night jam that spawned the Muzik Mafia, the most eclectic collection of entertainers and artists ever to hit the city. Big & Rich, Gretchen Wilson, Cowboy Troy, James Otto, Two-Foot Fred and painter Rachel Kice were among those who emerged from that incredible scene, and their influence is still being felt across the musical and artistic landscape.

One of the industry's hardest workers, John carved niches for himself in a variety of creative endeavors. He co-produced Big & Rich's Horse Of A Different Color, Wilson's first two albums, Cowboy Troy and James Otto, whose song, "Just Got Started Lovin' You" was nominated for a Grammy. His songwriting output includes Wilson's "Redneck Woman," "Here For The Party" and "When I Think About Cheating," and songs recorded by Martina McBride, Clay Walker and Aaron Tippin, among many others. At bottom was a pure love for the art.


View the full website biography of John Rich (musician).