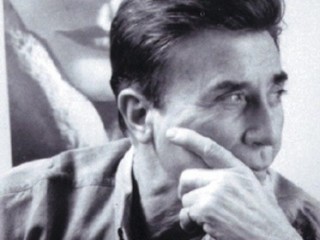 John Rechy
Date of birth : 1934-03-10
Date of death : -
Birthplace : El Paso, Texas, U.S.
Nationality : American
Category : Arts and Entertainment
Last modified : 2010-08-27
John Francisco Rechy, also known as John Rechy born March 10, 1934 in El Paso, Texas, United States is an American writer and novelist.

"Sidelights"

John Rechy's importance to American literature has been recognized three times with lifetime achievement awards. PEN-USA-West conferred the honor in 1997, making Rechy the first novelist to receive such a tribute. In 1999, the Publishing Triangle awarded him its William Whitehead Lifetime Achievement Award. The University of Southern California added a third such award in 2001. In the New York Blade News, Jameson Currier wrote: "Perhaps more than any other American author in the twentieth century, [Rechy's] writings have helped shape the sexual consciousness of several generations of gay men." Gerald Fraser, writing for the New York Times, called Rechy "the country's most important author on homosexual life." Rechy's life and works were explored in the CD-ROM Mysteries and Desire: Searching the Worlds of John Rechy.

Rechy's first book, City of Night, was "hailed as the advent of a unique voice by critics and writers as diverse as Larry McMurtry, James Baldwin, Herbert Gold, and Christopher Isherwood," noted Gregg Barrios in Newsday. It became a best seller in 1963, a rare accomplishment for a first novel. It is now regarded as a classic and is taught in modern literature courses. However, the book's controversial subject matter--tracing the journey of a sexual adventurer through the night life of urban America--has drawn attention away from what Rechy considers a more important aspect of his work: the structure of the novel and the craftsmanship of his art, aspects the author continues to emphasize in his more recent fiction. Rechy told Richard Canning in an interview for Gay and Lesbian Review: "I've always been attentive toward literary form. The misconception occurred early on that I was an accidental writer. ... Because the subject was sexual, the form and structure of the books weren't viewed."

Rechy draws on many aspects of his Mexican-American heritage, as well as his past, to create his own vision of art. One recurring symbol Rechy uses in his novel Rushes is drawn from the Catholic faith he practiced in childhood; as the protagonist advances further into despair, his trip reflects the stations of the cross, the route that Jesus took through Jerusalem on his way to Calvary.

Much of Rechy's work concerns finding patterns in life and reflecting those patterns in his fiction. His first novel, he told John Farrell in the University of Southern California's faculty newsletter Transcript, grew out of his "desperate need to try to give order to the anarchy I had experienced." In later books, such as Numbers, The Vampires, The Fourth Angel, The Sexual Outlaw: A Documentary, and Bodies and Souls, Rechy has experimented not only with content, but also with the form of storytelling itself.

Bodies and Souls relates the story of three runaways who have come to Los Angeles looking for answers and the realization of their dreams. Rechy intersperses their tale with vignettes of Los Angeles residents whose lives are as empty as those of the three young people. "The all-pervading isolation and loneliness that Mr. Rechy dramatized so effectively in his novels about homosexual night life," wrote Alan Cheuse in the New York Times Book Review, "becomes in this ... book a commonplace about daily life in California." Rechy once told CA: "I think of it as an epic novel of Los Angeles today--an 'apocalyptic' novel. In it, through the many lives I depict, I explore what I call 'the perfection of what is called accident'--the seemingly random components that come together perfectly to create what in retrospect we name 'fate.'" A reviewer for Publishers Weekly noted that Rechy "is very good at evoking the seamier side of the streets, and he is masterful in funny, graphic sex scenes." In the New York Times Book Review, a contributor asserted: "There's so much energy, ambition and humor ... that the phrase 'scarred beauty' might well describe the novel."

Marilyn's Daughter tells the story of Normalyn Morgan, who may or may not be Marilyn Monroe's daughter by Robert Kennedy. Richard Hall, writing in the San Francisco Chronicle, called the novel "a marvel of literary engineering," praising its "complex plot ... which loops and doubles back in time." Normalyn travels to Los Angeles after her foster mother's suicide to find out if Monroe was, in fact, her mother. This journey of discovery leads Normalyn through a many-layered maze of deception and ambiguity--some of it laid down by Monroe herself, other parts hidden or forgotten by people whose lives intersected at one time with hers. "In her search for Monroe," explained Hall, "Normalyn comes up against one of the great, overarching symbols of American confusion." Farrell commented: "Rechy notes that, whether [the book] succeeds on its own terms or not, what the novelist intended was a truly innovative approach to narrative and a serious exploration into the origin of legends and their power over truth."

In The Miraculous Day of Amalia Gomez, Rechy relates the plight of a beautiful, twice-divorced Mexican-American woman in Los Angeles who recalls traumatic events of her life after seeing what she believes is a divine apparition in the form of a silver cross in the sky. While Amalia attempts to rationalize the religious vision, through a series of flashbacks the reader learns of her abusive childhood in El Paso, Texas, with an alcoholic father, her first marriage to a man who raped her, the death of her son in prison, and a procession of related misfortunes. Judith Freeman described the novel in the Los Angeles Times Book Review as "a disturbing portrayal of one day in the life of a middle-aged Mexican-American woman who is struggling to raise her children amid the decaying and drug-ridden neighborhoods of East Los Angeles and Hollywood." Though critical of the novel's denouement, Karen Brailsford wrote in the New York Times Book Review that Rechy is "most successful in his graphic descriptions of the hellish underbelly of East Los Angeles." A Publishers Weekly reviewer wrote: "Rechy probes the dark underside of the American dream in this powerful portrait. ... [He] scorchingly evokes the prejudice faced by Mexican Americans ... the poverty, gang warfare, illegal border crossings and visions of salvation."

Our Lady of Babylon, set in eighteenth-century Europe, describes the flight and redemption of a woman wrongly accused of killing her husband. Pursued by papal authorities, the unnamed lady finds refuge at a countryside estate with Madame Bernice, to whom she recounts her numerous incarnations as Eve, Delilah, Helen of Troy, Mary Magdalene, and Medea. Though finding fault in the novel's frequent narrative disjunctions, Washington Post Book World contributor Elizabeth Hand wrote: "Rechy writes gracefully, and sometimes poignantly, of the fate of fallen women over the centuries." Marsha Kinder, writing in the Los Angeles Times, called Our Lady of Babylon a "brilliant work of comic satire," continuing: "Rechy's Lady delivers not a 'true' account of history but an intricate structure of language that exposes the destructive power of mythic babble."

Rechy's eleventh novel, The Coming of the Night, takes place in Los Angeles in 1981, at the beginning of the AIDS epidemic. All of the action happens in the span of one day, the day on which Jesse celebrates his first year of being openly gay. The celebration, which takes place in West Hollywood Park and consists of Jesse having as much sex as possible, occurs at the same moments when others are having conversations of disbelief about the rumors of the invasion of AIDS. "I wanted to convey the franticness that had been reached in gay men's lives, where we were now in danger of surrendering everything to our sexuality and entering a new time of danger," Rechy told Canning. R. Hunter Garcia, writing for the Advocate, quoted Rechy as saying that with The Coming of the Night he broaches a new territory, with "the central question that it asks rhetorically, 'Would you die for sex?'" Thom Nickels, writing for the Lambda Book Report, called The Coming of the Night a "lyric ocean of storytelling. ... The dynamic prose quality of the novel upholds Rechy's reputation as the father of the gay world. The writing is good, and the dialog is even better." Roger Durbin of the Library Journal wrote: "It's pretty raw stuff but a good read."

With The Life and Adventures of Lyle Clemens, Rechy created a "simultaneously sweet and vicious satire of contemporary America," according to one Publishers Weekly critic. A modernized version of the Henry Fielding classic novel Tom Jones, Rechy's novel features the innocent young man of the title who was abandoned by his father and raised by his impoverished mother. Taking up his guitar, he leaves for California to make his fortune only to find himself repeatedly taken advantage of by other people, ranging from gamblers to pornographers, Pentecostals to a scheming actress. "This raucous, hormone-fueled Bildungsroman takes its hero through the tabloid underbelly of America," related Lawrence Rungren in the Library Journal.

Often a critic of American society and its treatment of homosexuals and other minority groups, Rechy collected an array of essays expressing his opinions in Beneath the Skin: The Collected Essays of John Rechy. "This book catalogues a career of in-your-face journalism that has always challenged stereotypes," according to Jeff Ingram in a Library Journal review. The collection includes essays that express admiration for some--for example, Jonathan Swift--and exasperation with others, such as Joyce Carol Oates; it also includes everything from reflections on his personal life to a commentary on the important case of Lawrence v. Texas and how it reflected on "the long history of abuse against gays and lesbians," related Dan Luckenbill in the Gay and Lesbian Review Worldwide. Luckenbill added that "Rechy's nonfiction succeeds through his ability to engage the critical topics of the time, along with the unflinching moral stance he adopts."

The admiration that Rechy's peers have for him because of his willingness to take a stand can be seen in the speech the author and critic Carolyn See made during the presentation of the PEN Award to Rechy. She described the author's style, in a quote reproduced on the author's Web site, as "fresh, beautiful, totally courageous--and totally cool, passionate ... twisting and pulling at the forms and contours of the American language ... a prose revolution. ... He speaks for those who can't speak for themselves. ... [He] has always been the steadfast champion of the disregarded, no matter their gender or station in life."

In About My Life and the Kept Woman: A Memoir, Rechy offers an account of his early life in El Paso, where his light skin allowed him to "pass" for white; his unhappy family with his adoring mother and abusive father, who resented the failure of his musical career after moving to the United States from Mexico; and the double life he continued to lead after his unexpected literary success. As Dallas Morning News contributor Bryan Woolley described it, "Rechy's story of himself unfolds with the color, energy, humor and teeming characters of a Dickens novel, as if Pip or David Copperfield had grown up in the El Paso barrio. ... There's a dangerous, terrifying father pickling his broken dreams in alcohol; a beautiful fortress of a mother; loving and supportive older sisters and brothers; nosy neighborhood gossips; tempters and temptresses; lecherous celebrities; brutal cops; and many honest friends."

Chief among these early influences was Marisa Guzman, the "Kept Woman" of the book's title, who was the mistress of a powerful Mexican man whose brother married Rechy's sister. Meeting her at the wedding, Rechy was immediately entranced by her glamour and mystique; her image becomes central to his view of how he goes on to form his own identity. Yet self-acceptance did not come easily or swiftly. It was difficult for Rechy to come to terms with being gay, and not until he reached his fifties, after decades as a successful writer and professor, did he acknowledge that the secretive life as a hustler that he had maintained all this time was keeping him from forming emotional connections with others. He allowed himself, finally, to fall in love, and since then has remained in a committed relationship with his partner.

"I consider writers a hierarchy of liars," Rechy told an interview for the Los Angeles Times. He admitted that parts of About My Life and the Kept Woman did not actually happen as he wrote them, but insisted that they should have occurred. His view of memoir, he said, is one that blurs distinctions between fact and fiction--not to evade responsibility for past behavior, but to question how the process of memory works. While the result might not be clearly factual, he stated, "it would not be self-protective. I would not withhold certain things that I consider very ugly in my life that I did." These include shunning gays in public while "upholding my camouflage of tough on the streets."

Ilan Stavans, writing in San Francisco Chronicle, observed that this tough image, and Rechy's ambivalence about it, are rooted in the author's Mexican heritage, with its emphasis on machismo. Noting that "Rechy's connection to his Mexicanness is nothing if not convoluted," Stavans found About My Life and the Kept Woman a story of alienation. "What lessons ought to be take from Rechy's odyssey?" asked the critic. "That for an ethnic American the act and art of posing might seem like the only way to be, but it inevitably leads to a divided--i.e., faked--self."

PERSONAL INFORMATION

Born March 10, 1934, in El Paso, TX; son of Roberto Sixto and Guadalupe (Flores) Rechy; companion's name Michael. Education: Texas Western College (now University of Texas at El Paso), B.A.; attended the New School. Military/Wartime Service: U.S. Army; served in Germany. Memberships: National Writers Union, Authors Guild, Authors League of America, PEN, Texas Institute of Letters.

AWARDS

Longview Foundation fiction prize, 1961, for short story "The Fabulous Wedding of Miss Destiny"; International Prix Formentor nominee, for City of Night; National Endowment for the Arts grant, 1976; Los Angeles Times Book Award nomination, 1984, for body of work; PEN-USA-West Lifetime Achievement Award, 1997; William Whitehead Award for Lifetime Achievement, the Publishing Triangle, 1999; The Sexual Outlaw: A Documentary was included among the 100 best nonfiction books of the century by the San Francisco Chronicle Book Review, 2000; City of Night was named one of the twenty-five all-time best novels by the Publishing Triangle, 2000; Lifetime Achievement Award, Masters in Professional Writing Program, University of Southern California, 2001; Tribute to John Rechy, Association of Writing Programs Convention, Palm Springs, CA, 2001; first Best Body of Work award, National Gay Archives; nomination for Texas Institute of Arts and Letters Best Novel Award, for The Fourth Angel; Teaching Excellence Citation, Masters in Professional Writing Program, University of Southern California; elected to El Paso Hall of Fame in Writing; Golden Nugget Award, University of Texas-El Paso, 2003; One First Culture Hero Award, 2006; fellow, Los Angeles Institute for the Humanities, 2006.

CAREER

Writer. Guest writer in creative writing, Occidental College, Los Angeles, CA, 1973-74, University of California, Los Angeles, 1976- 77, and University of California, Riverside, 1978; University of Southern California, adjunct professor of creative writing, 1983-99.

WRITINGS:
FICTION

* City of Night, Grove Press (New York, NY), 1963.
* Numbers, Grove Press (New York, NY), 1967.
* This Day's Death, Grove Press (New York, NY), 1969.
* The Vampires, Grove Press (New York, NY), 1971.
* The Fourth Angel, W.H. Allen (London, England), 1972, Viking (New York, NY), 1973.
* Rushes, Grove Press (New York, NY), 1979.
* Bodies and Souls, Carroll & Graf (New York, NY), 1983, published with a new introduction by Rechy, Grove Press (New York, NY), 2001.
* Marilyn's Daughter, Carroll & Graf (New York, NY), 1988.
* The Miraculous Day of Amalia Gomez, Arcade (New York, NY), 1991, published with a new introduction by Rechy, Grove Press (New York, NY), 2001.
* Our Lady of Babylon, Arcade (New York, NY), 1996.
* The Coming of the Night, Grove Press (New York, NY), 1999.
* The Life and Adventures of Lyle Clemens, Grove Press (New York, NY), 2003.

OTHER

* The Sexual Outlaw: A Documentary (nonfiction), Grove Press (New York, NY), 1977.
* Momma as She Became--Not as She Was (play), produced in New York, NY, 1978.
* Tigers Wild (play), first produced Off-Broadway at Playhouse 91, 1986.
* Beneath the Skin: The Collected Essays of John Rechy, Carroll & Graf (New York, NY), 2005.
* About My Life and the Kept Woman: A Memoir, Grove Press (New York, NY), 2008.

Also author of a screenplay based on his novel City of Night and a play based on Rushes. Contributor to books, including The Moderns, edited by LeRoi Jones, Corinth, 1963; Voices, edited by Robert Rubens, M. Joseph, 1963; Black Humor, edited by Bruce Jay Friedman, Bantam, 1965; New American Story, edited by Donald M. Allen and Robert Creeley, Grove Press, 1965; Collision Course, Random House, 1968; Scripts, edited by Floren Harper, Houghton Mifflin, 1973; Passing Through, edited by W. Burns Taylor, Richard Santelli, and Kathleen McGary, Santay Publishers, 1974; Chicano Voices, edited by Carlota Cardeneste Dwyer, 1975; Urban Reader, edited by Susan Cahill and Michele F. Couper, Prentice-Hall, 1979; Rediscoveries II, edited by David Madden and Peggy Bach, Carroll & Graf, 1988; and Literatura Chicana, edited by Edmundo Garcia Giron, Prentice-Hall.

Contributor of short stories, articles, and reviews to periodicals, including Evergreen Review, Nugget, Big Table, Mother Jones, London magazine, Los Angeles Times Book Review, New York Times Book Review, Saturday Review, Washington Post Book World, Village Voice, and Nation; contributor of translations from the Spanish to periodicals. Rechy's works have been translated into more than a dozen languages and published in over twenty countries.
View the full website biography of John Rechy.