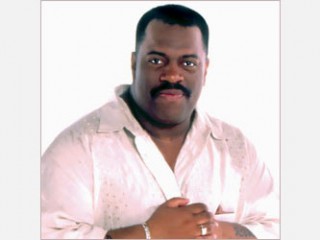 John P. Kee
Date of birth : 1962-06-04
Date of death : -
Birthplace : Durham, North Carolina
Nationality : American
Category : Arts and Entertainment
Last modified : 2010-12-06
A religious calling turned John P. Kee, born: John Prince Kee from a seedy lifestyle to a career as a top-ranked gospel performer, producer, and pastor of the New Life Fellowship Church in Charlotte, NC. In a 1996 interview he explained, "God delivered me in Charlotte's inner city from a life that mirrors the ills that we still face today." The 15th of 16 children, Kee showed musical talent at a very early age. After studying at a special school for musically gifted children, the North Carolina School of the Arts in Winston-Salem, he formed his first choir at 13. Moving to California, he studied music with his older brothers, Al and Wayne, attending the Yuba College Conservatory School of Music in Marysville and becoming involved with the area's top musicians. While in California, he also played briefly with groups like Donald Byrd & the Blackbirds and Cameo. However, his talents never saved him from difficult times. By his late-teens he had begun living a hard-edged street life. That lifestyle followed him to California and back again.
When he returned to his home state, he moved to Charlotte's Double Oaks community and continued to slide down to a life of drugs and random violence. Kee began to turn his lifestyle around in his early-twenties after seeing a friend murdered in a cocaine deal gone bad. Surrendering to the Lord during a revival meeting at the PTL, he became involved with the New Life Fellowship Church. Devoting himself to gospel music, he began singing and formed the group New Life Community Choir. His first professional break came in 1985 when he became the first artist to be asked to record lead vocals on two tracks for the Gospel Music Workshop of America's annual mass choir recording. In 1987 he released his first album with New Life Choir, Yes Lord, which was recorded during a 1987 performance at the Brethren in Unity Youth Convention. In 1989 he released his debut solo album, Wait on Him. Kee has continued since then to balance solo albums and recordings with the choir. The early '90s brought the beginning of what would be a flood of awards for Kee including more than a dozen Stellar Awards, 20 GMWA Excellence Awards, a Soul Train Award, and two Billboard Music Awards. In 1995, Kee and New Life Community Choir reached their first commercial peak with the gold award-winning album Show Up which was also nominated for a Grammy, as was his 1999 album Strength. In the late '90s, Kee added a full-time ministry to his list of accomplishments, balancing work in the New Life Community Church with his music career. In addition to his own albums, Kee has produced albums by the Victory in Praise Mass Choir, Shawn McClemore and New Image, and Drea Randle. In 2000 Kee returned to the recording studio with the choir, producing a critically acclaimed double album, Not Guilty, which used passionate praise & worship music mixed with hip-hop and urban elements to deliver the message of redemption through Christ to a jaded millennial audience.

View the full website biography of John P. Kee.