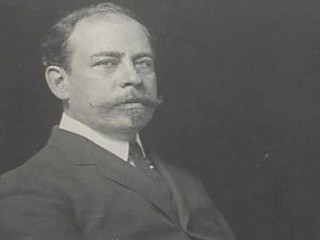 John Mervin Carrere
Date of birth : 1858-11-09
Date of death : 1911-03-01
Birthplace : Rio de Janeiro,Brazil
Nationality : Brazilian
Category : Arhitecture and Engineering
Last modified : 2012-01-20
John Merven Carrère was born in Rio de Janeiro, Brazil, the son of John Merven Carrère, a Baltimore native and Anna Louisa Maxwell, a Scots/Brazilian native of Rio who was the daughter of Joseph Maxwell, a prosperous coffee trader. The architect's father entered Maxwell's coffee business and later developed other business interests of his own in Brazil. As a boy Carrère was sent to Switzerland for his education until 1880, when he entered the Ecole des Beaux-Arts, Paris, where he was in the atelier of Leon Ginian until 1882.

He returned to New York where his family had resettled after leaving Brazil and worked as draughtsmen for the architectural firm of McKim, Mead and White. He and his Paris acquaintance, Thomas Hastings, worked there together before striking out on their own in 1885. During this period Carrère independently designed several circular panorama buildings in New York and Chicago. After he married Marion Dell in 1886 they lived in Staten Island and had three daughters, one of whom died as an infant. In 1901 they moved to East 65th Street in Manhattan, and built a country house in Harrison, NY.

Carrère was noted for his generous enthusiasm and his unflinching honesty. His organizational skill, artistic judgment, and energy were essential to the establishment and success of the Carrère and Hastings firm. He was most active in the firm's large civic and commercial projects, including the House and Senate office buildings on Capitol Hill, the Manhattan Bridge and its approaches, and the New York Public Library. He was interested in civic affairs in New York, where, with the help of Elihu Root, he was instrumental in establishing the Art Commission of New York City. Later his public service extended to the national arena.

In the 1890s he worked with other leaders of the American Institute of Architects to persuade the US Treasury Department to implement the Tarnsey Act, which had been passed by Congress in 1893 to allow the federal government to award architectural commissions for its buildings through open design competitions. During the extended Tarnsey controversy Jeremiah O'Rourke, the Supervising Architect of the Treasury Department resigned, and Carrère was offered his job, an offer which he very publicly considered, but ultimately declined, writing, "the system, not the man, should be changed."

Carrère was engaged in the development of city planning in the United States. He wrote pamphlets and lectured at universities and to civic groups on the subject. He collaborated with Daniel H. Burnham and Arnold Brunner on the Group Plan for Cleveland, Ohio (1903), and again with Brunner on a plan for Grand Rapids, Michigan (1909). Then, in 1910, he worked Brunner and Frederick Law Olmsted, Jr. on a plan for a Baltimore civic center (1910). Later, Carrère and Hastings produced a plan for the City of Hartford, Connecticut, which was completed in 1911, just prior to his tragic, early death, which occurred when a streetcar collided with the taxi in which he was riding. He suffered a brain concussion and never regained consciousness.

Carrère and Hastings were among the best-connected New York architects, and benefited from associations with the richest and most powerful of the city's citizens. Clients included Elihu Root, the noted attorney and cabinet secretary under Theodore Roosevelt, Edward H. Harriman, the railroad tycoon, Thomas Fortune Ryan, one of Wall Street's notorious capitalists, and several members of the Blair family of New Jersey. The early work of the firm was eclectic but always succinctly organized, an inheritance of their Ecole des Beaux-Arts training. Following the World Columbian Exposition of 1893, and its influential classical themes, the firm's style began to exhibit modern French and Renaissance revival attributes.

The attention to sculpture and surface embellishment in their work was always closely tied to the axial planning that ensured the functionality of the interior spaces and circulation. They were among the earliest users of new technologies, from structural steel to electrification, even employing passive air conditioning systems. But their major interest was in the adaptation of the classical language of architecture developed in Europe to the American scene, creating a modern American architecture out of centuries-old traditions.

One of the largest contributions of the firm was in the realm of urban design, a result of Carrère's abiding interest in the Beaux-Arts "City Beautiful" movement. An early advocate of comprehensive planning, he designed downtown plans for Baltimore, Hartford, Cleveland and Atlantic City. In collaboration with Hastings, he was largely responsible for carrying out the firm's major public commissions: the New York Public Library (1897–1912), the House and Senate Office Buildings in Washington (1908–09), the planning of the Pan-American Exposition in Buffalo (1901), the McKinley Memorial (also in Buffalo), Richmond Borough Hall on Staten Island (1904–06), and the Paterson (New Jersey) City Hall (1896).

View the full website biography of John Mervin Carrere.