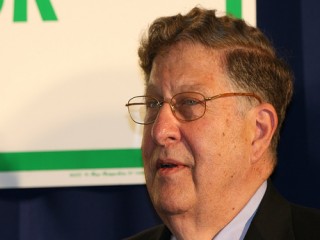 John H. Sununu
Date of birth : 1939-07-02
Date of death : -
Birthplace : Havana, Cuba
Nationality : American
Category : Politics
Last modified : 2010-10-06
John Henry Sununu (born July 2, 1939) is a former Governor of New Hampshire (1983–89) and former White House Chief of Staff under President George H. W. Bush. He is the father of John E. Sununu, a former senator from New Hampshire, and formerly a U.S. Representative. Sununu is the current chairman of the New Hampshire Republican Party.

Sununu was born in Havana, Cuba, the son of Victoria (née Dada) and John Saleh Sununu, an international film distributor. He is Roman Catholic and his father is of Lebanese descent. His father's family came to the United States from the Middle East at the beginning of the twentieth century. Most of the last two generations of Sununus were also born in the United States. Most of his closest relatives in Beirut have died, including a relative who returned to the Lebanese capital from the United States several years ago.

He earned a BS in 1961, a Master's degree in 1963, and a Ph.D. in 1966 from MIT, all in mechanical engineering. Sununu is a member of Phi Sigma Kappa fraternity.

From 1968 until 1973, he was Associate Dean of the College of Engineering at Tufts University and Associate Professor of Mechanical Engineering. He served on the Advisory Board of the Technology and Policy Program at MIT from 1984 until 1989.


Governor
Sununu became New Hampshire's 85th Governor on January 6, 1983, and served three consecutive terms. He served as chairman of the Coalition of Northeastern Governors, the Republican Governors Association and, in 1987, the National Governors Association.
White House Chief of Staff
Sununu was the first White House Chief of Staff for George H. W. Bush, serving from 1989 to 1991. Time magazine dubbed him "Bush's Bad Cop" on the front cover on May 21, 1990.
He resigned his White House post in 1991.
Sununu is responsible for recommending David Souter to President George H. W. Bush for appointment to the Supreme Court of the United States, at the behest of New Hampshire senator Warren Rudman. The Wall Street Journal described the events leading up to the appointment of the "liberal jurist" in a 2000 editorial, saying Rudman in his "Yankee Republican liberalism" took "pride in recounting how he sold Mr. Souter to gullible White House chief of staff John Sununu as a confirmable conservative. Then they both sold the judge to President Bush, who wanted above all else to avoid a confirmation battle [after Robert Bork]." Rudman wrote in his memoir that he had "suspected all along" that Souter would not "overturn activist liberal precedents." Sununu later said that he had "a lot of disappointment" about Souter's positions on the Court and would have preferred him to be more similar to Justice Antonin Scalia.
President Bush speaks on the telephone regarding Operation Just Cause with Sununu and Brent Scowcroft, 1989.
Sununu co-hosted CNN's nightly
Crossfire
from March 1992 until February 1998.
Political positions
Sununu holds deeply conservative economic and social views and as an engineer, he supports the expansion of nuclear energy. He is fiercely against the imposition of new taxes.
Business
From 1963 until 1983, he served as President of JHS Engineering Company and Thermal Research Inc. In addition, he helped establish and served as chief engineer for Astro Dynamics Inc. from 1960 until 1965.
Sununu is President of JHS Associates, Ltd. and is a partner in Trinity International Partners, a private financial firm.
Sununu is a member of the National Academy of Engineering and a member of the Board of Trustees for the George (H.W.) Bush Presidential Library Foundation.
He is also a member of Honorary Council of Advisors for U.S.-Azerbaijan Chamber of Commerce (USACC).
Personal life
He is married to the former Nancy Hayes, and they have eight children, including former U.S. Senator John E. Sununu. In recent years, he moved to Hampton Falls, New Hampshire. He and his wife were subsequently elected as the town's honorary hog reeves and poundkeepers.
Sununu has met the eligibility requirements for the Mega Society, the world's most exclusive high-IQ society, which accepts only those who score in the 99.9999th percentile on IQ tests (Mensa, for example, accepts the top 2 percent).
Sununu's daughter Cathy is the president of the Portsmouth Museum of Fine Art in Portsmouth, New Hampshire.
View the full website biography of John H. Sununu.