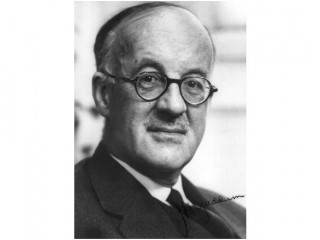 John H. Gaddum
Date of birth : 1900-03-31
Date of death : 1965-06-30
Birthplace : Hale, Cheshire, England
Nationality : English
Category : Science and Technology
Last modified : 2011-12-21
John Henry Gaddum was a British pharmacologist. He was educated at Rugby School and Trinity College, Cambridge. He became professor of pharmacology at the University of Cairo. Subsequent to this he took up a chair at University College London.

He later worked at Porton Down. He is best remembered for his classic work "Gaddum's Pharmacology". He is the first scientist postulated that 5-HT might have a role in mood regulation.

Gaddum worked under Henry Dale at the National Institute for Medical Research, and helped develop the classical laws of drug antagonism. He showed that sympathetic nerves release adrenaline, and in collaboration with Ulf von Euler established the release of acetylcholine in autonomic ganglia.

In experiments with lysergic acid diethylamide (LSD), Gaddum explained how it causes mental disturbances by blocking serotinin's stimulation effects. He also authored an advanced pharmacology text which was considered definitive for decades.


View the full website biography of John H. Gaddum.