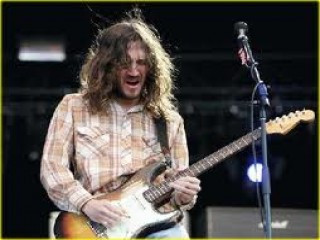 John Frusciante
Date of birth : 1970-03-05
Date of death : -
Birthplace : New York City,U.S.
Nationality : American
Category : Arts and Entertainment
Last modified : 2011-11-15
John Anthony Frusciante is an American guitarist, singer, songwriter, record and film producer. He is best known as the former lead guitarist of the rock band Red Hot Chili Peppers, with whom he recorded five studio albums. Frusciante has an active solo career, having released ten albums under his own name, as well as two with Josh Klinghoffer and Joe Lally as Ataxia. His solo recordings include elements ranging from experimental rock and ambient music to New Wave and electronica. Influenced by guitarists of various genres, Frusciante emphasizes melody and emotion in his guitar playing, and favors vintage guitars and analog recording techniques.

Frusciante was born in 1970 in New York City, the son of John and Gail Frusciante. Frusciante's father was a pianist who had attended Juilliard School of Music in New York City, and later became a lawyer and judge. His mother was a singer who then settled into the role of homemaker. He spent his early years in Queens, Long Island, New York, but after his parents' divorce he moved to Tucson, Arizona, and then eventually to Santa Monica, California, where he lived with his mother and stepfather. By the age of nine, Frusciante showed a love for punk rock music. His stepfather's musical preferences ranged from Beethoven to 1950s R&B, and he was supportive of Frusciante's taste in music.

When Frusciante was 17, he dropped out of school and moved to Los Angeles where he indulged his love of music. He auditioned for bands and jammed with local musicians while maintaining the pretense of attending college. He even went to an audition for Frank Zappa's band, but left early for reasons he revealed to Guitar Player: "I realized that I wanted to be a rock star, do drugs and get girls, and that I wouldn't be able to do that if I was in Zappa's band."

In 1988 Frusciante stepped right into that world of rock stars, girls, and drugs. He had been jamming regularly with DH Peligro of the band the Dead Kennedys. In his home, he had also been playing alongside recordings of his favorite Los Angeles band, the Red Hot Chili Peppers. Peligro introduced Frusciante to Michael Balzary, better known as Flea, who was the bass player for the Peppers. The three played together, and Flea recruited Frusciante to replace the Peppers' guitarist Hillel Slovak, who had recently died of a heroin overdose.

Frusciante came on board as the Chili Peppers were beginning to attract a wider audience, and with Mother's Milk the band exploded onto the scene. Exposure on cable's MTV with their songs "Knock Me Down" (about Slovak) and "Higher Ground" (a cover of a Stevie Wonder tune) finally pushed them into the spotlight. With their next album, Blood Sugar Sex Magik, the Chili Peppers became superstars. Despite their success and Frusciante's achievement, he began having second thoughts about a career in the music business, especially as part of an extremely popular band. In 1992, while on their world tour, Frusciante decided he no longer wanted to be a part of Chili Peppers, and quit half an hour before going onstage. The band was stunned and forced to cancel the rest of its tour. Anthony Keidis, lead singer for the Chili Peppers, told David Fricke and M. Selinger of Rolling Stone, "He's one of the most deeply soulful guitar players that we've ever been connected with. Also, he's a good friend, and we had something going that was cosmic and special. And we're going to have to find that elsewhere."

After leaving the band, Frusciante descended into a serious drug addiction. He battled it for more than three years, suffering financial and physical ruin. During that time he released two solo recordings, Niandra LaDes and Usually Just a T-Shirt and Smile From the Streets You Hold. The strange and haunting sounds of Niandra LaDes and Usually Just a T-Shirt were the result of combining two 12-track sets of Frusciante's work. For his 1997 Smile From the Streets You Hold, Frusciante drew from anything he had recorded, mostly for the purpose of getting drug money. Soon afterward, in the wake of near-fatal overdose, Frusciante entered rehabilitation.

Flea approached Frusciante in 1998 to see if he was willing and able to rejoin the Chili Peppers. Keidis described the reunion to Fricke, "Flea ... said, 'What do you think of playing with John again?' I said, 'That would be a dream. But what are the odds that the chemistry would work for even a minute?' And he said, 'Yeah, the odds are a million to one.' But from the first time we got together to play, I felt completely levitated.'" The band's subsequent release, Californication, became another success for the Chili Peppers, after years of struggling to reach the heights found with Blood Sugar Sex Magik. Frusciante described the process of crafting Californication to the Toronto Star: "It was obvious that we were all making music for the same reasons. Nothing really conflicted with each other, everybody was kind of thinking with the same head."

Recovering from his addiction and back in his original band, Frusciante began writing his own songs again, in addition to working on songs with the Chili Peppers. He explained to the Toronto Star, "Me writing words is as important to me as playing guitar is, so I'm constantly writing and constantly recording." In 2001 he released a solo album, To Record Only Water for Ten Days, for Warner Brothers, a collection of original material that focused on his writing, singing, and musicianship.

In 2004 Frusciante announced that he would release six albums in as many months. The first of the set, Shadows Collide with People, was described by Aidin Vaziri of the San Francisco Chronicle as "gorgeously odd and frighteningly original." From there, Frusciante went on to release five more albums in 2004 and an additional one the following year. He collaborated with Josh Klinghoffer, a young Los Angeles producer and musician, on several of the albums. He also worked with bassist Joe Lally of the punk band Fugazi, and Flea and Chad Smith of the Chili Peppers, and his work touched on a range of influences and styles.

From the heights of international and popular success to the absolute lows of drug addiction, Frusciante seems now to be seeking a middle ground that will support his creativity and keep him comfortable. He explained his focus to Burhan Wazir of the Times of London, "It's just about the music. When I'm not making it, I'm happy sitting at home listening to records. There's so many experiences to be had listening to music."

In early 2005, Frusciante entered the studio to work on his fifth studio album with the Chili Peppers, Stadium Arcadium. His guitar playing is dominant throughout the album, and he provides backing vocals on most of the tracks. Although usually following a "less is more" style of guitar playing, he began using a full twenty-four track mixer for maximum effect.
Frusciante began a series of collaborations with friend Omar Rodríguez-López and his band The Mars Volta, by contributing guitar and electronic instrumentation to song "Cicatriz ESP" off their album De-Loused in the Comatorium. He also contributed guitar solos on their 2005 album Frances the Mute. In 2006, he helped The Mars Volta complete their third album Amputechture by playing guitar on seven of its eight tracks. In return, Rodriguez-Lopez has played on several of Frusciante's solo albums, as well as making a guest appearance on Stadium Arcadium.

Ataxia released its second and final studio album, AW II in 2007. Following the Stadium Arcadium tour (early May 2006 to late August 2007), the Red Hot Chili Peppers agreed to a hiatus of indefinite length. In early 2008, Anthony Kiedis finally confirmed this, citing exhaustion from constant work since Californication as the main reason.
Frusciante's tenth solo album, The Empyrean, was released on January 20, 2009 through Record Collection.Along with Speed Dealer Moms, Frusciante also provided guitar for Swahili Blonde, a project of percussionist/vocalist Nicole Turley. The project released its debut album Man Meat in 2010.

In 2011, Frusciante contributed guitar to the song "Prends-moi" on the album Ring n' Roll by French singer Catherine Ringer, and provided guitar for Swahili Blonde's second studio album, Psycho Tropical Ballet Pink.

Selected discography
Solo albums:
-Niandra LaDes and Usually Just a T-Shirt American Recordings, 1994.
-Smile From the Streets You Hold Birdman, 1997.
-To Record Only Water For Ten Days Warner Bros., 2001.
-Shadows Collide With People Warner Bros., 2003.
-A Sphere in the Heart of Silence Record Collection, 2004.
-The Will to Death Record Collection, 2004.
-Ataxia-Automatic Writing Record Collection, 2004.
-A Sphere in the Heart of Silence Record Collection, 2004.
-DC-EP Record Collection, 2004.
-Inside of Emptiness Record Collection, 2004.
-Curtains Record Collection, 2005.

With Red Hot Chili Peppers:
-Mother's Milk EMI, 1989.
-Blood Sugar Sex Magik Warner Bros., 1991.
-Californication Warner Bros., 1999.
-By The Way WEA, 2002.
View the full website biography of John Frusciante.