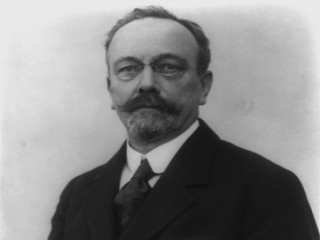 Johannes Fibiger
Date of birth : 1867-04-23
Date of death : 1928-01-30
Birthplace : Silkeborg, Denmark
Nationality : Danish
Category : Science and Technology
Last modified : 2011-12-21
Johannes Andreas Grib Fibiger was a Danish scientist, physician, and professor of pathological anatomy who won the 1926 Nobel Prize in Physiology or Medicine.

Fibiger had claimed to find an organism he called Spiroptera carcinoma that caused cancer in mice and rats. He received a Nobel prize for this discovery. Later, it was shown that this specific organism was not the primary cause of the tumors. Moreover, Katsusaburo Yamagiwa, only two years later in 1915 successfully induced squamous cell carcinoma by painting crude coal tar on the inner surface of rabbits' ears. Yamagiwa's work has become the primary basis for this line of research.
Because of this, some consider Fibiger's Nobel Prize to be undeserved particularly because Yamagiwa did not receive the prize. But others credit Fibiger with showing that external stimuli can induce cancer and proving the correlation by experimental method. Encyclopedia Britannica's guide to Nobel Prizes in cancer research mentions Yamagiwa's work as a milestone without mentioning Fibiger.

Johannes Fibiger conducted important research into diphtheria, tuberculosis, and cancer. He won the 1926 Nobel Prize in Physiology or Medicine for his finding that the nematode Spiroptera carcinoma, which infests cockroaches, causes gastric tumors in rats when the rats eat the roaches.

Later research has shown that Fibiger was mistaken -- a deficiency of Vitamin A caused the cancers in some of Fibiger's rats. The microscopic roundworms are now known to stimulate formation of tumors in cancerous cells, but they are not the cause of the cancer, since they do not trigger tumor formation in healthy cells. The nematode, called Spiroptera carcinoma in Fibiger's lifetime, has since been re-named Gongylonema neoplasticum. Perhaps embarrassed by Fibiger's Nobel Prize, it was forty years before the Nobel Foundation again offered its honors for cancer research.

Fibiger was, however, the first scientist to induce cancer in lab animals, which was an meaningful advance in cancer research. It helped gain acceptance for the idea that cancer is caused by tissue irritation, and led other scientists to produce chemical carcinogens for use in cancer research.

He married his cousin, Mathilde Fibiger, who was related closely enough to her husband that her maiden name was also Fibiger. She was not related to the famous Danish feminist of the same name.
View the full website biography of Johannes Fibiger.