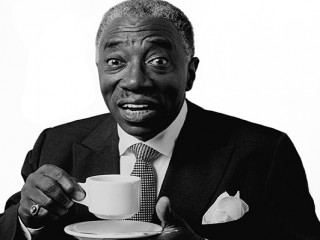 Joe Williams
Date of birth : 1918-12-12
Date of death : 1999-03-29
Birthplace : Cordele, Georgia, U.S.
Nationality : American
Category : Famous Figures
Last modified : 2012-03-15
Joe Williams (born Joseph Goreed) was a well-known jazz vocalist, a baritone singing a mixture of blues, ballads, popular songs, and jazz standards.

His name is not as well known to the general public as those of jazz legends Louis Armstrong, Duke Ellington, or Ella Fitzgerald, but Joe Williams is nevertheless counted among the masters of jazz and blues singing; he has, in fact, earned the title "Emperor of the Blues." His singing style, which he developed over a long and consistently successful career, contributed to the success of the great Count Basie Orchestra and influenced the style of many younger singers. Williams has also dabbled in acting, playing the role of Claire Huxtable's father, Grandpa Al, on The Cosby Show.

Williams was born Joseph Goreed in the small farming town of Cordele, deep in the heart of Georgia, on December 12, 1918. His father, Willie Goreed, left the family early on, but Williams's mother, Anne Beatrice Gilbert, who was no older than 18 when she had her only child, provided a strong emotional bond until her death in 1968.

Soon after Williams was born, his mother moved them in with his grandparents, who had enough money to support an extended family. During this time, Anne Gilbert was saving for a move to Chicago. Once she had made the move--alone--she began saving the money that she earned cooking for wealthy white Chicagoans so that her family could join her. By the time Williams was four, he, his grandmother, and his aunt had joined his mother in Chicago, where they would live for many years.

Probably most important to Williams's later life was the music scene--fueled largely by African-American musicians--that thrived in Chicago in the early 1920s. Years later, he recalled going to the Vendome Theatre with his mother to hear Louis Armstrong play his trumpet. Chicago also offered a host of radio stations that featured the then-rebellious sounds of jazz, exposing Williams to the stylings of Ellington, Ethel Waters, Cab Calloway, Joe Turner, and many others. By his early teens, the budding vocalist had already taught himself to play piano and had formed a quartet, known as the Jubilee Boys, that sang at church functions.

During his mid-teens Williams began performing as a vocalist, singing solo at formal events with local bands. The most that he ever took home was five dollars a night, but that was enough to convince his family that he could make a living with his rich baritone; so, at 16, he dropped out of school. After a family conference, the name "Williams" was chosen as a stage name, and Joe began marketing himself in earnest to Chicago clubs and bands. His first job was a kind of compromise--not unusual for a young singer--at a club called Kitty Davis's. Hired to clean the bathrooms, Williams was allowed to sing with the band in the evening and keep the tips, which would sometimes amount to $20.

Williams's first real break came in 1938 when clarinet and saxophone master Jimmie Noone invited him to sing with his band. Less than a year later, the young singer was earning a reputation at Chicago dance halls and on a national radio station that broadcast his voice from Massachusetts to California. He toured the Midwest in 1939 and 1940 with the Les Hite band, which accompanied the likes of Armstrong and Fats Waller. A year later, he went on a more extensive tour with the band of saxophonist Coleman Hawkins.

It wasn't long before Williams found himself in the upper reaches of the musical stratosphere; in 1942 jazz great Lionel Hampton hired him to fill in for his regular vocalist, both for the Hampton orchestra's home performances at the Tic Toc Club in Boston and for their cross-country tours. Williams's work with Hampton ended when the band's former singer returned, but by that time Williams was in great demand, his fame particularly burgeoning back in Chicago.

Williams's first marriage--to Wilma Cole in 1942--set in motion a pattern of marital difficulties that would plague him until the 1960s. The emotional relationship quickly became painful for both partners, though the union remained legal until 1946. That year, the singer married Anne Kirksey, with whom he also had a brief and unhappy relationship; they separated in 1948 and divorced several years later. It was during his second marriage that Williams experienced a serious bout of depression. Following a breakdown in the spring of 1947, he spent a year in the Elgin State Hospital, where he received now-controversial psychiatric treatments such as electroshock therapy.

His third marriage, to Lemma Reid, survived from 1951 until 1964, and produced Williams's two children, Joe, Jr., and JoAnn. Sadly, this union, too, proved fragile; Reid returned to her mother's home in Cincinnati soon after JoAnn's birth. Then, in 1957, Williams met Englishwoman Jillean Milne Hughes-D'Aeth. Their first meeting, which was very brief, was not followed by an opportunity for a lengthier tryst until two years later, when the Basie band was touring England. Before Williams left Europe, he knew that he was in love. In May of 1960, he and Hughes-D'Aeth moved into a New York apartment together, but it wasn't until January 7, 1965, that they were married, since Reid had not divorced Williams until the fall of 1964. At long last, Williams had forged a relationship that would endure.

In the early 1950s, Chicago disc jockey Daddy-O Daily secured for Williams an chance to sing with the band of one of the most powerful leaders of the era--Count Basie. After his early gigs with Basie, Williams returned to his nascent solo career, but by 1954 Basie wanted him on contract. Williams would remain with the "Basie machine" until 1961, garnering some of the best exposure a blues and jazz singer could have. National tours were interspersed with long spells in a number of America's musical capitals, wherein the band would play at one club for three or four weeks at a time. After 1955, the Basie group stopped every year at the Newport Jazz Festival, one of the biggest events on the jazz calendar. The years 1956, 1957, and 1959 also found the ensemble touring Europe, where the popularity of jazz had skyrocketed.

Williams developed his essential repertoire while he was with Basie, including standards such as "Every Day (I Have the Blues)," "Five O'Clock in the Morning," "Roll 'em Pete," "Teach Me Tonight," "My Baby Upsets Me," and "The Comeback." These recordings and many others cemented his popularity, selling in droves and earning heavy airplay on major radio stations across the country. Williams became an important name in the pages of the vaunted jazz journal Down Beat as early as 1955, when he won their New Star Award. Also that year, he was cited by the magazine's international critics' poll as best new male singer, as well as by its readers' poll in that category--honors he would continue to accumulate throughout his career. In 1958, his pop standing was second only to Frank Sinatra, and he maintained second place on the rhythm and blues charts as well, right behind pianist-singer Ray Charles.

Despite his tremendous success with Count Basie and company, Williams eventually began to feel that the position was limiting his potential as an artist. By 1960 he was planning the beginning of a solo career that would allow him to pursue a broader range of material in blues, jazz, and pop. Initially, Basie's manager, Willard Alexander, set Williams up with a group of strong musicians and a tour schedule that would take him across the United States for six months. The bookings soon multiplied; Williams was on the road for almost all of 1961. By the late 1960s, he was performing in various locations between 30 and 40 weeks each year. He went on to collaborate with such jazz luminaries as "Cannonball" Adderly, Benny Carter, George Shearing, and Thad Jones, recording over 45 albums.

Williams continued to produce albums and received overwhelmingly positive reviews for both his recordings and his performances. Even after his 70th birthday, in 1988, Williams maintained a hectic schedule of touring and recording. He has been particularly sought after to sing at tributes to his peers, including Sarah Vaughan, Ella Fitzgerald, and Louis Armstrong. As ever, his performances sparked laudatory reviews in magazines and newspapers; the New Yorker described a 1986 performance thus: "Williams has an enormous bass-baritone. It is lilting and flexible. It moves swiftly and lightly from a low C to a pure falsetto. It moves through glottal stops and yodels and delicate growls, through arching blue notes and vibratos that barely stir the air."

Williams was, of course, regularly called back to sing at Count Basie "reunions," even after the Count's death, in 1984; just a year earlier, the singer had had his star placed beside Basie's in the "gallery of stars" on Hollywood Boulevard. In 1991 Williams attended his own gala tribute, entitled "For the Love of Joe," which celebrated the contribution that he had made and was still making to music. The next year, he won his second Grammy Award, for the release Ballad and Blues Master -- I Just Want to Sing having won a Grammy in 1985. As the 1990s rolled along, Williams, his mantle growing ever-cluttered with laurels, persisted in releasing acclaimed records, wowing audiences, tackling the occasional acting role, and conducting workshops for up-and-coming singers--after 50 years, his repertoire and popularity still growing.
View the full website biography of Joe Williams.