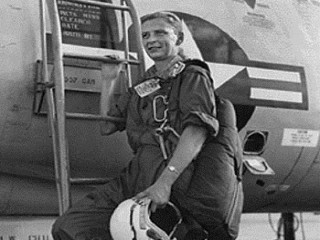 Jerrie Cobb
Date of birth : 1931-03-05
Date of death : -
Birthplace : Norman, Oklahoma
Nationality : American
Category : Science and Technology
Last modified : 2011-04-12

Jerrie M. Cobb in Norman, Oklahoma is an American aviator. She was also part of the "Mercury 13", a group of women who underwent some of the same physiological screening tests as the original Mercury Seven astronauts as part of a private, non-NASA program.

While still a student at Oklahoma City Classen High School, she earned a private pilot's license at the age of sixteen. On her 18th birthday, she received her Commercial Pilot's license and had added her Flight Instructor's Rating soon thereafter. During high school, she was barnstorming around the Great Plains in a Piper J-3 Cub, dropping leaflets over small towns announcing the arrival of an on-elephant circus. She slept under the Cub's wing at night and scraped together the gas money to practice her flying by giving rides.

After high school, she spent a year in college at Oklahoma College for Women in Chickasha and also played semi-professional softball, but she made her living by crop dusting and teaching navigation. In the early 1950s, with so many male pilots who had returned from the war, it was nearly impossible for her to land a job as a pilot. She accepted a job at the Miami airport, where she met Jack Ford, a veteran pilot of WWII who had a service ferrying aircraft worldwide. By the age of 21, Jerry was delivering four-engine military bombers and fighters to foreign Air Forces around the world. She was well on her way to becoming one of the world's top pilots.

Following a three-year romance with another pilot, which ended tragically with an explosion of his airplane over the Pacific, as a commercial pilot, Cobb set several world altitude and speed records in Aero Commander airplanes built by Oklahoma's Aero Design and Engineering Company. When she became the first woman to fly in the world's largest air exposition, the Salon Aeronautique Internacional in Paris, her fellow airmen named her Pilot of the Year and awarded her the Amelia Earhart Gold Medal of Achievement. Life Magazine named her one of the nine women of the "100 most important young people in the United States." She was also honored by the government of France.

As the Space Age was beginning, Jerry Cobb was quickly gaining a reputation in the aviation community as one of the most experienced in the high performance propeller aircraft of her day. As America began selecting the first astronauts in 1959, Jerrie was picked by the Lovelace Clinic in Albuquerque to be the first woman to undergo the same physical and psychological fitness testing regimen as the Mercury Astronaut Selection Tests. After passing the tests with flying colors, Jerrie was asked to recruit 25 other qualified women pilots. Twelve passed the first series of tests.

After promising her an early space flight, NASA appointed her the agency's consultant for the future use of women as astronauts. However, NASA's requirement that astronauts have military jet test pilot experience eliminated all women since women were not allowed to fly in the military. They kept her grounded for three years during which a Congressional hearing was called for Jerrie to testify about women astronauts. She was staggered when John Glenn testified that "men go off and fight the wars and fly the airplanes," and women are not astronauts because of our social order. Finally, her hopes were deflated. (See Mercury 13.)

A year later, Russia sent the first woman to fly in space, Valentina Tereshkova, a factory worker. The American space program did not open the ranks of its astronaut corps to women until 1978.

Setting her disappointment aside, Cobb resigned from her position with the space agency and became a private pilot using her flying talent to serve the primitive people of the Amazon jungle. For 35 years, she has found joy and delight in flying over the enormous uncharted jungle, bringing hope, seeds and help to her primitive friends.

Jerrie has received a number of awards:

Amelia Earhart Gold Medal of Achievement
Named Woman of the Year in Aviation
Amelia Earhart Memorial Award
Named Pilot of the Year by the National Pilots Association
Fourth American to be awarded Gold Wings of the Federacion Aeronautique International, Paris, France
Named Captain of Achievement by International Academy of Achievement
Served 5 years as a Consultant to the Federal Aviation Administration
Selected by the Mercury Astronaut Selection Team to be the first, and only, woman to undergo and successfully pass all 3 phases of Mercury astronaut tests (1960)
Appointed consultant to NASA
Honored by the government of Ecuador for pioneering new air routes over the Andes Mountains and and Andes jungle
Awarded the Harmon International Trophy for "The Worlds Best Woman Pilot" by President Nixon at a White House ceremony
Inducted into the Oklahoma Hall of Fame as "the Most Outstanding Aviatrix in the US
Received Pioneer Woman Award for her "courageous frontier spirit" flying all over the Amazon jungle serving primitive Indian tribes
Nominated for the Nobel Peace Prize

At age 67, Jerrie is in excellent physical condition and still flies professionally. As Senator Glenn recently returned to space, this courageous woman still hopes to fulfill her lifelong dream of flying in space. As she puts it, "I'd give my life to fly in space. I would have then, and I will now."


View the full website biography of Jerrie Cobb.