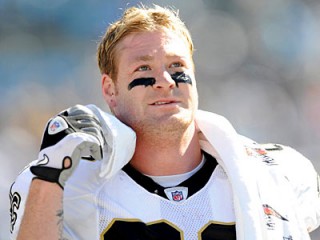 Jeremy Shockey
Date of birth : 1980-08-18
Date of death : -
Birthplace : Ada, Oklahoma, U.S.
Nationality : American
Category : Sports
Last modified : 2010-08-23
Some guys are born to be superstars. You know it from the moment you first see them play. Though still feeling his way through the league, Jeremy Shockey of the New York Giants has already left an indelible mark on the NFL. The lion-maned tight end plays mean and hard—and for keeps. In that strange and special place between "live wire" and "loose cannon," Jeremy has found a home in pro football, and he's loving every minute of it.

GROWING UP

Jeremy Charles Shockey was born on August 18, 1980, in Ada, Oklahoma. Located about 90 miles southeast of Oklahoma City, Ada is rural, quiet, and small—basically, everything Jeremy is not. With just one newspaper and one television station, it isn't your typical spawning ground for big, brash larger-than-life super jocks. But then Jeremy is not your typical small-town guy. A high-energy kid who dreamed big, he grew up knowing two things: He wanted to play football for the University of Oklahoma, and from there he would conquer the NFL.

Jeremy and his brother, James—his senior by 13 months—were raised by their mother, Lucinda. Divorced before her boys started elementary school, she worked at various times as a doctor's assistant and later as the business manager of a cosmetics studio owned by her sister, Jolene. (To this day, Jeremy has no relationship with his dad, Jimmy.)

Lucinda kept her boys in line as best she could. She drew strength from her mother, Evylene, who was paralyzed in a car accident with a drunk driver when Lucinda and her two older sisters were children. Evylene never let her physical limitations hamper how she brought up her daughters, including her oldest, Connie, who suffered from cerebral palsy. She possessed a true fighter's spirit, and many close to the Shockeys say the same fire burns inside Jeremy. As a boy, he always made a point of spending time with his grandmother, often waiting on her hand and foot.

Jeremy loved football from the time he could walk. Intensely competitive, the youngster spent day after day working on his skills as a receiver and linebacker. James was always there to push his little brother. In fact, Jeremy credits his older sibling with helping him develop into the player he is today.

Jeremy and James were also best friends. They worked side-by-side in summer jobs, and hung out with the same crowd. While the pair could be a handful, Lucinda had one hard-and-fast rule that she demanded they follow: Drinking and driving was absolutely forbidden. On weekends, it wasn't uncommon to see buddies of Jeremy and James sprawled on the Shockey yard after a night of beers and fun.

In his teens, Jeremy was not a particularly impressive athletic specimen. He was so skinny that Ada High varsity football coach Gary McBroom feared the freshman would not survive tryouts in September of 1995. Jeremy managed not to break in half, and won a spot on the varsity. Tenacity, dedication and a flair for making plays bigger than he was garnered the freshman more and more minutes, and by season's end he had earned himself a letter.

Jeremy's next three years with the Cougars were marked by steady improvement and at times spectacular performances. He started at receiver and outside linebacker, and also returned kicks. In the spring before his senior year, he suffered a setback when he broke a wrist. Shrugging off the pain, Jeremy didn't miss a day in the weight room. In the fall of 1998, he blossomed into a true star. Named All-State and All-District, Jeremy caught 50 passes for 1,108 yards and five touchdowns, and also brought back four punts for scores.

Most impressive was the way Jeremy rose to the occasion in big games. He hauled in eight passes for 206 yards in a near upset of the state's top-ranked team, Oklahoma City's Carl Albert High School. Against arch-rival McAlester High School, Jeremy set the tone by knocking the team's star fullback out of the contest with a vicious tackle in the first quarter.

Despite his sensational senior year, scholarship offers were few and far between for Jeremy. Initially, he thought he was headed to Norman to realize his childhood dream of wearing Oklahoma's crimson and cream. But that changed when head coach John Blake was fired after a disastrous three-year tenure with the Sooners. In as the school's new coach was Bob Stoops. He didn't share Blake's view of Jeremy.

For that matter, neither did most Division 1-A coaches. At 6-4 and195 pounds, Jeremy didn't have a linebacker's body. The schools that offered scholarships to the 19-year-old as a receiver—Fresno State, Montana, and Wyoming—did not interest him. Instead, Jeremy opted for Northeastern Oklahoma A&M, a junior college about three hours northeast from Ada.

Coach Dale Patterson ran a program known for taking the rough edge off of talented teenagers and feeding them into major colleges. Among A&M's more notable alumni were Charlie Clemons, Lamar Smith, Cory Ivy and Fred Perry—all of whom went on to star in college and play in the pros. Josh Scobey, a running back, was on the 1999 team. He also became an impact player in college and was later drafted by the NFL's Arizona Cardinals.

Coach Patterson welcomed the opportunity to work with Jeremy. He had packed on 20 pounds of rippling muscle since his senior season at Ada, and all of a sudden he was looking like a football player.

ON THE RISE

Jeremy turned heads the first day he stepped on the practice field for the Golden Norsemen. He had good instincts, great hands, and a combination of quickness and toughness that coaches love to see. On his pass routes, he towered over defensive backs and tore right past linebackers. Coach Patterson toyed with the idea of making him a linebacker, but his skills were perfectly suited to tight end. One crash course in run-blocking later, Jeremy was the biggest, baddest tight end in the state—which is saying something in Oklahoma.

As Jeremy mastered the responsibilities of his new position, he grew into a potent offensive force. He caught 33 passes for 484 yards and seven touchdowns, and did not embarrass himself as a blocker. He was a unanimous selection as first-team All-Southwest Junior College Conference.

Jeremy enjoyed the notoriety success brought his way. He also loved the intensity of playing Juco football. A lot of the guys on the A&M team were one-time rejects desperate to latch on with a Division 1 program. They knew scouts were in the stands during their practices, so every snap was a chance to grab their attention. The atmosphere was more like that of a prison yard than a place where young men learned to work together. Indeed, fights were the rule rather than the exception. And every play had an ultra-intense, life-and-death quality to it. Jeremy was in heaven.

In the spring of 2000, Larry Coker, the offensive coordinator at the University of Miami, visited Northeastern Oklahoma to scout a handful of players. Though Jeremy wasn't on his list, Coker noticed him immediately. When the Miami assistant returned home, he told coach Butch Davis that he had uncovered a diamond in the rough.

After doing a little snooping, the 'Canes discovered that (unlike most talented junior college players) Jeremy was a superb student. He got good grades and test scores back in Ada, and was doing well at A&M. Having been heavily sanctioned for recruiting violations in the early 1990s, the Miami staff had become experts in the minutiae of the NCAA rulebook. They knew that Jeremy was a full academic qualifier, which meant the growing tight end was eligible to transfer to a four-year school without sitting out a season. They pursued Jeremy all summer, and made sure he knew he'd be playing right away.

Oklahoma was also in the hunt. The school that had shunned Jeremy was now rethinking its decision. But two things worked against the Sooners. First, unaware of the rule pertaining to Jeremy's academic status, they believed there was no urgency to get a commitment from him. Second, Jeremy hadn't forgotten the way coach Stoops had turned his back on him a year earlier. Though Florida seemed a world away, he settled on the Hurricanes. The decision wasn't a popular one back in Ada. Jeremy was pegged by some as a traitor, and his mother was assailed with angry phone calls from local residents.

Jeremy joined a Miami team loaded with talent on both sides of the ball. In his five years as head coach, Davis, a former defensive assistant under Jimmy Johnson with the Dallas Cowboys, had rescued the program, rebuilding it from the ground up. Coming off a 9-4 campaign and its first New Year's Day bowl appearance since 1995, Miami headed into the 2000 campaign ranked in the Top 20.

The Hurricanes promised to be an offensive juggernaut. At quarterback, 6-5 sophomore Ken Dorsey was already being compared to former Miami passing greats Jim Kelly and Bernie Kosar. His offensive line was anchored by book-end tackles Bryant "Mount" McKinnie and Joaquin Gonzalez. In the backfield, James Jackson, Clinton Portis, and Najeh Davenport all figured to get carries. On the outside, Santana Moss led an explosive group of receivers that included Reggie Wayne and Daryl Jones—all of whom had game-breaking ability. Jeremy was slotted in as the backup tight end behind Ivan Mercer.

Davis was also excited about his defense. Senior middle linebacker Dan Morgan was the unit's heart and soul. Also helping out were tackle Damione Lewis and free safety Al Blades, whose older brothers Brian and Bennie had starred first for the Hurricanes, then in the NFL.

Miami opened the season with an easy victory over McNeese State, but stumbled a week later against the University of Washington. After posting back-to-back blowouts over a pair of Big East opponents, West Virginia and Rutgers, the 3-1 Hurricanes geared up for a grudge match against Florida State. On a 17-game winning streak and having taken their last five against Miami, the Seminoles entered the contest with tremendous confidence.

Though Jeremy's pass-catching skills and enthusiasm had earned him more and more snaps each week, he was still an unknown second-stringer. To most spectators, it hardly seemed consequential when he limped off the field early in the first quarter against Florida State with a partial tear of a knee ligament. Jeremy had a perfect view from the sideline as the Hurricanes squandered a first-half lead and allowed the Seminoles to surge ahead 24-20 in the final period.

When Miami got the ball with less than two minutes left and the whole season on the line, Jeremy limped back onto the field for the first time in over an hour. As far as FSU was concerned, the hobbled tight end wasn't a threat. Sensing this, Dorsey connected with Jeremy on two clutch passes as he maneuvered the team into scoring position. On first and goal from the 13, he snagged his third pass of the drive, then barreled into the end zone to give Miami a 27-24 victory.

Energized by its dramatic win, Miami roared through the rest of if schedule. Outscoring their opponents 241 to 82, the Hurricanes strung together six victories in a row and appeared to thrust themselves into the middle of the national championship picture. According to the BCS ranking system, however, they didn't merit a shot at the title. The Hurricanes had no choice but to accept an invitation to the Sugar Bowl, where they spanked Florida, 37-20. With a final record of 11-1, Miami finished at #2 in the country.

By season's end, Jeremy had become one of Dorsey's favorite targets. In all, he totalled 21 catches and three touchdowns, including a highlight-reel 44-yarder against Virginia Tech. Though Jeremy didn't start a single game, he was named first-team All-Big East by the league's coaches, College Football News and The Sporting News.

With Miami fans celebrating the football program's return to national prominence, Davis delivered the news that he was leaving the Hurricanes to coach the Cleveland Browns. Expecting the announcement, Athletic Director Paul Dee acted quickly and hired Larry Coker to replace Davis. The decision was applauded loudly, particularly by Jeremy and his teammates. Coker, a lifetime assistant at the college level, had paid his dues for three decades. Though his only head coaching experience had come at a pair of Oklahoma high schools from 1970 to 1978, he had gained the total respect and trust of his players.

MAKING HIS MARK

One Coker's first objectives was to find ways to get Jeremy more involved in the offense. He planned to put his tight end in motion more often and flank him to the outside to create mismatches with slower linebackers and smaller defensive backs. Jeremy responded by beefing up another 10 pounds or so, and working daily with Dorsey and the receiving corps.

Even with the departure of stars like Moss and Morgan, Miami was projected as a national title contender before the 2001 season began. Fourteen starters returned, including Dorsey, McKinnie and Gonzalez. Portis and Jones were also back, and both looked forward to increased playing time. On defense, the Hurricanes were stacked in the secondary. Cornerbacks Phillip Buchanon and Mike Rumph could cover anyone one-on-one, and safety Ed Reed was a touchdown waiting to happen whenever he got his hands on the ball.

With Coker trying to establish a better balance between the run and pass, Portis got off to a terrific start, and the Hurricanes rolled to victories in their first four games. Good to his word, the coach also went to Jeremy more often. The 21-year-old tight end registered a career-best seven catches for 84 yards and one touchdown in a 33-7 win over Penn State to open the season. By the end of September, he had almost matched his production from 2000.

In the second weekend in October, Miami played Florida State in Tallahassee. With the score close at halftime, the Hurricanes exploded for 28 points in the third quarter and cruised, 49-27. The victory snapped the Seminoles' 54-game unbeaten streak at Doak Campbell Stadium, and also put Miami in the thick of the race for the national title.

The Hurricanes' first close call of 2001 came at Boston College. But thanks to a late defensive score by Reed, Miami escaped 18-7, keeping the team near the top of the BCS standings. Three weeks later, the Hurricanes traveled to Virginia Tech. On the line was the right to play for the national title. Miami blazed to a 17-point halftime lead, then held on for dear life in a 26-24 nailbiter. Jeremy came up huge, catching four passes for 60 yards and a touchdown.

For the first time, Jeremy's name began appearing in newspaper headlines. The press was beginning to realize what his teammates had known for a while. He wasn't just a "gamer"—he was an over-the-top talent waiting to explode. Confident and cocky, Jeremy was also a team player of the highest order. As far as he was concerned there was nothing the Hurricanes could not accomplish, and he had the team believing it, too.

Undefeated and rated #1 by the BCS, the Hurricanes earned a bid to the Rose Bowl against Nebraska to play for the national championship. The choice of the Cornhuskers as Miami's opponent was controversial. Nebraska had lost to Colorado 62-36 in November, and many felt that Oregon should have gotten the nod. Jeremy and his teammates knew that if they did not squash the Cornhuskers—and the Ducks won big—there was a chance that Oregon might gain sentimental support as the country's top team.

The 'Canes left nothing to chance. With the Cornhuskers crowding the line of scrimmage to stop Portis and the Miami running game, Dorsey went to the air and made them pay. In the second quarter, the Hurricanes crossed up Nebraska by lining up Jeremy at fullback, then sending him on a pass pattern deep into the secondary. The result, a 21-yard scoring play, gave Miami a17-0 lead.

The game was all but over by intermission. The Hurricanes rolled to a 37-14 victory to earn their fifth national championship. Jeremy ended the contest with five receptions for 85 yards, including a touchdown.

The accolades poured in for Jeremy. He was Miami's leading receiver, with 40 catches for 519 yards and seven touchdowns. He was named first-team All-American by CNNSI.com and first-team All-Big East. Jeremy was also a finalist for the John Mackey Award, which recognizes the best tight end in college football.

The most important plaudits came by way of NFL talent evaluators, who began touting Jeremy as a potential first-round pick. His combination of size, speed, and receiving skills made him one of the most attractive prospects at tight end in years. Though his flowing blonde hair, the tattoos lining his biceps and his penchant for the outrageous scared some teams, Jeremy's passion for the game suggested he would stop at nothing in the pro ranks to become a star. He was the kind of player who could change the attitude of a team the first time he walked on the field. Though Jeremy was advised by coach Coker to stay for his senior season at Miami, he chose to enter the NFL draft.

Among the teams interested in Jeremy were the New York Giants. Not since the days of Mark Bavaro in the late 1980s had the team boasted a legitimate receiving threat at tight end. GM Ernie Acorsi and coach Jim Fassel agreed that Jeremy could become a dangerous weapon in New York's passing game. But the Giants held the 15th selection, and indications were that the Miami product might be plucked from the draft by then. Adding to the club's dilemma was the fact that the franchise had historically refused the notion of trading up in the draft. Though New York denied rumors that it had its sights set on Jeremy, when his name was still on the board before Tennessee chose at #14, Acorsi dealt his first-round choice along with a fourth-rounder to move up one slot. To the delight of Giants fans in attendance at the draft, Big Blue tabbed the Miami tight end.

New York tight ends coach Mike Pope looked forward to working another prodigy. Already in his career he had helped mold Bavaro and Ben Coates of New England into Pro Bowlers. Pope began grooming Jeremy during the club's April rookie camp. He put together a video highlighting every one of Bavaro's 66 catches from the Giants' 1986 Super Bowl season. He also presented Jeremy with a practice t-shirt with a red bull's-eye painted on it. The message: You're a marked man. The rookie loved it.

Jeremy made an immediate impression on his teammates. After signing a five-year deal worth $8.5 million, he joined the club at its training facility in Albany, New York. Brandon Short, a third-year linebacker from Penn State, tried to indoctrinate the 22-year-old with a time-tested hazing ritual, demanding the rookie recite his name, college, signing bonus, and school song. Tired from his flight from Miami, Jeremy snapped and knocked Short to the floor. The team marveled at his combativeness, but got a good laugh from it as well. In less than a day with the team, Jeremy had established himself as a bona fide force to be reckoned with.

In Jeremy's first pre-season game, he made an eye-popping catch and run against the Houston Texans. He also demonstrated that he was not afraid to draw attention to himself, getting in defenders' faces and inciting the crowd to pump up the volume.

From there, the young tight end developed into one of his team's unquestioned leaders—both on and off the field. Jeremy gleefully traded barbs with the media and challenges coaches, teammates, and opponents. Though he toned down his act as the season progressed, some catches were still celebrated as events, which brought smiles to some faces and grimaces to others. Coach Fassel decided not to reel Jeremy in, fearing he might stunt the rookie's development. Besides, in what had at one point been a frustrating up-and-down season, his teammates and the fans in New York seemed to draw energy from his exuberance. Most notably, the Giants' vaunted defense got a kick out of Jeremy and his take-no-prisoners approach.

Learning on the job, Jeremy's contributions to the New York offense varied from week to week, though his role grew more and more prominent. After a pair of painful losses to Houston and Tennessee Titans, it appeared as though New York's season was over. But the offense caught fire, thanks in large part to Jeremy, who opened the field for Amani Toomer and Tiki Barber. The offensive line also gelled, helping the Giants become more efficient in the red zone. In turn, New York won its last four, including a dramatic overtime victory over the Philadelphia Eagles that secured the team a spot in the playoffs. In that one, Jeremy was front and center. On the game-tying drive, he made a spectacular grab over the middle just as he was getting planted into the soggy Meadowlands turf. Several minutes later he outdueled Brian Dawkins on a pass in the end zone for a touchdown that knotted the score at 7-7. In the extra period, the Giants moved confidently down field of their first possession, then kicked the winning field goal.

Against the San Francisco 49ers in the first round of the post-season, Jeremy again ignited New York, sparking a 28-point explosion in the first half. When the Giants went ahead 38-14 in the third quarter, the game looked to be out of reach. But Jeff Garcia engineered a furious comeback that saw the 49ers take a 39-38 lead with a minute remaining. Collins returned the favor by guiding New York into field-goal range with six seconds left. That's when the Giants season-long bugaboo, the exchange between the long snapper and holder, reared its ugly head again. New York lost by a point without even attempting a kick.

Back in the third quarter, when the Giants appeared to have the game in hand, Jeremy muffed a pass in the end zone. The drop forced New York to kick a field goal, which didn't seem like a big deal at the time. Those missed points turned out to be precious. A momentary lapse in concentration contributed to a devastating loss—knowing Jeremy, it's a lesson he will likely never forget.

Upset after the defeat, Jeremy showed he still has some maturing to do in his press conference. Leaving decorum in the locker room, he addressed the media with an obscenity-laced monologue. For Jeremy, it was the second "incident" of the day. On the sideline early in the game, he flung a cup of ice water over his head and right into the face of a young fan.

Despite the heartbreaking conclusion to Jeremy's rookie season, there can be little question that he lived up to all the advanced billing—both good and bad. He was voted to the Pro Bowl and selected an All-Pro—an incredible honor for a rookie—and finished second to former Miami teammate Clinton Portis in the Rookie of the Year balloting.

With 74 receptions for 939 yards and two scores, Jeremy only scratched the surface of immense potential. His impact on the Giants was tangible and significant. And while his big mouth landed him in hot water on several occasions, it also made him the team's most dynamic young player since another force of nature by the name of Lawrence Taylor.

The hype that surrounded Jeremy in his rookie year didn't die down as the 2003 season opened. As a team, the Giants were also the talk of the league. With a high-octane offense headlined by Jeremy, Barber, Collins, Toomer—not to mention the return of Ike Hilliard—New York was installed as one of the NFC's frontrunners for the Super Bowl. Though the line was young and unproven, the experts believed the club's talent at the skill positions was simply too diverse for opponents to contain.

The defense also boasted a star-studded cast. Michael Strahan was among the NFL's top sackers and run-stoppers, Michael Barrow was experienced at middle linebacker, and Will Petersen and Will Allen were a year older and better on the corners.

But after an opening-day win over the St. Louis Rams, the Giants lost four of their next five. The offense was giving the ball away time and again, the defense couldn't come up with the big stop, and the special teams made several crucial mistakes. Jeremy, meanwhile, was having problems getting into the offensive flow. Slowed somewhat by a preseason foot injury, he dropped several easy passes and his timing with Collins wasn't good.

Jeremy began to turn his year around against the Miami Dolphins, notching 11 receptions for 110 yards. He also enjoyed huge days against the New England Patriots and Minnesota Vikings. His season, however, ended abruptly in November against the Atlanta Falcons. In the second half of New York's dismal 27-7 defeat, he suffered a partial tear of the posterior cruciate ligament in his left knee. Doctors predicted the recovery would take anywhere from six to eight weeks. At the time of his injury, Jeremy had 48 catches for 535 yards and two touchdowns.

The Giants refused to rush Jeremy back. Two weeks later, with New York preparing for a Monday Night tilt in Tampa, he took the field in pre-game warm-ups, and looked fairly comfortable running routes without the pads on. Jeremy wanted to return to the lineup, but even with the season slipping away, Fassel wouldn't risk it. The coach understood that Jeremy is the kind of guy who wins championships, and gambling on his gimpy knee in a year when the team was underachieving didn't make a whole lot of sense.

The Giants lost to the Bucs, then dropped their final five to stagger home at 4-12. Fassel got the axe, as did most of his coaching staff. Jeremy's injury was one of many things that went wrong. Barber couldn't overcome his fumbling habit, Collins forced the action too often, and the offensive line never came close to gelling. On defense, the "Wills"—cornerbacks Allen and Peterson—got hurt and missed most of the year, and no one besides Strahan played to their potential. To make matters worse, New York's special teams were among the worst in the league.

To solve the team's myriad problems, the Giants hired Tom Coughlin, a noted disciplinarian who prefers a wide-open offense. Contrary to what some believe, his style suited Jeremy very well. He had always responded when Fassel brought the hammer down, and Coughlin was eager to make sure Jeremy saw the ball on a more regular basis, as long as he held up his end blocking in the running game.

Heading into 2004, Jeremy was under pressure to prove the headlines about him weren't just hype. There were many, including Fassel, who felt the tight end had the potential to be one of the most dominant players and personalities the NFL had seen in some time. Even Bill Parcells agreed, though the Dallas Cowboys coach wasn't totally enamored with Jeremy's sometimes poison tongue. (Indeed, in a New York magazine story, he referred to Parcells as a "homo"—a term that landed him in more hot water.)

On the surface, it would appear that Jeremy did little to live up to expectations in the '04 campaign. He finished the year with 61 receptions for 666 yards and six touchdowns, hardly Pro Bowl numbers. But give Jeremy credit for improving in less obvious facets of the game. For example, Barber enjoyed the best season of his career (1,518 yards rushing and 13 TDs), and there's no way he could have produced his prodigious numbers without Jeremy's help.

The tight end also proved a nice influence on rookie quarterback Eli Manning, for whom the Giants traded up for in the draft. When Manning was handed the starter's job in November, he quickly developed chemistry with Jeremy. Admittedly, Jeremy dropped too many passes from the first-year QB, but his support of Manning on and off the field did wonders for the youngtser's confidence.

Jeremy also seemed to mature a bit in 2004. Granted, at one point during the season, he griped to the media that football was no longer fun. But his comments came in the midst of another New York slide. After starting 5-2, the Giants staggered home to go 6-10. Coughlin cracked the whip beginning in the preseason, and continued to do so throughout the year, drawing the ire of some of New York's veterans. Outside of his one outburst, however, Jeremy remained quiet.

That's big news for Jeremy. He's never been shy about expressing his opinion, or indulging the upside of being a professional athlete. But Jeremy appears to be realizing that it's difficult to justify a big mouth off the field if you don't produce on it.

Of course, if you prefer, ask Jeremy himself about his thoughts on the subject. It's likely that you'll still get a response from him.

JEREMY THE PLAYER

Jeremy's talents are obvious. At 6-5 and 250 pounds, he is surprisingly elusive and agile on his pass patterns. Jeremy also has speed and power to spare. He can run away from linebackers and over defensive backs. One of the things that makes Jeremy special is what he does with the ball after he catches it. Like all good wide receivers, he looks for a way to turn a short gain into a big play. Sometimes that entails a sharp cut, sometimes an old-fashioned stiff-arm right in the chops.

Jeremy compensates for miscues liked dropped passes and misrun routes with his overall receiving skills and fast-improving blocking. While he's not a classic blocker in the mold of Mark Bavaro, he is extremely combative and loves the physical part of the game. On sheer effort alone, Jeremy can hold his own against any of the NFL's top linebackers and defensive ends.

In terms of confidence, Jeremy may have no rival at his position. He honestly believes that no one can stop him.

Though Jeremy can be brash and flamboyant, he is well liked by his teammates and a positive influence in the locker room. That's partly because winning is his bottom line. Jeremy plays with pain, owns up to his mistakes, and produces in crunch time. In the cut-throat world of pro football, he is a perfect teammate, and should develop into a dynamic leader.

EXTRA

* In only his 10th game in the NFL, Jeremy burned the Redskins for 11 catches and 111 yards. In terms of receptions, it was the third-best effort in Giants history. Tiki Barber holds the club record with 13 grabs in a game, followed by Mark Bavaro with 12.
* Jeremy's on-field antics irritate some old-school players. Former Giants linebacker Sam Huff was among those blasting him in the press.
* On Miami's list of career stats for tight ends, Jeremy ranks 6th in receptions (61), 6th in receiving yards (815), and tied for second in touchdowns (10).
* At Miami, teammates called Jeremy the "football junkie" because he loved the game so much.
* Jeremy's #80 jersey is the top seller among Giants apparel in 2002.
* During the 2002 season, Jeremy did a weekly spot with "Mike and the Mad Dog" on WFAN radio in New York. It was one of the most entertaining 10 minutes in all of sports—until the hosts canned him after he stood them up up one too many times.
* Jeremy's best friend outside of the football world is former Yankees pitcher David Wells. They first met in 2003 at the Super Bowl in San Diego.
* As a guest on the Howard Stern Show, Jeremy got into trouble when he made some negative comments about homosexuals. Jeremy later apologized publicly for his remarks. He found himself in simlar hot water a year or so later when he called Bill Parcells a "homo." Again, Jeremy issued an apology, and said he would be more sensitive about the impact of such remarks in the future.
* Jeremy lists The Doors and Pink Floyd as his favorite music groups and The Godfather and Citizen Kane among his favorite movies.
* Jeremy drives a Hummer2. He's also into antique "muscle" cars, and has plans to build a Shelby Cobra or a Chevy Corvette.
* Jeremy's favorite show growing up was The Dukes of Hazzard. He owns an exact replica of the General Lee, the 1969 Dodge Charger driven by Luke and Bo.
* Jeremy loves dogs. He has a Schnauzer (Chelsea), a fox terrier (Payton) and a boxer (Major).

View the full website biography of Jeremy Shockey.