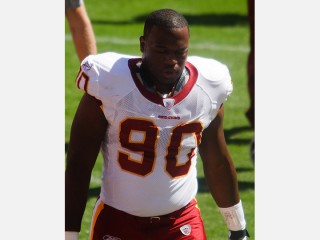 Jeremy Jarmon
Date of birth : 1987-11-20
Date of death : -
Birthplace : Fort Knox, Kentucky
Nationality : American
Category : Sports
Last modified : 2010-11-19
Jeremy Jarmon is an American football defensive end for the Washington Redskins of the National Football League.
Jarmon is a talented prospect who had substantial playing time as a rookie in 2009 before his season ended with a knee injury. He was a standout at the University of Kentucky, where he started 31-of-39 games, totaling 17.5 sacks.

PRO:
* Played in 11 career regular season games.
* Posted nine tackles and one forced fumble

2009 (Redskins)

* Played in 11 games in his rookie season.
* Recorded nine tackles and one forced fumble.
* Sustained a knee injury at Philadelphia (11/29) and was placed on Injured Reserve on November 30, 2009.
* Made NFL debut at defensive end at NYG (9/13).
* Totaled a career-high two tackles (two solo) and his first career forced fumble on RB Clifton Smith to help secure a win vs. Tampa Bay (10/4).

COLLEGE

* As a redshirt junior was named second-team All-SEC by Phil Steele's College Football and an honorable-mention performer by The Associated Press.
* Was a quarterfinalist for the Ronnie Lott Trophy as the National Defensive Player of the Year.
* Totaled 38 stops while starting 12 games.
* Also contributed 10 tackles for a loss, 4.5 sacks, six pass breakups and two forced fumbles for the season.
* As a redshirt sophomore, was named first-team All-SEC by Rivals.com and second-team All-SEC by league coaches.
* Shared team Most Outstanding Defensive Player award with Wesley Woodyard.
* Totaled 62 tackles, fourth on the team.
* Fourth in the SEC in quarterback sacks with nine.
* Tenth in the league in total tackles for loss with 13.5.
* SEC Defensive Lineman of the Week in the win over Vanderbilt.
* Matched a career-high with 2.5 sacks against the Commodores, including a critical sack in the final minute to help secure the win.
* Set a career best for tackles with 10 stops in the win over No. 1 and eventual national champion LSU.
* Played in all 13 games, starting six during redshirt freshman season.
* Tied for second on the team in tackles for loss with 6.5.
* Redshirted during first season at Kentucky and earned the Defensive Scout Team Player of the Week honor in helping the team prepare for the win over Vanderbilt.

PERSONAL

* Three-year letterman and two-year starter at Houston High School in Germantown, Tenn.
* Collected approximately 50 tackles, including 20 tackles for loss, and 10 quarterback sacks while also causing several fumbles.
* Helped lead team to a 10-3 record, reaching the quarterfinals of the Class AAAAA (largest classification) playoffs.
* All-district, all-region, and honorable-mention all-state.
* Played fullback and tight end on offense.
* Named to the Shelby County metro elite team by the Memphis Commercial-Appeal.
* Graduated from high school at age 17.
* A budding actor who portrayed a lead role in two theatrical productions, including Colonel Jessep (the Jack Nicholson role) in "A Few Good Men".
* President of the Pamoja Diversity Club, also a member of the Thespian Honor Society and French Club.
* Son of Donald and Susie Gassett.
* Majored in political science.
* Considering a career in public service, perhaps in politics or the FBI after finished with football.

View the full website biography of Jeremy Jarmon.