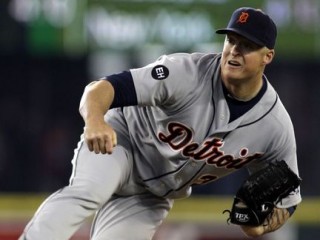 Jeremy Bonderman
Date of birth : 1982-10-28
Date of death : -
Birthplace : Kennewick, Washington
Nationality : American
Category : Sports
Last modified : 2010-10-16
GROWING UP

Jeremy Allen Bonderman was born on October 28, 1982, in Kennewick, Washington. His parents, Dorie and Gene, owned a small farm in Burbank, on the Columbia River. Dorie worked at nearby McLoughlin Middle School. Gene was an electrician at Boise Cascade.

One of four brothers, Jeremy shared with his siblings an intense love of baseball. The Bonderman boys were among the best players in the region from youth league right on up through high school. Josh graduated in 2000, John and Jeff played together on the 2005 Pasco High School team.

Jeremy was the best athlete of all the Bondermans, but troubles in school made his parents worry that there was something the matter with his eyesight. Jeremy could not focus on the chalkboard, and had trouble reading at times. His teachers kept saying he had a "vision" problem, but the Bondermans knew better. Finally, in 1995, he was diagnosed with dyslexia. By then, Jeremy had fallen so far behind his schoolwork that he had to repeat the fifth grade.

The learning disability did not affect Jeremy's performance on the baseball diamond. He developed a fastball that was already in the high 80s when he enrolled in Pasco in 1998, a few weeks before he turned 16. The Bulldogs had a good program, and had already sent two alumni to the majors—Rich Beck and Bruce Kison.

Jeremy suited up for Pasco in the spring, and pitched amateur ball in the summer and fall, gaining great experience and exposure. He worked hard to overcome his handicap and held his own in the classroom, but he was a baseball player first and foremost. His finest moment came in a game against Moses Lake, which several pro prospects, including Jason Cooper. With a full contingent of scouts on hand, Jeremy dominated.

In the fall of 2000, Jeremy joined a Northwest Fall League team that included many of Washington's top teenage prospects. He led the club to a silver-medal finish at the Wortld Junior Championships in Arizona in November. The stands were teeming with scouts when Jeremy blew away a select team from California, giving up one hit, fanning 12, and reaching the high 90s several times with his fastball. He won another game in the tournament, and finished with a 3.07 ERA.

As his junior season approached, Jeremy and his parents felt he was ready to take the next step in his baseball career. The problem was that he still had a year of high school to go. However, because he had repeated a grade, he was old enough to be drafted. That December, he tested for—and got—his general equivalency diploma, making him a high school grad. Jeremy now could become draft-eligible. But this was trickier than it sounds. Jeremy actually had to drop out of Pasco in order to take the test. Then he re-enrolled so he could play baseball in the spring of 2001.

The Bondermans kept nothing secret, alerting pro scouts they were looking for a way to get into the 2001 draft, and telling coach Don Hogue that Jeremy's '01 season would almost certainly be his last in a Pasco uniform. They also told the school board what they were doing, and let Major League Baseball know that Jeremy was using this loophole (which baseball knew about and was moving to close) so he could be drafted—and not to become a free agent.

Jeremy's final season for Pasco was a good one. Regularly topping 95 mph on the radar gun, he went 5-2 with a 3.60 ERA, and struck out better than three men every two innings. There was nothing left to prove at the amateur level.

Oakland held two selections in the first round, at 25 and 26. With their back-to-back picks, the A's took shortstop Bobby Crosby of Long Beach State, and then Jeremy. For his agent, he chose Jeff Moorad, who went to work on a deal. When Crosby signed for $1.35 million in August and Jeremy remained unsigned, runmors arose that co-owner Steve Schott had dropped his original $1.5 million bonus offer by $500,000, citing Jeremy's learning disability. The team refuted this but a quote was out there: "I don't want to give $1.5 million to someone who can't read or write."

The impasse brought some interesting possibilities to light. If Jeremy had not come to terms with Oakland, he could technically have returned to Pasco to pitch another year of high school ball. At this point, knowing the A's had wounded Jeremy, GM Billy Beane and Scouting Director Grady Fuson stepped in, denied Schott's quote, and convinced their boss to shut up and get Jeremy signed.

Jeremy ended up earning the same bonus Crosby had, with $80,000 in college tuition money if he wanted to use it. The A's resisted the temptation to have him finish the '01 season with one of their low-level clubs and instead shipped him off the to Arizona Fall League.

ON THE RISE

Jeremy was proud to be a pro, but still a bit uncomfortable with his situation. The A's had wounded him in their negotiations, and even though he was a first-round pick, he was aware that the organzization favored college pitchers. This meant that he would be shopped around in trades, and probably be playing for someone else by the time he reached the majors.

Jeremy was assigned to Class-A Modesto for the 2002 season. He made 25 starts and went 9-8 with a 3.61 ERA. He struck out a batter an inning, displayed fine control, held righties to a .230 average and lefties to .238.

In early July, the New York Yankees, Oakland and Detroit engineered a three-way trade that involved starters Jeff Weaver and Ted Lilly, and prospects Franklyn German and Carlos Pena. There was also a player to be named later: Jeremy. But he couldn't be named (or traded) until a year had passsed from the signing of his first pro contract. He continued to take the hill for Modesto until August 22nd, when he became the property of the Tigers and moved cross-country to Lakeland, Florida. There he made two starts before the season ended. In the Florida State League playoffs, Jeremy struck out seven batters in his final win of the year.
The plan for Jeremy was to start 2003 with Class-AA Erie, work his way to AAA, and see some action with the Tigers in 2004. But nothing was certain in Detroit. The Tigers had a horrible team, coming off a 56-105 season, their ninth straight sub-.500 performance. In spring training, new manager Alan Trammell was impressed with Jeremy's fastball and poise, and with no one else stepping up to claim a spot in the starting rotation, he decided the 20-year-old deserved a chance to show what he could do in the big leagues.

Jeremy joined a young rotation headed by Mike Maroth (25) and including Nate Cornejo (23) and Adam Bernero (26). GM Dave Drombowski was criticized for not snagging a veteran starter over the winter to help his young guns along, and also got hammered for not securing a reliable closer, either. In addition, the Tigers had lost their two best hitters—Randall Simon and Robert Fick—to free agency. Veterans Bobby Higginson and Dmitri Young anchored what was left of the offense, along with Pena, Craig Monroe and Eric Munson.

Jeremy's major league debut came against the Minnesota Twins, who battered him for six runs in four innings. He lost his next two decisions, too, as the Tigers began the year on a record pace of futility. Throwing nothing but fastballs, Jeremy wasn't fooling any of the big-league hitters he faced. At first, Trammell and pitching coach Bob Cluck agreed to let him figure things out for himself. Eventually, when they felt he was ready, they explained that pitching was about upsetting a batter's timing, especially in the majors. It was time for Jeremy to learn to pitch with a little finesse.

Jeremy's first victory came in his fourth start, a dominant performance against his old team, the A's, and their defending Cy Young award winner Barry Zito. His fastball was blazing, his slider was exploding, his curve was snapping past buckle-kneed Oakland batters, and at one point he retired 17 straught. In eight innings, he gave up three hits, one earned run and struck out five. Matt Anderson notched the save in the 4-1 win. After the game, Beane called Jeremy in the clubhouse to congratulate him. The A's GM told him how proud he was.

Cluck worked with Jeremy all season, moving him to the right side of the rubber so he could use his slider more effectively, and teaching him to take a little off his fastball in certain spots to get hitters off-balance. He kept the kid on a short leash, often pulling him before he reached the 100-pitch mark.

The Tigers finished the year 43-119, establishing a new league record for losses. By September, Jeremy had 18 defeats against only six wins. With Maroth also on track to be a 20-game loser, Trammell pulled his rookie from the rotation. Jeremy, who didn't care about dropping 20, wasn't crazy about the decision. He wanted the ball. Trammell appeased him by agreeing to reinstate him if he put together a couple of solid relief outings. After tossing four shutout innings against Kansas City, Jermey got another start...and lost. He finsihed the year at 6-19 with a 5.56 ERA. On the plus side, he led the staff with 108 strikeouts, which was also tops among AL rookies. He also did a good job of limiting walks, and didn't yield an obcene amount of home runs.

Like most pitchers, young and otherwise, Jeremy got into trouble when he fell behind hitters and had to come in with his heater. When he stayed ahead, though, he could be dominant. In a July win against the Royals, he retired 20 of 21 batters before surrendering a run in the ninth to miss out on his first shutout. The 5-1 win was his fourth of the year, and marked the unveiling of his changeup, which he mixed well with his fastball and slider. It was the first of seven straight quality starts for Jeremey. Prior to that game, however, he had lost nine straight decisions. In a nutshell, that was the story of his first big-league season.

Jeremy's second year with the Tigers was better, as was the team itself. The starting staff now featured Nate Robertson, a young lefty out of the Florida organization, and veteran Jason Johnson, who had logged more than 100 starts for the Orioles. Ugueth Urbina and Esteban Yan were signed to shore up the bullpen, while Carlos Guillen and Rondell White were acquired to boost the offense. Omar Infante, a 21-year-old infielder, blossomed into a nice all-around player, while Pena showed signs he was ready to become one of the league's more productive corner players.

The biggest difference in the Tigers, however, was behind the plate. Ivan Rodriguez, who powered the Marlins to the world championship the previous fall, was now wearing a Detroit uniform. At the very least, this development promised to help Jeremy in the stolen base department, as he allowed 25 swipes his rookie campaign.

Unlike the previous year, when Jeremy barely took a break after the regular season, he waited until February to start throwing hard. He also married his girlfriend, Amber, over the winter. Marital bliss notwithstanding, it was all Jeremy could do to stay off the mound, as he grew more and more excited with the news of each new acquisition. He even began to think the Tigers might have a chance to win their division.

That fantasy actually looked possible as the Tigers broke out in the early season and had the league's best record after one week. The flirtation with respectability lasted only a few weeks, but Detroit did improve by a whopping 29 wins to finsh 72-90.

Jeremy was a huge part of the turnaround. He was a far more effective pitcher in 2004, especially in August and September. He threw his big-bending slider for strikes more often, especially when he was behind in the count. The same hitters who feasted on 2-0 fastballs now had to respect the breaking ball. Jeremy also continued to develop his changeup—and torture his former team, pitching a pair of gems against the A's in May. Both came at the expense his former spring trainng roommate, Rich Harden.

Jeremy's first half included some brutal starts, although most of his losses (and his 6.00 ERA) were the result of one bad inning. He reversed this trend in the second half and closed the season well, going 5-3 with a 2.33 ERA in his final eight trips to the mound. He turned his season around with a 14-K shutout of the White Sox in August, and fnished with anouther shutout in his last start, against Tampa Bay.

On the balance, Jeremy's final numbers were encouraging. He went 11-13, with 168 strikeouts in 184 innings. Opposing hitters batted just .242 against him and he lowered his ERA to 4.58.

MAKING HIS MARK

Jeremy was excellent spring training, striking out 17 batters in 24 innings with a 2.25 ERA in six starts. A week before the 2005 season, he was named Detroit's Opening Day starter. At 22, he became the youngest Tiger to earn that honor since Josh Billings in 1928. Jeremy responded by striking out five of the first seven Royals he faced, and put in seven innings of solid work in an 11-2 victory highlighted by Dmitri Young's three home runs.

Jeremy continued to pitch well in the spring. He made major strides during a May start against the Red Sox, when he didn't have his best stuff. He gutted out two early innings against the defending AL champs, stranding runners at the corners with no one out, then wriggling out of a bases-loaded predicament the following inning. Infused wth confidence, Jeremy found his groove and finished off Boston. It was a game that, in past years, would have probably blown up in his face.

Jeremy's magic summer took a painful turn in August when he was hit on the wrist by a line drive. Shortly after that he began to suffer elbow stiffness. He did his best to pitch through the pain, but by early September it was futile to keep sending him to the mound to get hammered. Trammell stopped the bleeding while Jeremy was still ahead—his final numbers were 14-13, 145 Ks and 4.57 ERA.

The Tigers are still a long way from contending, but thanks to Jeremy and a handful of other up-and-comers, Detroit is now a place quality guys might want to play—witness the signings of Troy Percival and Magglio Ordonez for 2005. When the team rises to the next level is difficult to say. What's certain, however, is that the Tigers won't be ready until Jeremy establishes himself as one of the top two or three pitchers in the division. At the rate he is maturing, that could be much sooner than later.

JEREMY THE PITCHER

In his lightning-fast ascent from high school junior to Opening Day starter, Jeremy has rarely taken a step backwards. He learns equally well from his successes and failures, confirming the poise and maturity that Alan Trammell recognized in him when he was promoted from A-Ball to the majors.

Jeremy's fastball hits 95 or more on the radar, and runs down and in on righthanders. His slider, which breaks as dramatically as most curves, is delivered at 85 mph. His changeup has developed quickly, and although it still comes in too fast at times, it is close to becoming an out pitch. The next bit of bad news for opposing hitters? Jeremy has added a splitter to his repertoire, courtesy of Roger Craig.

Jeremy learned after is rookie year that you don't get major leaguers out throwing the ball through walls. He spent most of his second year learning to trust his stuff. Now he is learning the craft of pitching, and it looks as if he is picking up the finer points in a hurry. Jeremy knows what it's like to dominate hitters, and he knows what it's like to get his butt kicked. All that's left is to master consistency, and at that point he could bank 15-20 wins a year for a long, long time.

EXTRA

# Jeremy was the first American high school junior ever to be drafted by a major league team.
# In 2001, Jeremy became the 22nd first-round baseball pick from the state of Washington. The 21st was Josh Karp of Bothell High School, who was selected ealier in the draft.
# Jeremy roomed with Rich Harden during spring training with the oakland A's in 2002.
# Jeremy was the first Tiger to start a game without experience above A ball since Joe Sparma in 1964.
# Jeremy is the second youngest pitcher from Washington to make it to the majors. Larry Christenson of Marysville pitched for the 1973 Philadelphia Phillies at age 19.
# Lost in the otherwise dismal stats of Jeremy's rookie year was the fact that at one point he went 32.3 innings without yielding a walk.
# In 2003, Jeremy became the youngest player since his own manager, Alan Trammell, to make it to the majors.
# Had Jeremy lost 20 games in 2003, the Tigers would have been the first team since the 1973 Chicago White Sox to have a pair of 20-game losers—Wilbur Wood and Stan Bahnsen.
# Jeremy's 19 losses in 2003 weren't completely his fault. He got the third-worst run support in the league that season.
# Jeremy was the sixth Tiger rookie to lead the team in strikeouts. The others were Ed Siever, George Mullin, Hooks Dauss, Tommy Bridges and Felipe Lira.
# Jeremy was the youngest pitcher since Dwight Gooden to start a season opener.
# Jeremy's 14 strikeouts against the Chicago White Sox in 2004 were two shy of the team record, held by Mickey Lolich.
# Jeremy's two shutouts in 2004 tied him with Tim Hudson and Sidney Ponson for the AL lead.
View the full website biography of Jeremy Bonderman.