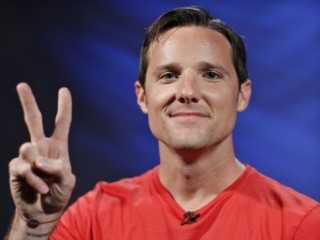 Jason Russell
Date of birth : -
Date of death : -
Birthplace : El Cajon, California
Nationality : American
Category : Arts and Entertainment
Last modified : 2012-03-20
Jason Russell (born 1979) is an American film and theater director, choreographer, and activist who co-founded Invisible Children, Inc.

He is the director of Kony 2012, a short documentary film that went viral in the beginning of March 2012. In the first week it gained over 83 million views and became the subject of intensive media scrutiny and criticism. Its subject is the African rebel leader Joseph Kony, his war crimes, and the movement to bring him to the International Criminal Court.

Russell is the younger son of Sheryl and Paul Russell, co-founders of Christian Youth Theater. He has three siblings: Travis Russell, Amy Russell, and Janie Russell.

"That was my life," Russell told the Los Angeles Times in an interview when he was 13 years old, in which he discussed the importance of acting in his life. "It was what everybody around me did. I didn't even think about it. I did my first show at 8, and I have done over 20 plays since. You can't do this if you don't like it. You have to commit yourself to it. When you get in front of people, you have to act like you know what you're doing. You can't be frightened or scared to go up there, volunteer, be the first one to do something."

Russell graduated from the USC School of Cinematic Arts.With Danica Jones and Jon M. Chu, he co-wrote a musical, Moxie, which the team sold to Steven Spielberg.

On October 23, 2004, he married Danica Jones in La Jolla, California. They have two children.

Russell is an Evangelical Christian, and in November 2011 he spoke publicly about his faith and its relation to his charity work in a speech at a Liberty University conference.

On March 15, 2012, Russell was detained by San Diego police and taken to a local hospital after allegedly vandalizing cars and making sexual gestures after removing his underwear. According to a brief statement issued by Invisible Children, Russell was suffering from exhaustion, dehydration and malnutrition in the wake of the emotional toll of the media storm around Kony 2012.
View the full website biography of Jason Russell.