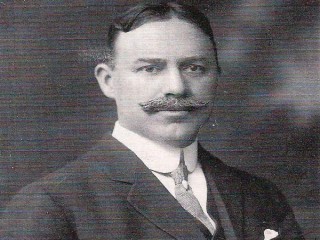 James Gamble Rogers
Date of birth : 1867-03-03
Date of death : 1947-10-01
Birthplace : Bryan Station, Kentucky,U.S.
Nationality : American
Category : Arhitecture and Engineering
Last modified : 2012-01-19
James Gamble Rogers (March 3, 1867 — October 1, 1947) was an American architect best known for his academic commissions at Yale University, Columbia University, Northwestern University, and elsewhere.

Rogers was born in Bryan Station, Kentucky, to James M. and Katharine Gamble Rogers. Rogers attended Yale University, where he was a member of Scroll and Key, a senior society whose membership included several other notable architects. He received his B.A. in 1889, and is responsible for many of the gothic revival structures at Yale University built in the 1910s through the mid 1930s, as well as the university's master plan in 1924. He designed for other universities as well, such as the Butler Library at Columbia University, many of the original buildings at the Columbia-Presbyterian Medical Center (now the Columbia University Medical Center), and several buildings at Northwestern University, notably Deering Library.

Rogers was philanthropist Edward Harkness's favorite architect, and Harkness would often condition a gift for a new academic or medical building upon the institution's agreement to hire Rogers for the project. It is thus no coincidence that Rogers' work is abundant at Yale, Columbia and the other institutions Harkness supported lavishly. Though Harkness loved Rogers's work, when Harkness donated a new home for Wolf's Head, his society at Yale, another architect (Bertram Goodhue) was chosen, for obvious reasons, according to many sources in architectural histories.

Rogers' Collegiate Gothic designs for Yale lent an air of instant heritage and authenticity to the campus. Rogers was criticized by other prominent Gothic-revival Ameican architects, namely Ralph Adams Cram, for his use of steel frames underneath stone cladding, and tricks such as splashing acid on stone walls to simulate age. Rogers was also criticized by the growing Modernist movement of the time. The 1927 Sterling Memorial Library came under especially vocal attack from Yale students for its historicist spirit and its lavish use of ornament.

Rogers's nephew, James Gamble Rogers II (1901–1990) was also an architect, who designed homes in Winter Park, Florida for the Rogers family architecture firm Rogers, Lovelock and Fritz, where Rogers II's son John (Jack) Rogers is a principal architect.

Rogers II's other son, James Gamble Rogers IV (1937–1991) was also trained as an architect. After working in the family firm as a young man, James Gamble Rogers IV decided to pursue his passion for music. He became a noted Florida folksinger, composer and guitarist, now memorialized by the Gamble Rogers Memorial Foundation, Gamble Rogers Middle School, and Gamble Rogers Memorial State Recreation Area at Flagler Beach on Florida's east coast.

James Gamble Rogers' architectural drawings and photographs are now held in the Dept. of Drawings & Archives in the Avery Architectural and Fine Arts Library at Columbia University in New York.
View the full website biography of James Gamble Rogers.