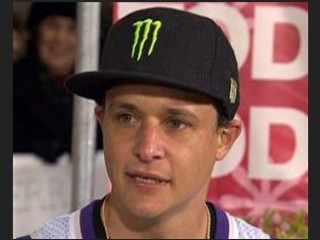 Jake Brown
Date of birth : 1974-09-06
Date of death : -
Birthplace : Sydney, Australia
Nationality : Australian
Category : Sports
Last modified : 2012-06-21
Jake 'Ironman' Brown is an Australian skateboarder who competes in the X Games.


Jake Brown has some of the hardest vert skateboarding tricks dialed in, like 720s and his double kickflip mute. However, in competitions, Jake Brown tends to go for the biggest tricks, which often backfires if he doesn't land them. But skating conservatively is not Jake Brown's style, and his mastery of technical and flip tricks lead him to his first X Games gold finally in 2006. Jake Brown is known for being soft spoken about his incredible skating, and for his sly sense of humor.


Jake says he likes the tailgrab 540 and backside airs, and grinds.

Jake Brown Skateboarding Career Highlights:
2004 - First in Vert at LG Action Sports Tour, Beijing, China
2005 - First in Vert Best Trick at Globe World Cup, Australia
2005 - Second in Vert at LG Action Sports Tour, Paris, France
2005 - Won "Best Vert Skater" from TransWorld Skateboard Magazine
2006 - Won silver in big air at X Games
2007 - Won silver at X Games in Big Air, where he also fell 50 feet and walked away from it

Jake Brown had a famous crash in the 2007 X Games Big Air competition. Jake Brown was leading as he went into his last run. He landed a huge 720 jump over the gap, but as he went up off the quarter pipe at the end of the Mega Ramp, he lost control of his skateboard and fell, running in air, 50 feet. Jake Brown fell hard, the crowd was shocked, but Brown got up and walked away from the fall! He still won a silver medal for his previous run - his first X Games medal.


View the full website biography of Jake Brown.