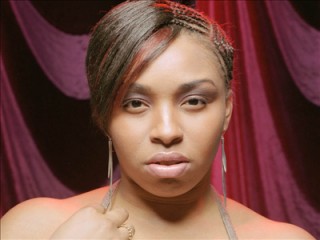 Jaguar Wright
Date of birth : 1977-05-17
Date of death : -
Birthplace : Philadelphia, Pennsylvania,U.S.
Nationality : American
Category : Arts and Entertainment
Last modified : 2012-03-19
Jaguar Wright is a soul/R&B vocalist from Philadelphia, Pennsylvania. She is part of the Okayplayer collective. She has performed along rap acts such as The Roots, Jay-Z, and Blackalicious.Wright is known for her rich voice, honest lyrics, and emphasis on her music's roots in soul. She has released two albums.

Born Jacqueline Wright in Philadelphia, Pennsylvania, Wright grew up in a very religious home, where her parents did not allow her or her sister to listen to nonreligious music. However, when her parents went out, she and her sister turned on the radio. Wright told an interviewer from Honeysoul.com, "We'd be partying and dancing and practicing new dances. Someone would have to play lookout at the window. When my parents got just a couple of doors down, we'd turn off the music, fan off the stereo to make sure it wasn't too hot, put in a gospel tape, wipe off the sweat and act like we were cleaning or something." She said that these experiences gave her a lasting passion for music; because it was forbidden, she wanted it even more.

Initially Wright did not plan to be a singer, but aspired instead to become an emcee and make her mark in the rap world. She began her musical career by rapping with a local group called the Philly Blunts. While she was with them, she tried to increase her vocabulary so that she would have a greater variety of expressions and wouldn't have to use curse words in her lyrics. However, she told the Honeysoul interviewer, "I had a way of making deep words sound real dirty."

Wright was a single mother by age 16. Her parents helped her to raise her son so he could grow up in a stable household while their daughter pursued her dream of a career in music. She told Amy Linden in Interview that this gamble eventually paid off: "Everything that I told [my son] I was trying to give him, he is now seeing come true."

A friend persuaded Wright to perform at Black Lily, a women's open mic event in Philadelphia. She was such a hit that she eventually became a headliner for the event. Wendy Goldstein, MCA senior vice-president for A&R for rhythm & blues, was in the audience. Goldstein was impressed by Wright's performance, and signed her to the Roots' Motive imprint.

Roots manager Richard Nichols then asked Wright to sing hooks on Roots tracks. She created the hook for the Roots' "What You Want," which became the lead single of their 1999 Best Man soundtrack. The label originally planned to get Mary J. Blige to sing on the final track, but Wright's version prevailed. Wright, whose style has often been compared to Blige's, told Amy Linden in Interview that although she had always been a fan of Blige, "I'm not trying to be like her. She's a singer. I'm a musician. I will always be vocal about the differences between us, because who I am is who I am."

In 2001 Wright began touring, traveling with Bilal and comedian Steve Harvey. She also went on her own multi-city tour. Wright's debut album, Denial, Delusions and Decisions, was released in January of 2002. By that time Wright was married and expecting a second child. The album featured Wright's scathingly honest commentary about failed relationships, as well as a dose of foul language. Wright told Kenya N. Byrd in Essence, "We all have our own honesty. I say the s--- people are afraid to say."

Wright also is known for occasionally doing what other people are afraid to do. She visited Boston for a concert, and was walking down the street when she heard someone yelling racial slurs at her from a rooftop. She looked up and saw several drunk white fraternity boys. She told the Honeysoul interviewer that she said, "I know you not talking to me," and they replied with more slurs. She dropped everything, ran into the building and up nine floors to the roof, and began fighting, with the help of Roots' Black Thought. As a result of the fight, the boys were arrested and the fraternity was shut down. Wright remarked, "Tell you one thing. Every time they hear my voice, they'll remember, you respect the black woman. That's gonna stick in their minds."

According to Rashaun Hall in Billboard, Sonya Askew, the Minneapolis buyer for Musicland, commented, "Jaguar falls right in line with artists like Jill Scott, Angie Stone, and Erykah Badu. Consumers are primed for that type of vibe right now. Word-of-mouth is what will sell an album like this." Despite this prediction, as well as the positive critical response to the album, it did not get much radio exposure and didn't sell widely. Wright's record label, MCA, gave it minimal promotion; soon after the album was released, the company folded.

In 2005 Wright released Divorcing Neo 2 Marry Soul on the Artemis label. Wright moved to Artemis, she told the Honeysoul interviewer, because she had more freedom there: "They give me the ability to do what I want to do." The album's title referred to Wright's return to her soul roots. She told Rashod D. Ollison in the Baltimore Sun, "Neo means new, and there's nothing new about soul, which is what I do. I'm not bringing anything new. It's the passing of the torch. I'm bringing the honesty back, reminding folks how important it is to hold onto the legacy." On the Artemis Records website she added, "The title lets everyone know I'm divorcing the hype to marry the real." Despite this approach, Ollison noted, the album "never feels retro." He described the songs as "salty, razor-edged tunes that center mostly on dramas of the heart: love for self, love for a man, getting love, losing love and all the mess in between." An Ebony reviewer noted, "She convincingly shows that she has a lot to offer musically, lyrically and as a woman with strong emotions and needs."

Wright told the Honeysoul interviewer that if she had to briefly describe herself to someone who had never heard of her, she would say, "I'm a soul singer, nothing more, nothing less." Of her albums, she said listeners should expect "reality and common sense. That's what I'm selling. God knows we need it right now. Our people need it right now. All people need it right now."

In 2008, she supplied backing vocals for Al Green's album 'Lay It Down.'

In January 2011, Jaguar Wright toured Europe with Lady Alma on the 'Philly Sounds 2011' tour. She revealed that she's working on a third album, due out in the summer of 2011. The lead single from the new album will be called "Switch".
View the full website biography of Jaguar Wright.