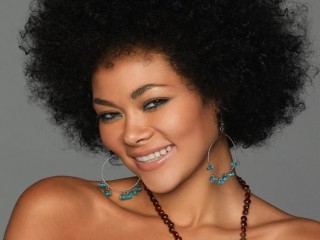 Jade Cole
Date of birth : 1979-07-25
Date of death : -
Birthplace : Pittsburgh, Pennsylvania
Nationality : American
Category : Arts and Entertainment
Last modified : 2011-08-29
Jade Cole is a part-white, part-African-American fashion model. Before she was on America's Next Top Model, Cycle 6, Jade already had some experience as a model in the fashion industry. She was in Jay-Z and Pharell Williams' "Change Clothes" music video, where she got to work alongside supermodel Naomi Campbell. Other supermodels that have had an impact on Jade are Tyra Banks and Christy Turlington. Jade enjoyed watching Love Jones on the big screen, but is greatly interested in the television show, Martin.

As a Finalist on America's Next Top Model, Cycle 6, Jade became well-known for her conflict-loving personality. The judges and the other girls often criticized her for her arrogant behavior. Jade didn't see herself as being arrogant, but was always making negative comments about her fellow Top Model Finalist, Gina Choe , who was known to be very insecure. Because the judges disapproved of Jade's attitude, they placed her on the bottom two five times during the season. Nevertheless, her natural talent for modeling brought her all the way to the Top 3, but she was finally eliminated from the show on the season finale. She was the eleventh contestant to be sent home and, in a unique way of saying goodbye, read a portion of her own poem. it is worth noting that the only reason that they continued to have her on the show is because she's nothing short of a drama queen.

Jade has become a highly successful model since appearing on the show. She has had the opportunity to model abroad, particularly in Greece and India, and has been affiliated with five different modeling agencies, namely DBA in New York City, Uber Waring in Los Angeles, SMG in Seattle, VMH Models in Vancouver and Dream Models in Singapore.

View the full website biography of Jade Cole.