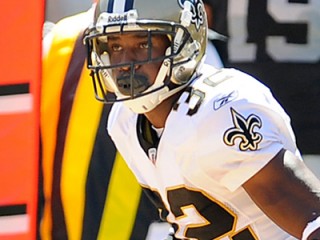 Jabari Greer
Date of birth : 1982-02-11
Date of death : -
Birthplace : Milwaukee, Wisconsin
Nationality : American
Category : Sports
Last modified : 2010-10-12
Jabari Greer (born February 11, 1982 in Milwaukee, Wisconsin) is an American football cornerback for the New Orleans Saints of the National Football League. He was signed by the Buffalo Bills as an undrafted free agent in 2004.

NFL CAREER

Signed as an unrestricted free agent in 2009, Greer was one of the club's top additions and with his speed, awareness and ball skills, bolstered the club's secondary in his first season in New Orleans. Entering his seventh season, he was a key contributor for the Saints in their championship season, opening up eight of nine games he appeared in, posting a career-best 53 tackles with two interceptions, one returned for a touchdown and 12 passes defensed. Greer has opened 34 of 79 career contests, posting 193 tackles along with six interceptions, two sacks and a pair of forced fumbles. Since becoming a starter in 2006, he has returned three interceptions for touchdowns and deflected 38 passes. Greer ranks among the NFL's fastest defensive backs, as he was also a standout on the University of Tennessee's track squad.

CAREER TRANSACTIONS

Signed by Saints to a four-year contract (UFA-BUF), 3/4/09; Re-signed by Buffalo Bills to a two-year contract, 3/1/07; Signed by Buffalo as an undrafted free agent, 4/26/04.

HONORS – 2008: USA Today All-Joe team. 2007: AFC Defensive Player of the Week (Week four).

2009- Played in nine games on the season, starting the first eight before suffering a sports hernia injury that forced him to miss seven weeks, and still managed to post a career-best 53 tackles (44 solo) with two interceptions –one of which he returned for a touchdown – and 12 pass defenses. vs. Detroit (9/13): Started at CB in his Saints debut and made five tackles (three solo) to go along with a pair of pass defenses. at Philadelphia (9/20): Made 10 tackles (seven solo) from his starting CB position with a pass defense. at Buffalo (9/27): Returned to face his former team and made eight tackles (six solo). Also batted a pass up in the air that resulted in an interception by DE Will Smith. vs. NY Jets (10/4): Started at CB and tied a career-best with three pass defenses to go along with eight solo tackles. vs. NY Giants (10/18): Made four solo tackles, added two pass defenses and recorded his first interception as a Saint when he picked off a QB Eli Manning pass in the 48-27 win. at Miami (10/25): Started at CB and made four tackles with two pass defenses in the victory. vs. Atlanta (11/2): Recorded his first touchdown as a Saint, picking off a Matt Ryan pass and running back for a career-long 48-yard score and also made five tackles (four solo) with two pass defenses. vs. Carolina (11/8): Started at cornerback and made three tackles prior to leaving with a groin injury. at St. Louis (11/15): Inactive with an injured groin. at Tampa Bay (11/22): Inactive for the second straight game with a groin injury. vs. New England (11/30): Inactive with his groin injury. at Washington (12/6): Inactive due to his injured groin. at Atlanta (12/13): Inactive due to his injured groin, having undergone surgery for a sports hernia earlier in the week. vs. Dallas (12/19): Inactive due to his injured groin. vs. Tampa Bay (12/27): Inactive with his groin injury. at Carolina (1/3): Returned to the field after missing seven games and made six solo tackles. vs. Arizona (1/16 – Divisional Playoff): Made his first start in over two months and played well in his postseason debut, making four tackles with two pass defenses. vs. Minnesota (1/24 – NFC Championship Game): Made 10 tackles (eight solo) from his starting cornerback spot and added three pass defenses in the win. vs. Indianapolis (2/7 – Super Bowl XLIV): Started at CB in the win and made five tackles (four solo). 2008 – Started all 10 games he appeared in for Buffalo and tallied 43 tackles (35 solo), two interceptions – both which he returned for TDs – nine pass defenses and a forced fumble.…Inactive for final six games due to a knee injury…Posted a forced fumble with two solo tackles and a pair of pass defenses in opener vs. Seattle, Sept. 7…Returned an interception 33 yards for a go-ahead touchdown at St. Louis, Sept. 28, in addition to six solo tackles and three passes defensed…Led team with a 12-tackles (nine solo) performance at Arizona, Oct. 5, the first double-digit tackle game of his career…For the second straight game, led the defense in tackles with nine solo stops vs. San Diego, Oct.19…Intercepted a Brett Favre pass and returned the ball 42 yards for a touchdown vs. NY Jets, Nov. 2, becoming the 12th player in Bills history to have two or more interception returns for touchdowns in a career. 2007 – Posted career-highs with 47 total tackles (40 solo), two interceptions and 17 pass defenses, playing in all 16 games for the third consecutive year and making a career-high 13 starts…In fourth quarter vs. New York Jets, Sept. 30, posted first career interception. Also had six tackles and deflected a pair of passes to earn AFC Defensive Player of the Week honors…The following week vs. Dallas, Oct. 8, recorded his second career interception in addition to five tackles and three pass defenses – including breaking up a potential two-point conversion late in the fourth quarter…Against Cincinnati, Nov. 4, notched his first career forced fumble, jarring the ball loose from Chad Johnson. 2006 – Played in all 16 games for the second consecutive season and ranked second on the club with 20 tackles on special teams, serving as a key contributor as a gunner on a punt coverage unit that tied for first in NFL in net punting average (39.2)…Added four solo tackles and a pass defense…Led special teams units with five solo tackles vs. Green Bay, Nov. 5. 2005 – A valuable asset as a reserve defensive back and on special teams, starting two games and posting 28 tackles (23 solo), a sack, two pass defenses and 15 special teams stops (11 solo)…Helped special teams units rank first in NFL in rankings compiled by Dallas Morning News…Served as nickelback vs. Houston, Sept. 11, and recorded his second career sack…Started at cornerback, posting nine tackles (seven solo), vs. Carolina, Nov. 27. 2004 – Played in 12 of 16 games, starting at Baltimore in Week Seven, and tallied 18 tackles (12 solo), one sack, four passes defensed and three special teams tackles on the season…Registered first career sack vs. St. Louis, Nov. 21 and added three tackles.

COLLEGE

Three-year starter who was playmaker in Volunteers' secondary…Carried on school's tradition of standout two-sport stars, as he also excelled in track, running 13.32 in 110 meter hurdles, third all-time in school history…2003 NCAA champion in 60 meter indoor hurdles…Two-time SEC champion indoor/outdoor hurdles broke Willie Gault's record in 60 meter hurdles (7.55)…Also ran on 4x100 meter relay…Set a school record by appearing in 51 games on the gridiron…Closed career with 147 tackles (119 solo), 3.5 sacks, a fumble recovery, one forced fumble, two interceptions and 33 pass deflections while starting 34 contests.

PERSONAL

Full name: Jabari Amin Greer…Born in Milwaukee, Wis.…Attended South Side (Jackson, Tenn.) HS…All-State selection in Class 3A in 1999…Three-year starter at wide receiver and cornerback and also played tailback…Set the school record with six defensive touchdowns…Seven-time state champion in track and field…Graduated from Tennessee with a degree in psychology.

View the full website biography of Jabari Greer.