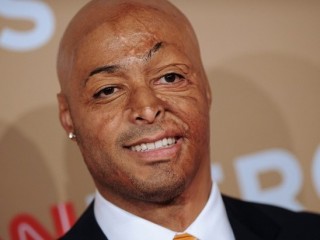 J. R. Martinez
Date of birth : 1983-06-14
Date of death : -
Birthplace : Shreveport, Louisiana, U.S.A
Nationality : American
Category : Arts and Entertainment
Last modified : 2011-08-30
Jose Rene Martinez is an American actor, motivational speaker and retired U.S. Army soldier. In 2003, J.R. experienced severe burns to over 40 percent of his body while serving as a United States Army infantryman in Iraq. After a long and difficult recovery, J.R. spends his time traveling the country extensively in his role as a spokesman and motivational speaker. J.R. has played the role of Brot Monroe in ABC's daytime drama All My Children since November 7, 2008.

Martinez was born in Shreveport, Louisiana on June 14, 1983 to Maria Zavala. He has two sisters, Consuelo and Anabel. Both sisters were raised in El Salvador with his mother's family. Anabel died as a toddler of a congenital illness before J.R. was ever able to meet her.

At nine years old, Martinez moved with his mother to Hope, Arkansas where he lived until he was 17. At 17, he moved to Dalton, Georgia, a place he proudly calls his hometown. During his senior year he played strong safety for the Dalton High School Catamounts when they went to Georgia's State Championship. Playing professional football was his dream until he suffered an injury his senior year.
Martinez enlisted in the United States Army in September 2002 and underwent Basic and Advanced Training at Fort Benning, Georgia where he gained skills as an 11-B Infantryman. After reporting to Fort Campbell in January 2003 he was assigned to his unit 2/502 Delta Company.

He was deployed to Iraq in February 2003. That April, Martinez was serving as a driver of a Humvee when his left front tire hit a landmine; he suffered severe burns to more than 40 percent of his body as well as smoke inhalation. He was evacuated to Landstuhl, Germany for immediate care and then eventually transferred to Brooke Army Medical Center (BAMC) in San Antonio, TX to begin his road to recovery. He spent 34 months at BAMC, undergoing 32 different surgeries, including skin grafts and cosmetic surgery.

Martinez has been featured in The Washington Post, People (magazine), CNN, 60 Minutes, and other major national news outlets.

In 2008, Martinez was honored as a "Shining Star of Perseverance" by the WillReturn Council of Assurant Employee Benefits.

In 2009 Martinez was honored by the non-profit Iraq and Afghanistan Veterans of America (IAVA) with the Veterans Leadership Award, given in recognition of his dedication to our nation's newest generation of veterans.

On November 3, 2008, Martinez was cast in ABC's Emmy Award-winning daytime drama, All My Children in the role of Brot Monroe. His character also served in the U.S. Army in Iraq and was injured in combat.

On August 29, 2011 it was announced that Martinez will compete in the 13th season of ABC's Dancing With The Stars.

View the full website biography of J. R. Martinez.