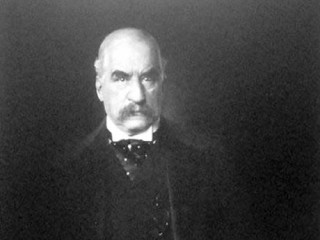 J.P. Morgan
Date of birth : 1837-04-17
Date of death : 1913-03-31
Birthplace : Hartford, Connecticut, United States
Nationality : American
Category : Famous Figures
Last modified : 2011-10-16
John Pierpont Morgan was an American financier, banker and art collector who dominated corporate finance and industrial consolidation during his time.

John Pierpont Morgan was a wealthy industrialist who emerged from the 19th century as one of the most powerful financiers of the 20th century -- he formed U.S. Steel, America's first billion-dollar corporation, in 1901. He got his start in business in the late 1850s, with the New York branch of a banking firm run out of London by his father, Junius Morgan. With Anthony Drexel, John Pierpont Morgan formed Drexel, Morgan & Co. in New York in 1871 (it became J.P. Morgan & Co. in 1895). During the 1890s Morgan was the big money behind the expanding U.S. rail system -- what Andrew Carnegie was to steel and John D. Rockefeller was to oil. Morgan bought out Carnegie's steel companies, and formed U.S. Steel, a corporation comprised of nearly three dozen companies, with capitalization exceeding a billion dollars. In the early years of the 20th century, J.P. Morgan was emblematic of the era's "robber barons." He consolidated important parts of the U.S. economy and became crazy rich, thereby bringing on government anti-trust investigations. But even his run-ins with Washington "trust busters" like Teddy Roosevelt didn't hurt his relationship with the government, and it's been generally agreed that he saved the day during the Panic of 1907 and acted as an unofficial central bank for the U.S. economy. In his later years he was known as a great art collector and philanthropist.

View the full website biography of J.P. Morgan.