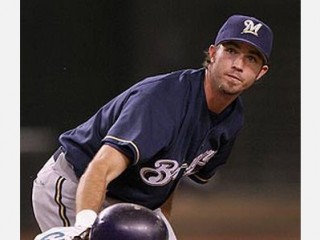 J. J. Hardy
Date of birth : 1982-08-19
Date of death : -
Birthplace : Tucson, Arizona
Nationality : American
Category : Sports
Last modified : 2010-10-29
GROWING UP

James Jerry Hardy born on August 19, 1982 in Tucson, Arizona. Everyone would ultimately come to know him as J.J.

J.J.'s parents, Mark and Susie, blessed him with the genes of a topnotch athlete. His father played on the professional tennis tour briefly and later became a tennis instructor. His mother was an excellent golfer who rose to #2 in the nation behind Nancy Lopez as a college amateur. Susie had to give up the game after being diagnosed with carpal tunnel syndrome.

J.J. also had a wonderful influence in Logan, his older brother by 17 months andevery bit the athlete of his younger sibling. J.J. and Logan were the closest of friends. They did everything together and competed in everything they did. The two loved sports—baseball, basketball, soccer, tennis, golf and even ping-pong. At night, they would stay up late talking about what they wanted to be when they grew up.

Their cousin, John, was a regular companion as well. J.J.'s dad and his father's brother starred on the tennis team at the University of Arizona. The families lived near each other until John's father bought a sporting goods store in Boise and moved his wife and kids to Idaho.

J.J. ran with a group of neighborhood kids who were just as crazy about sports as he was. One of best buddies was Dustin Yount, son of Hall of Famer Robin Yount. J.J. spent time at the Yount home and met the former Brewers star on several occasions.

No friend, however, meant more to J.J. than his older brother. He followed Logan into Sabino High School in 1998. As a freshman, he was the center of a strong nucleus for the SaberCats' baseball program. J.J. played shortstop and pitched. At this point in his life, he showed his greatest potential on the hill.

J.J. enjoyed his first real taste of stardom on the varsity level as a sophomore, the first time he was named All-State. He would earn the honor twice more. After his junior season, J.J. was selected for the U.S. Junior National team. That summer, he and his teammates captured the silver medal at a tournament in Edmonton, Canada.

The spring of 2001 was a season of mixed emotions for J.J. He had another terrific year, attracting the attention of college coaches and pro scouts alike. After Arizona offered him a full-ride, he made a verbal commitment to the Wildcats. But when Milwaukee used their second-round pick on J.J., he decided to start his pro career. The Brewers convinced J.J. to sign when they ensured him that they porjected him as a shortstop and not a pitcher.

Balanced against J.J.'s success was the path Logan was pursuing. After high school, he joined the Army and became a communications specialist. J.J. was fiercely proud of his brother, but after the 9-11 terrorist attacks, it was clear that Logan would see combat.

ON THE RISE

The Brewers assigned J.J. to Class A Ogden for the '01 season. His biggest adjustment to pro ball was the change to wooden bats. J.J. hit just .248 for the Raptors, but the Milwaukee brass still promoted him at the end of the year. The franchise was short on legitimate infield prospects, and J.J.'s stellar defensive play won him a jump to the next level.

J.J. started 2002 with the High Desert Mavericks, also a Class A club. He pounded the ball starting Opening Day, hitting well above .300 and slugging better than .500. The Brewers were impressed enough to bump him up to the Class AA Huntsville Stars. He finished the season well and looked forward to continuing his climb to the majors in 2003.

That rise was temporarily stalled in the fall when J.J. hurt his left shoulder. The injury bothered him again during spring training the following year. When J.J. regained his health, however, he got back on the fast track to the big leagues. Along with Huntsville teammate David Krynzel, J.J. was chosen for the All-Star Futures Game. He also was named to the Southern League All-Star team.

J.J. ended the season with impressive numbers, batting .279 with 12 home runs and 62 RBIs. His combination of power at the plate and glovework in the field had people up and down the Milwaukee organization talking. Huntsville GM Bryan Dingo compared the young shortstop to reigning AL MVP Miguel Tejada.

J.J. was actually just one in a group of hot prospects the Brewers were nurturing along through their farm system. Many viewed Krynzel as the jewel of the Milwaukee system, while Corey Hart also showed tremendous potential. If everything went according to plan, all three would be in uniform for the big club by 2005.

Unfortunately, that plan hit a snag in May of 2004, when J.J. popped his left shoulder out of joint on a swing at an inside fastball. He had broken from the gate in fine form, hitting .277 with four homers and 20 RBIs for the Triple-A Indianapolis Indians. The violent injury tore his shoulder muscle in both the front and back.

J.J. had surgery three weeks later. he was done for the year. The thought of life without baseball was difficult for J.J. to take, and he fell into a deep depression.

At the same time, Logan was weathering a storm of his own. Upon his return from combat in Iraq, he suffered from post-traumatic stress disorder, went through a divorce, received an honorable medical discharge and moved back home with his parents. J.J. called Logan and asked him to live with him. Having his big brother around as he rehabbed from his injury was the tonic J.J. needed. He attacked his training regimen with newfound energy.

MAKING HIS MARK

J.J. got himself healthy enough to play in the Mexican Winter League. When he showed up for spring training in 2005, he felt completely healed. J.J. was as smooth as silk at shortstop, and his swing looked good. Milwaukee manager Ned Yost and GM Doug Melvin agreed that he deserved the starting job with the Brewers. In turn, J.J, became the club's first rookie to make his debut on opening day since Paul Molitor in 1978.

When the regular season began, J.J. began questioning the strength of his shoulder. The uncertainty affected him at the plate, and he struggled to hit above the Mendoza Line. He finally turned it around after the All-Star break, batting .308 from mid-July through the end of the year. His final numbers—.247 with 22 doubles, nine home runs and 50 RBIs in 124 games—earned him praise as one of the league's best newcomers.

Just when J.J.'s confidence was surging, the injury bug bit him again. Six weeks into the 2006 season, he sprained his right ankle in a collision with catcher Sal Fasano during a game against the Philadelphia Phillies. J.J. went on the DL thinking he would return to the lineup after a few weeks of treatment. His ankle, however, worsened. In July, he underwent surgery to repair the damage and his season was over.

For the Brewers, J.J.'s injury was a microcosm of a very disappointing year. Corey Koskie and Rickie Weeks also missed significant time, Ben Sheets only made 17 starts, and the bullpen fell apart over the summer. Milwaukee limped home at 75-97, no better than fourth in the mediocre NL Central.

One of the bright spots for the Brew Crew was the play of Bill Hall, who took over at short for J.J. and emerged as a bona fide slugger with regular playing time. J.J. viewed his teammate's performance as a positive development for him and the team. Over the winter, he adopted an industrious rehab and conditioning program that had him waking before seven in the morning and working out a good part of the day. Exhausted by the weekends, J.J. lived the life of a hermit. He was focused solely on returning to the Brewers as their starting shortstop.

Yost and Melvin had the same idea. They felt Hall was best suited for the outfield and installed him as the team's center fielder. J.J., meanwhile, re-assumed his job with a solid showing in spring training. With Sheets looking like his old self and Francisco Cordero set as Milwaukee's closer, Brewers fans had reason to be optimistic for the 2007 campaign.

So far, the Brew Crew has rewarded their faith. Milwaukee has estsablished itself as the cream of the crop in the NL Central with a power-packed lineup and balanced pitching. The promotion of Ryan Braun in May has given the team a legitimate #3 hitter, and the rotation and bullpen are strong top to bottom.

J. J. has been a big part of the Brewers' rise to prominence. Surprising to no one has been his steady defensive play. What has shocked many fans is J.J.'s production at the plate, where he has teamed with Prince Fielder for one of baseball's best one-two home run punches. Of course, J.J. never expected anything less, and Logan would say the same thing.

J.J. THE PLAYER

When is a player injury-prone, and when can you chalk up poor health to bad luck? That's the question that has dogged J.J. for the last few years. He takes heart in the fact that his string of injuries have been unrelated fluke occurences. J.J. has also worked hard to strengthen his body. At 6-2 and 190 pounds, he is in the best shape of his life.

Defensively, J.J. is intelligent and polished. In the Milwaukee infield, there's no question who is in charge. J.J. positions himself well and makes the routine plays look easy. That's why you might not see him as often as other shortstops on the highlight reels.

J.J. power surge in 2007 caught a lot of people off-guard—though not necessarily those in the Brewers' organization. They always believes he would develop into a gap hitter with extra-base pop. J.J. is well suited to bat second in the order. His home run and RBI production make him all the more dangerous to opposing pitchers.
View the full website biography of J. J. Hardy.