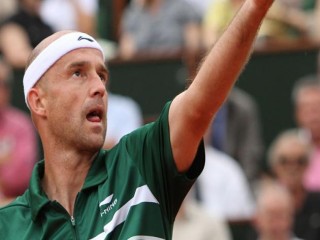 Ivan Ljubicic
Date of birth : 1979-03-19
Date of death : -
Birthplace : Banja Luka, Yugoslavia
Nationality : Croatian
Category : Sports
Last modified : 2012-02-05
Ivan Ljubicic is a Croatian tennis player born in Bosnia and Herzegovina (then Yugoslavia). His career-high ATP ranking to date has been no. 3, and he stands at no. 37. Ljubicic was born to a Bosnian Croat father Marko, and a Bosniak mother Hazira. He started playing tennis as a child in 1988, and he soon won his first local awards as a junior. In May 1992, because of the war in Bosnia and Herzegovina, the Ljubičić family left Banja Luka, and Ivan, his mother and his brother moved to Opatija, Croatia, while his father was unable to leave. In November 1992, they were reunited and moved to Rijeka.

Ljubicic entered professional tennis in 1998 and played in the final of the ATP Challenger in Zagreb, where he lost to Alberto Berasategui. He played a number of smaller tournaments the same year, but had little success and finished the year as no. 293.

Ivan Ljubicic became famous when he was with Croatia against the United States in the first round of the Davis Cup took 2005th First, he defeated Andre Agassi in three sets. The following day Ljubičić beat on the side of Mario Ancic , surprisingly, the top double Bob Bryan / Mike Bryan . On Matchday Ljubicic defeated yet Andy Roddick in a five-set thriller, which meant that the first time Americans back home in the first round of Davis Cup were eliminated. Ljubicic continued his winning streak in Davis Cup and almost single-handedly led Croatia to Davis Cup win.

In 2006, he was able to initially build on its achievements from the previous year. He won three tournaments (Chennai, Zagreb and Vienna). He also reached the semifinals at Roland Garros. After an argument, he took over as Croatia's Davis Cup captain Playing team after a victory against Austria and then retired from Croatia against Argentina.The 2007 season began with his 7th Ljubicic career titles in Doha. In addition, he was in Zagreb and Rotterdam in the finals, but lost both finals in short supply.

His major triumph celebrated Ljubicic in March 2010, when he for the fourth final of the inaugural tournament in a Masters series was eventually successful and the Indian Wells Masters won.

Ljubicic had a solid 2011, reaching the latter rounds of the Monte Carlo clay-court tournament and the third round at Wimbledon, where he lost to Andy Murray. Ljubicic lost to David Nalbandian in the second round at the US Open.

He reached the finals in Metz in September, where he lost to Jo-Wilfried Tsonga 3–6, 7–6, 3–6. He reached the semifinals of the China Open, but lost to Marin Čilić 4–6, 3–6.

On January 30th, Ivan Ljubicic was pushed to three sets Monday in first-round play of the PBZ Zagreb Indoors tennis tournament in Croatia. Ljubicic got past Karol Beck 7-6 (7-5), 3-6, 6-3. Two days later, on February 1st he lost to Michael Berrer in 6-4, 6-4 match.


View the full website biography of Ivan Ljubicic.