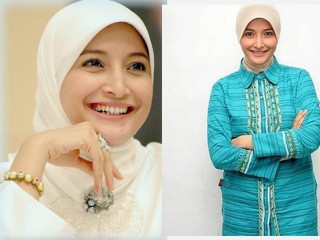 Inneke Koesherawati
Date of birth : 1975-12-13
Date of death : -
Birthplace : Jakarta, Indonesia
Nationality : Indonesian
Category : Arts and Entertainment
Last modified : 2011-01-05
Inneke Koesherawati former actress sex bomb era of the 90s, this has totally changed since 2001. This dimpled sweet artists decide forever to wear the hijab. Whatever happens Inneke steady wear. He believes that the headscarf should also be followed by changes in daily behavior.

He did not want to be covered but did not give an example to those who are not veiled. Asked about the influence on his career, Inneke was not afraid because he believed hampered rejekinya fortune comes from God.

According to him, his decision to wear hijab or not because it follows the trend because the desire of others, but solely because the heart call to follow God's way. Saidah time in the Tower, where Inneke and several other artists held a recitation during Ramadan, Inneke many heard lectures that made him more understanding of Islamic teachings.

Inneke Koesherawati decision to wear the hijab is regarded as a surprise at that time. Because, Inneke the 90s decade, including sex bomb actress who played in the national hot movies. More than 20 films starred. Women born in Jakarta, December 13, 1975 was the first time acting in big screen when the movie Disco DJ (1990).

His role in the film begins growing bolder Gadis Metropolis (1991) until Pergaulan Metropolis II (1995). But shortly afterwards, he began to "slam the steering" and take serious roles with starring in soap operas "Tirai Sutera" (1996), "Tirai Kasih Yang Terkoyak(1997), until Ramadan soap opera "PadaMU Aku Bersimpuh" (2001). Inneke began seriously studying acting from Citra Award-winning actor, Alex Komang (1995) and Tio Pakusadewo (1991).

Changes in appearance seems to bring a blessing for him. Thanks to the excellent role as presenter of the program''Q-fit''which was broadcast during Ramadan and then on a private television station, Inneke predicate won the Best Host cities Ramadan Indonesian Ulema Council (MUI) in 2002, beating two competitors weight; Dewi Huges and Igo Ilham (Fatahillah film actor). Here, he is able to prove themselves want to do a total change.

Alluding to his past is somewhat gray, Inneke thought had passed and most importantly for him now is to see into the future. All sections are used to decorate clothing Inneke body, had entered the closet and do not want to be touched again, even some that have been cast away with selling it to those who are interested.

View the full website biography of Inneke Koesherawati.