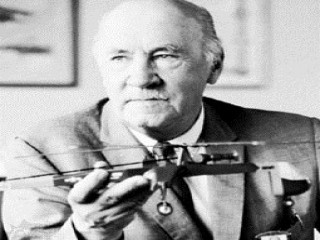 Igor Sikorsky
Date of birth : 1889-05-25
Date of death : 1972-10-26
Birthplace : Kiev, Russia
Nationality : Russian-American
Category : Arhitecture and Engineering
Last modified : 2011-06-27
Igor Sikorsky was born in Kiev, Russia, where his father was a professor of psychology at St. Vladimir University. Following his graduation from the Naval Academy at St. Petersburg, he studied in Paris and at the Polytechnic Institute in Kiev. While in Germany in 1908, he heard of the dirigible flights of Count Zeppelin and returned to Paris to study aviation. At the age of 20 he built his first helicopter. He then turned to more conventional planes, and in 1910 his S-2 achieved some success. In 1913 he built the world's first four-engine plane, the Grand, which was adopted by the Russian army and used during World War I.
Sikorsky was not sympathetic with the Bolshevik Revolution of 1917 and in 1918 left for Paris, where he lost money attempting to build his aircraft. In 1919 he came to the United States, hoping to find a broader opportunity to exercise his engineering talents. His initial experience was discouraging, and he was forced to take a teaching position in a school for Russian immigrants. Then, in 1923, he joined with other Russian refugees to form the Sikorsky Aero Engineering Company. The composer and concert pianist Sergei Rachmaninov was a large investor and became vice president of the new firm.
Within a few years the firm became a part of the giant United Aircraft and Transport Company. Sikorsky and his fellow Russians were excellent engineers but poor businessmen. In 1928 they began work on large flying boats for Pan American Airways and lost $1 million on the contracts. In 1929 Sikorsky sold 56 "aerial yachts" to wealthy subscribers, most of whom were deeply involved in the stock market. When the market crashed in October 1929, they defaulted and left Sikorsky in a difficult financial situation.
United took closer charge of Sikorsky's business but continued to support his work on flying boats, which culminated with the building of the S-42 Clipper Ship for Pan American. These were magnificent engineering achievements but still lost money for the firm. Their construction was abandoned in 1938. United, however, fortunately chose to support Sikorsky in a return to his early work on helicopters.
The helicopter had long been realized to be theoretically workable, and a number of people during the 1920s and 1930s, both in the United States and abroad, experimented with its design. In 1939 Sikorsky tested his VS-300, the first truly practical helicopter. His success lay partly in his use of propeller blades the pitch of which could be controlled so as to change the direction of flight. During World War II helicopters were not used until 1944, and their real contributions to both war and peace came only in the 1950s, when Sikorsky was one of the leading manufacturers in the field.
View the full website biography of Igor Sikorsky.