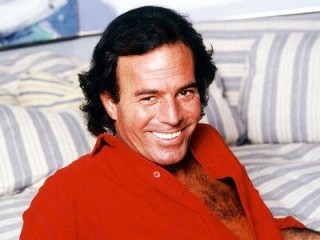 Iglesias, Julio
Date of birth : 1943-09-23
Date of death : -
Birthplace : Madrid, Spain
Nationality : Spanish
Category : Arts and Entertainment
Last modified : 2010-04-26
Julio Iglesias (born September 23, 1943) is a Spanish singer who has sold over 200 million albums worldwide in 14 languages and released 77 albums. According to Sony Music Entertainment, he is one of the top 10 best selling music artists in history. While Iglesias rose to international prominence in the 1970s and 1980s as a performer of romantic ballads, his success has continued on as he entered new musical endeavors.

Iglesias was born Julio José Iglesias de la Cueva in Madrid, the eldest son of Dr. Julio Iglesias Puga and Maria del Rosario de la Cueva y Perignat. Iglesias' father's family was from Galicia and Iglesias' mother, who was of Jewish origin, traced her ancestry to Andalusia, Puerto Rico and Cuba. He has a younger brother, Carlos. When Iglesias was 61 years old, his 89 year old father produced more children: half brother Jaime born in May 18, 2004, half-sister Ruth born in July 26, 2006. Julio's siblings were born to Dr. Iglesias Puga's second marriage to Ronna Keitt.

In the 1960s, he studied law in Madrid and was a goalkeeper for one of Real Madrid's football (soccer) team, however, a car crash in September 22, 1963, ended his soccer career:
I had a car accident; [a] very, very strange car accident . . . I lost control of the car and rolled it, resulting in what they call 'paraparexia', which is not a paraplegi[a]. It's a compression in the [spinal] cord, in the sense of the neck . . . my spinal cord; and I was very, very ill for three years.
His doctors thought he would never walk again, but slowly, he began recovering his health. To develop and increase the dexterity of his hands, he began playing guitar. When he recovered from his accident, he resumed academic studies and travelled to the United Kingdom to study the English language, first in Ramsgate, then at Bell Educational Trust's Language School in Cambridge.

In 1971, he married a Filipina journalist, and model, Isabel Preysler and had three children, Chabeli Iglesias, Julio Iglesias Jr. and Enrique Iglesias. Their marriage was annulled in 1979. Iglesias is now married to former Dutch model, Miranda Rijnsburger, with whom he has three sons and twin daughters: Miguel (born September 7, 1997), Rodrigo (born April 3, 1999), Victoria and Cristina (born May 1, 2001) and Guillermo (born May 5, 2007).

Music career

In 1968, he won the Benidorm International Song Festival, a songwriter's event in Spain, with the song "La Vida Sigue Igual" and signed a deal with Discos Columbia, the Spanish branch of the Columbia Records company. He represented Spain in the 1970 Eurovision Song Contest, earning fourth place, after Northern Irish singer Dana and the Welsh singer Mary Hopkin. His entry was the song "Gwendolyne". Shortly after he had a number one hit in many European countries with "Un Canto A Galicia". That single sold 1 million copies in Germany. In 1975 he found success in the Italian market by recording a song exclusively in Italian called "Se mi lasci non vale" ("If you leave me, it can't be"). Notable albums from this decade are A Flor de Piel (1974, with the European hit "Manuela"), "El Amor" (1975) and "Soy" (1978). He also sang in French. One of his popular songs is "Je n'ai pas changé".

Following the annulment of his marriage to Preysler in 1979, he moved to Miami, Florida, in the United States and signed a deal with CBS International, and started singing in different languages such as English, French, Portuguese, German and other languages to his music. Iglesias released the album De Niña a Mujer (1981), from it came the first English-language hit, a Spanish cover of "Begin the Beguine" which became number 1 in the United Kingdom, he also released a collection, Julio (1983). In 1984, he released 1100 Bel Air Place, the hit album which gave him publicity in the English speaking entertainment industry. It sold three million albums in the United States, with the first single "To All the Girls I've Loved Before", a duet with Willie Nelson, earning a fifth place spot in the Billboard Hot 100; it also featured "All of You", with Diana Ross.

In 1985, Julio Iglesias, Sr, was kidnapped, but found alive two weeks later, prompting Julio Iglesias to move his children to Miami, Florida. That year he recorded duets with Diana Ross and Willie Nelson. Iglesias won a Grammy Award for Best Latin Pop Album in the 1988 Grammy Awards for the album Un Hombre Solo (A Man Alone). He recorded a duet with Stevie Wonder on "My Love", in his Non Stop album, a crossover success in 1988. In the 1990s, Iglesias returned to his original Spanish melody in Tango (1996), nominated for Best Latin Pop Album at the 1998 Grammy Awards, losing to the Romances album by Mexican singer, Luis Miguel. Also that year, his youngest son from his first marriage, Enrique Iglesias, also was nominated for the Vivir album.

Julio Iglesias went on to win the World Music Award for Tango in Monaco later that year where he was up against singer Luis Miguel and son Enrique for the second time. Julio performed two "Tangos" to the delight of the audience. In 1995 he appeared as a guest star in the videoclip of Thalía's song "Amandote"; she had starred in the video clip of Iglesias's hit "Baila Morena". Iglesias returned to the headlines in October, 2003, when he went to Argentina and kissed show host Susana Giménez three times during a live telecast of her show.

In 2003, he release his album Divorcio (Divorce). In its first day of sales, Divorcio sold a record 350,000 albums in Spain; and reached the number 1 spot on the charts in Spain, Portugal, France, Italy and Russia.

In 2003 and 2004, he was featured on a ten month world tour; which took Iglesias, aided by the success his album Divorcio and toured from Europe and Asia to North America, South America and Africa. More than half the shows on the tour sold out within days of going on sale. In December 2004, his Dutch girlfriend Miranda Rijnsburger and Iglesias himself recorded a duet of the Christmas song "Silent Night". The song, which was not officially released, also included a voice message from Iglesias, Rijnsburger and their 4 young children. The song was released online through the singer's official website and a CD was included on their Christmas card as a holiday gift from the Iglesias family to their friends and fans around the world.

In 2008, Iglesias recorded another song as a gift to his fans. The family recorded "The Little Drummer Boy" in Spanish and English and included it in the family's Christmas card. Iglesias also made investments in the Dominican Republic's eastern town of Punta Cana, a major tourist destination, where he spends most of the year when he is not on tour. Iglesias' south Florida mansion on the exclusive private Indian Creek Island property was placed on the market in 2006 for a quoted $28 million dollars, making it one of "Ten Most Expensive Homes in the South" in 2006 according to Forbes Magazine.

In September 2006 a new English album titled Romantic Classics was released. Iglesias stated "I've chosen songs from the 1960s, 1970s and 1980s that I believe will come to be regarded as the new standards," he says in the album's sleeve notes. The album features the hits "I Want To Know What Love Is", "Careless Whisper" and "Right Here Waiting". Romantic Classics was Iglesias's highest debut on the Billboard charts entering at number 31 in the United States, 21 in Canada, 10 in Australia and top spots across Europe and Asia. He returned to the studio to record songs in Filipino and Indonesian for his Asian releases of Romantic Classics which helped propel record sales in the Asian entertainment industry. Iglesias promoted Romantic Classics in 2006 and was seen all over the world on Television shows and in the United States, he appeared on Dancing With The Stars where he sang his hit "I Want To know what Love Is," "Good Morning America," "The View," "Fox and Friends" and "Martha Stewart."

In 2008, Iglesias promoted his Romantic Classics album worldwide and in 2009-2010, he plans for a world tour as a celebration of forty years in the music industry.
View the full website biography of Iglesias, Julio.