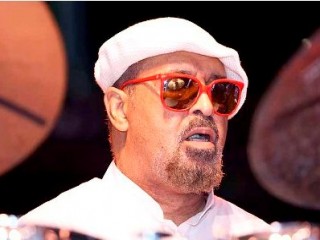 Idris Muhammad
Date of birth : 1939-11-13
Date of death : -
Birthplace : New Orleans, Louisiana, U.S.
Nationality : American
Category : Arts and Entertainment
Last modified : 2012-01-04
Idris Muhammad is a jazz drummer. He changed his name in the 1960s upon his conversion to Islam. He is known for his funky playing style.

He has released a number of albums as leader, and has played with a number of jazz legends including Lou Donaldson, Johnny Griffin, Pharoah Sanders and Grover Washington, Jr. He has been touring and recording with pianist Ahmad Jamal since 1995. At 15 years-old, one of Muhammad's earliest recorded sessions as a drummer was on Fats Domino's 1956 hit "Blueberry Hill".

Idris Muhammad played on classic 1960s pop hits such as "You Talk Too Much" and "Working in a Coal Mine," was the original percussionist for the Broadway musical Hair, and toured with Sam Cooke, Jackie Wilson, and Roberta Flack, among many others. He also recorded a series of jazz-funk albums beginning with Black Rhythm Revolution in 1970. After moving to Britain in the 1980s and eventually settling in Austria in the 1990s, Muhammad remained in demand on jazz and R&B concert stages around the world. In 2002, Legacy Records reissued his 1974 album Power of Soul, which generated further interest in Muhammad as one of the best jazz drummers of his generation. The continued acclaim made retirement seem a remote possibility. As Muhammad joked in a 2002 interview with R.J. DeLuke of All About Jazz online, "I've been on the road for forty-seven years and I'm thinkin' that I don't really want to die out here.... I just wanna enjoy life a little bit and have good vibes and spirits around me."

Muhammad was born Leo Morris on November 13, 1939, in New Orleans, Louisiana. His father was from Pakistan and his mother was from France. The couple had four sons--all of whom grew up playing the drums--and one daughter. The Morris family's neighborhood was a multicultural mix typical of New Orleans, where various ethnicities blended together to create new cultural forms, particularly through their music. As Muhammad described the environment in an interview with the All About Jazz, "The guys in the neighborhood, they used to just start playin' at one of the guy's houses. The next thing you know, they'd come out in the streets and they would go from bar to bar. And the people would follow them. I was a young kid, excited about the music. I used to go and march with the band."

Muhammad's professional debut came when he was just nine years old and a Mardi Gras troupe came to his house looking for a drummer. All of his older brothers were busy, so the band asked Muhammad if he would join them. After playing the bass drum on the group's float, Muhammad was surprised to receive ten dollars for his efforts. He also enjoyed the attention he got, especially from the girls in his grade school class. As he joked in a 2001 interview with Jonathan Tabak of the New Orleans magazine Offbeat, "Suddenly, I had money and I had a girlfriend." He added, "I stopped everything, man, and I went to practice the drums. Because I had ten dollars ... I gave my mother five and said, 'I'm going to be a musician.' That changed my whole life." Aside from one formal lesson, Muhammad was almost entirely self-taught; the rest of his training came from occasional tips from other drummers.

As a teenager Muhammad began to record and tour with some of the legendary R&B stars of the day, including Fats Domino, Lloyd Price, and Jerry Butler. In 1960 he played drums on the number-three pop hit "You Talk Too Much" by New Orleans singer and pianist Joe Jones. Around that time he secured a regular touring gig with singer Sam Cooke, who was impressed with Muhammad's talent after an impromptu audition in a New Orleans diner. As Muhammad told Offbeat, "I introduce myself and he's talking and eating and he says, 'Man, you know any of my songs?' I said, 'Yeah.' So he starts to singing and I start playing on the table and he hired me. Played the Municipal Auditorium that night, no rehearsal." Muhammad stayed with Cooke's review for two years before settling down in New York City, where he became a house drummer at the famed Apollo Theater in Harlem. In 1966 he made another memorable appearance on the pop chart with his drumming on the top-ten single "Working in a Coal Mine" by New Orleans singer Lee Dorsey.

Around 1966, when he began touring with alto saxophonist Lou Donaldson, the drummer changed his name and began performing as Idris Muhammad. He stayed with Donaldson's band for almost four years before securing another long-running gig as the original drummer for the Broadway musical Hair. "We were on Broadway four years and a half on that play," Muhammad recalled in an interview with All About Jazz. "And the drum rhythms from Hair belong to me. It's mine. I created it. A guy gave me forty-three pages of chord changes, with just titles on it. And I made up all these rhythms." One of the most successful stage productions of the day, Hair ran on Broadway from its debut in 1968 until 1972 and in regional and international productions after that. Married by that time and the father of four children, Muhammad was glad for the steady work. As he told All About Jazz, "I bought a house in New Jersey. So I was busy trying to work and take care of responsibilities. Not trying to be so famous."

Although Muhammad shied away from the spotlight, he was by now one of the most respected drummers among R&B, jazz, and pop performers. After his stint with Hair ended, he accepted a long-standing offer by singer Roberta Flack to join her touring band. He remained in Flack's lineup for four years before taking a break to explore his roots with an extended trip to Pakistan and India. After his return, Muhammad toured with tenor saxophonist Johnny Griffin, tenor and alto saxophonist Pharoah Sanders, and tenor and alto saxophonist George Coleman. In the mid-1980s Muhammad moved to Britain, where he remained a sought-after session musician in between his touring duties. Around 1990 Muhammad moved once again, this time to Austria.

Muhammad's recorded output as a bandleader began with the release of Black Rhythm Revolution in 1970. He followed it with Peace and Rhythm in 1971 and, perhaps his most acclaimed work, Power of Soul, in 1974. Although he was usually categorized as a jazz performer, each release furthered his reputation as a diverse musical stylist who incorporated soul, funk, R&B, pop, and jazz influences into a distinctive style all his own. Muhammad recorded eight albums during the 1970s as a bandleader and an additional two during the following decade. Two more followed in the 1990s, My Turn (1993) and Right Now (1998). As a studio musician on other artists' recordings, Muhammad's appearances numbered in the hundreds.

Muhammad remained a sought-after concert performer into his sixties. Although he spoke of retiring and moving back to the United States, he continued to make his home in Austria. Despite his expatriate status, Muhammad's heart remained in his hometown of New Orleans, which he credited with endowing him with his unique abilities as a drummer. "We have a thing with drummers, man, that doesn't happen no where else in the world," he described the city to Offbeat. "I mean really, they've got some rhythms that don't happen no place in the world, and can't nobody else play these rhythms.... My drum playing came from dancing in New Orleans in the street bands underneath the bass drum player. I can remember thinking as a kid, 'I don't know why, but I like that bass drum.'"

Selected discography:
-Black Rhythm Revolution , Prestige, 1970.
-Peace and Rhythm , Prestige, 1971.
-The Legends of Acid Jazz , Prestige, 1970-71; reissued, 1996.
-Power of Soul , Kudu, 1974; reissued, Legacy, 2002.
-House of the Rising Sun , Kudu, 1976.
-Turn This Mutha Out , Kudu, 1977.
-Boogie to the Top , Kudu, 1978.
-Fox Huntin' , Fantasy, 1979.
-You Ain't No Friend of Mine , Fantasy, 1979.
-Make It Count , Fantasy, 1980.
-Kabsha , Theresa, 1980.
-My Turn , Lipstick, 1993.
-Right Now , Cannonball, 1998.
View the full website biography of Idris Muhammad .