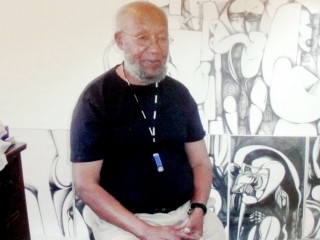 Ibrahim El-Salahi
Date of birth : 1930-09-05
Date of death : -
Birthplace : Omdurman, Sudan
Nationality : Sudanese
Category : Arts and Entertainment
Last modified : 0000-00-00
Ibrahim el-Salahi is a Sudanese artist painter and former politician and diplomat.

After he studied Art at the School of Design of the Gordon Memorial College, currently the University of Khartoum, he later went to the Slade School of Fine Art in London from 1954-57. Some time he stayed in Perugia in Italy as well, to enlarge his knowledge of renaissance art. Back in Sudan, he taught at the School for Applied Arts in Khartoum.

In 1962 he received a UNESCO scholarship to the United States, from where he visited South America. From 1964 to 1965 he returned to the US with the support of the Rockefeller Foundation, and in 1966 he led the Sudanese delegation during the first Black Art Festival in Dakar.

El-Salahi was assistant cultural attaché at the Sudanese Embassy in London from 1969 to 1972, when he returned to Sudan as Director of Culture, then Undersecretary in the Ministry of Culture and Information until September 1975, when he was imprisoned without charge for six months. Afterwards he left the country, working for some years in Doha, Qatar before settling in Oxford, England.

He developed an own style and was one of the first artists to elaborate the Arabic calligraphy in his paintings. His work has developed through several phases. His first period during the fifties, sixties and seventies is dominated by elementary forms and lines. Then his work becomes rather meditative, abstract and organic. Subsequently his work is characterized by lines, while he mainly uses white and black paint.

In 2001, Ibrahim el-Salahi was honored with a Prince Claus Award from the Netherlands.

In the summer of 2013 El-Salahi will have a major retrospective show at Tate Modern, London.
View the full website biography of Ibrahim El-Salahi.