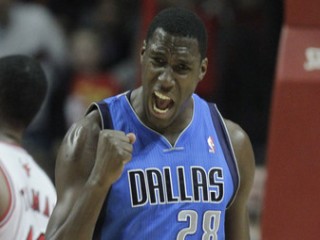 Ian Mahinmi
Date of birth : 1986-11-05
Date of death : -
Birthplace : Rouen, France
Nationality : French
Category : Sports
Last modified : 2011-05-04
Ian Mahinmi is a French professional basketball player, currently playing for the Dallas Mavericks of the NBA. At 6'11" and 245 lbs., he plays the position of power forward and center. He formerly played for the San Antonio Spurs.

Career history:

2003–2006 STB Le Havre (France)
2006–2007 ÉB Pau-Orthez (France)
2007 San Antonio Spurs
2007–2009 →Austin Toros (D-League)
2009–2010 San Antonio Spurs
2010–present Dallas Mavericks

CAREER:

Selected by the Spurs in the fi rst round of the 2005 NBA Draft (with the 28th overall pick) … signed by the Spurs on 8/23/07 … spent the previous four seasons in the French A League … played three seasons with Le Havre before joining Pau-Orthez for the 2006–07 campaign … named a French League All-Star in 2006 (had 6 points and 6 rebounds in the game) … made his French League debut in 2003 … for the 2003–04 season appeared in three games averaging 1.7 points in 4.0 minutes for Le Havre … during the 2004–05 campaign averaged 6.0 points and 4.0 rebounds in 16.8 minutes in 31 games … averaged 9.7 points and 5.2 rebounds in 19.9 minutes in 33 games during the 2005–06 season … shot .561 (119-212) from the fi eld and .618 (81-131) from the line … member of the French team that captured the bronze at the 2004 European Junior Championship (one of his teammates in the tournament was Pierre Parker) … played for France in the 2005 European Under-20 Championship … in the tournament saw action in eight games averaging 7.4 points and 5.1 rebounds … played for the Spurs squad in the 2006 Rocky Mountain Revue … in six games averaged 8.3 points and 5.7 rebounds … played for the Spurs in the 2008 Vegas Summer League and the 2008 Rocky Mountain Revue … in the Vegas Summer League averaged a team-high 14.0 points and a team-best 9.0 rebounds in 30.7 minutes in three games … played in three games in the Rocky Mountain Revue and averaged 12.7 points and 5.7 rebounds in 25.7 minutes … participated in the 2009 Vegas Summer League … in fi ve games averaged 10.8 points, 7.0 rebounds and 2.00 blocks in 27.1 minutes … shot .500 (14-28) from the fi eld and .813 (26-32) from the line.

2009-10:
Appeared in 26 games for SA, averaging 3.9 points and 2.0 rebounds in 6.3 minutes…shot 63.6% (35-55 FGs) from the floor and 66.0% (31-47 FTs) from the free throw line…10+ points 4 times…career- high 15 points (6-6 FGs, 3-4 FTs) and 9 rebounds vs. NJ (1/10/10)… 14 points (4-7 FGs, 6-12 FTs) and 7 rebounds vs. MIN (4/12/10)…12 points (6-9 FGs) and 6 rebounds vs. GS (3/19/10)…10 points (4-7 FGs, 2-2 FTs) at ORL (3/17/10)…8 points (3-3 FGs, 2-3 FTs) and 5 rebounds at HOU (2/26/10)…18 DNP-CDs…inactive for 38 games. 2008–09: Missed the entire season due to a right ankle injury … originally suffered the injury during a workout in the summer of 2008 … assigned to the Austin Toros (of the NBA Development League) on 11/14 … saw action in one game with the Toros (4 points and 2 assists in 21 minutes) before being recalled to the Spurs on 12/2 … underwent surgery on his right ankle on 1/31 … assigned to the Toros on 4/2… did not appear in any of the Toros playoff games.

PERSONAL:

Born and raised in Rouen, France…his mother is from Jamaica and his father is from Benin…has two brothers and two sisters… his older brother played professional soccer in Canada… lists Remember the Titans as his favorite movie…enjoys traveling with Greece being his favorite destination…is comfortable with either the English (Ian) or French (Yan) pronunciation of his name…says his dad calls him Ian while his mom refers to him as Yan.

View the full website biography of Ian Mahinmi.