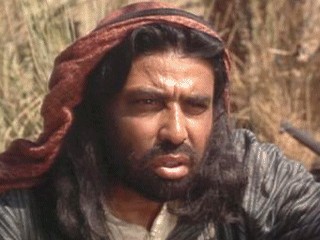 I. S. Johar
Date of birth : 1920-02-16
Date of death : 1984-03-10
Birthplace : Talagang, India (now in Pakistan)
Nationality : Indian
Category : Arts and Entertainment
Last modified : 2011-07-19
Inder Sen Johar, better known as I. S. Johar, was an Indian actor, writer, producer and director.

He was born in Talagang (now in Pakistan) during the British Raj. He did his Bachelor of Arts at F.C. College, Lahore where he became interested in film. "Bollywood" at the time was located in major film studios in Lahore, making both Hindi and Punjabi films, and Johar had the usual "pull yourself up by your bootstraps" apprenticeship, as production assistant, screenwriter and finally director's assistant and an actor in front of the camera.

Thd Partition of India prompted the migration of many established luminaries of the Indian cinema, such as Prithviraj Kapoor, who migrated to Bombay (now known as Mumbai). In 1947, during the Partition crisis, Johar was visiting Patiala with his family for a wedding, when riots broke out back home in Lahore. He could never go back, and thereafter he worked in Jalandhar for a while, and his family remained in Delhi, before he eventually he moved to Bombay, where he made his acting debut with Roop K Shorey's, Ek Thi Ladki (1949).

He acted in numerous Hindi films from the 1950s through to the early 1980s and played cameos in international films such as Harry Black (1958), North West Frontier (1959), Lawrence of Arabia (1962) and Death on the Nile (1978), besides acting in Maya (1967), a US TV series. He also appeared in Punjabi films, including Chaddian Di Doli (1966), Nanak Naam Jahaaz Hai (1969) with Prithviraj Kapoor, and Yamla Jatt with Helen.

I. S. Johar also wrote and directed films, some of which included Johar Mehmood in Goa and Johar Mehmood in Hong Kong in which he co-starred with comedian Mehmood. These were inspired by comedy films of the Bob Hope-Bing Crosby style Road to... series. That being said, Johar was a unique and idiosyncratic individual, a lifelong liberal (if not a libertine: he had five marriages, an extraordinary number by Indian standards, both then and now) who poked fun at all forms of institutionalized self-satisfied smugness - an attitude which did not endear him to the essentially hierarchical and conservative Indian establishment, and might have contributed to being relegated to making B-grade movies all his life, due to a lack of finding financing for his highly individual and quirky screenplays. In many of his films, both those he directed and those he acted in, his third wife Sonia Sahni was the leading lady, most notably in Johar Mahmood in Goa, 1964.

He also starred in films with his own surname in the title such as Mera Naam Johar, Johar in Kashmir and Johar in Bombay, which is a testament both to his immense egotism, as well as his popularity with the common masses - for whom a movie with the Johar name was a guarantee of easy laughs, as well as subtle ironic or frankly sarcastic jibes at Indian customs, mores, superstitions and institutions. His film Nasbandi (trans. Vasectomy) was a spoof on Prime Minister Indira Gandhi's failed policy of population control by coerced vasectomies during the period of Emergency and was "banned" when it was first released. Yash Chopra started his film career as an assistant director with I. S. Johar.

He died in Maharashtra, India in 1984 at the age of 64.

He married Ramma Bans in 1943 in Lahore, and the couple had a son and a daughter before they divorced. He had four more marriages after that. He has another daughter Ambika Johar,also appeared in some films in the late 1970s, including his own movie, Nasbandi (1978). His son, Anil Johar, appeared in 5 Rifles and Nasbandi.
View the full website biography of I. S. Johar .