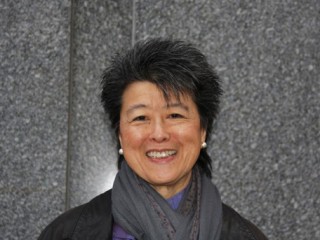 Helen Zia
Date of birth : -
Date of death : -
Birthplace : Newark, New Jersey, United States
Nationality : American
Category : Famous Figures
Last modified : 2010-09-10
"Sidelights"

Beyond her work as an author and an award-winning journalist, Helen Zia has been a force behind Asian American activism. Zia was a leader in the fight for justice in the case of Vincent Chin, a Chinese-American killed in a racially motivated bar fight in 1982. This case marked a transitional period in the Asian American movement from obscurity to visibility. Zia became one of the cofounders of American Citizens for Justice, and later served as the president of the Asian American Journalists Association. Her work for civil rights extends beyond her efforts on behalf of Asian Americans to the labor and feminist and gay and lesbian movements.

Zia's first two titles are reference volumes. Asian American Biography offers short biographies of more than 130 Asian American men and women, and is geared to younger readers. The text features entertainers, politicians, academics, civil rights activists, scientists, athletes, and religious figures. Ilene F. Rockman, a critic for American Reference Books Annual, wrote that "this biographical set will be welcomed. ... It is an inspiring tool, especially for young Asian Americans looking for role models." Notable Asian Americans, a biographical reference volume for middle schoolers, features nearly 250 essays. It was called "a welcome starting place for biographical information on Asian and Pacific Island Americans" by Reference Quarterly reviewer J. Christina Smith.

In Asian American Dreams: The Emergence of an American People, Zia focuses on the social history of Asian Americans, using autobiographical vignettes to supplement her telling. The book was called "a kind of racial coming out tale" by Andrew Hsiao in Village Voice, who noted that "one of Zia's virtues is her demonstration of how Asian Americans have built a national infrastructure in the wake of calamity." Somini Sengupta, writing for the New York Times Book Review, commented that Asian American Dreams "is an important book because it seeks to answer a question that few other popular works pose: What does it take for people like the author to become fully American?" Library Journal critic Mee-Len Hom commented that "this well-written book is an important addition to the growing field of Asian American studies." As a Publishers Weekly reviewer concluded: "The recent boom in the Asian-American population ... coupled with Zia's fresh perspective, makes it unlikely that their stories will go missing again."

Zia wrote My Country Versus Me: The First-Hand Account by the Los Alamos Scientist Who Was Falsely Accused of Being a Spy with Wen Ho Lee, the scientist who in 1999 was arrested and indicted on fifty-nine counts of mishandling national security information. The main allegation, that he had passed on to the Chinese sensitive documents that enabled them to make a bomb similar to the W-88, was never substantiated. Other scientists argued that the Chinese could create a similar device from unclassified documents that were easily accessible from periodicals and Web sites, but Notra Trulock, head of counterintelligence at the Department of Energy, persisted in finding a spy.

Lee served 278 days in solitary confinement before being released. He was allowed to plead guilty to only one count on the condition that he cooperate in a full investigation. Much has been written about this case, and in this volume, the accused explains the reasons why he copied weapons code and data. He writes that his purpose was to protect it and that he had lost files in the 1980s after the lab changed its computer operating system. He admits that he failed to seek approval but claims that the data was of no use without the manuals and programs that support them. The book is also a memoir of his life, including his childhood in Taiwan and why he chose to work with well-funded weapons projects.

Wolfgang K.H. Panofsky noted in American Scientist that the book "emphasizes the anti-Chinese racial bias of many of the government investigators." Nation contributors Dusanka Miscevic and Peter Kwong noted that after Wen Ho Lee's release from prison, the majority of Americans polled expressed negative feelings toward Chinese Americans, and nearly half thought that Chinese Americans were passing secrets to China. The fallout from this case affected Chinese Americans in all walks of life. Miscevic and Kwong called the book "politically sophisticated. It shows the unmistakable imprint of his coauthor, Helen Zia, an experienced freelance journalist and a seasoned and respected Asian-American activist, who understood the significance of Wen Ho Lee's case in the context of American ethnic and civil rights politics."

PERSONAL INFORMATION

Born 1952. Education: Princeton University, B.A., 1973; attended Tufts University School of Medicine and Wayne State University. Memberships: Asian American Journalists Association.

AWARDS

Woman Warrior Award, Asian Pacific Women's Network, 1992; Chinese-American Journalist of the Year, Organization of Chinese- Americans, 1998; honorary LL.D. from City University of New York Law School.

CAREER

Worked variously as a construction laborer, autoworker, and community organizer; Metropolitan Detroit, Detroit, MI, associate editor, 1983-85; Meetings and Conventions, Secaucus, NJ, executive editor, 1985-86, editor-in-chief, 1987-89; Travel Weekly, Secaucus, NJ, editorial director, 1986-87; Ms., New York, NY, executive editor, 1989-92; WorldView Systems (electronic publishing company), San Francisco, CA, vice president, 1992-94. Activist for Asian American, gay and lesbian, and domestic violence causes and groups; cofounder of American Citizens for Justice; member of a delegation representing journalists of color at the 1995 Fourth United Nations World Congress on Women.

WRITINGS

* (Editor, with Susan B. Gall) Asian American Biography, U-X-L (Detroit, MI), 1995, revised edition published as U-X-L Asian American Biography (two volumes), Gale (Detroit, MI), 2004.

* (Executive editor, with Susan B. Gall) Notable Asian Americans, Gale (Detroit, MI), 1995.

* Asian American Dreams: The Emergence of an American People, Farrar, Straus Giroux (New York, NY), 2000.

* (With Wen Ho Lee) My Country Versus Me: The First-Hand Account by the Los Alamos Scientist Who Was Falsely Accused of Being a Spy, Hyperion (New York, NY), 2001.

Executive editor of Who's Who Among Asian Americans, Gale (Detroit, MI). Contributor to several anthologies and periodicals, including Nation, Essence, San Francisco Focus, A., Advocate, Bridge, Curve, OUT!, Social Policy, Soujourner, New York Times, Washington Post, San Francisco Chronicle, Detroit News, Ms., Quill, and Arizona Republic. Columnist for online magazines Underwire and Channel A.

MEDIA ADAPTATIONS
My Country Versus Me: The First-Hand Account by the Los Alamos Scientist Who Was Falsely Accused of Being a Spy was adapted for audio (unabridged; eight cassettes), read by Fred Stella, Brilliance, 2002.

View the full website biography of Helen Zia.