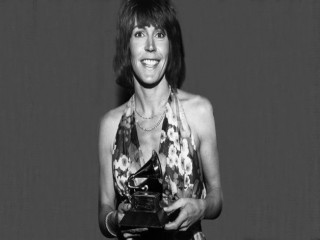 Helen Reddy
Date of birth : 1941-10-25
Date of death : -
Birthplace : Melbourne, Australia
Nationality : American
Category : Arts and Entertainment
Last modified : 2012-01-11
Helen Reddy, often referred to as "The Queen of 70s Pop", is an Australian-American singer and actress. In the 1970s, she enjoyed international success, especially in the United States, where she placed fifteen singles in the Top 40 of the Billboard Hot 100. She was also the first Australian to win a Grammy Award and to have three #1 hits in the same year.
In television, Helen was the first Australian to host her own one-hour weekly primetime variety show on an American network, along with several specials that were seen in over forty countries. Helen retired from live performance in 2002 and now practises as a clinical hypnotherapist and motivational speaker.

In 1971 Australian-born entertainer Helen Reddy wrote and recorded the pop song "I Am Woman," a celebration of female strengths and consciousness that became the anthem of the burgeoning women's liberation movement in her adopted United States. While not necessarily a staunch feminist, Reddy became identified with the movement nonetheless, a perception that quickly propelled her to stardom and narrowed her appeal once the fervor of feminism had died. Still, the pop singer with the clear country voice and strong, clipped delivery had cultivated loyal fans along the way, enough to keep her performing and recording into the 1990s. In a 1991 interview with Detroit Free Press reporter Judy Gerstel, the straight-talking Reddy related, "I can't say that I follow trends. I couldn't even tell you what's on the charts. That aspect of the music business applies to teenagers." To People correspondent Jeff Jarvis she remarked, "I think I'll be around for another 100 years."

Reddy was born into a show business family, the second daughter of vaudevillian performers. At age four she joined the act, singing and dancing; for most of her childhood she toured with her family until she was sent to boarding school for her education. Restless with the desire to perform, Helen left school at 15 to join a traveling theatrical company, where she continued to polish her singing and acting skills. Later, a stint as a vocalist with a band in Melbourne led to regular appearances on the popular late-night variety show Melbourne Tonight and a guest role on the long-running television series Sunnyside Up. At the age of 18 the performer was given her own television program, a 15-minute spot that aired twice weekly, called Helen Reddy Sings. Still, despite her prodigious success in her native country, the young entertainer was eager to continue her career in the United States.

In 1966 it appeared that Reddy would get her chance when she won a national talent contest that awarded her a trip to New York City and an audition with Mercury Records. Once she was in the United States, however, Mercury balked at its offer, and the vocalist had to support herself with any singing job she could find, including performing at weddings, hospitals, and resorts. When she was down to just a few dollars, her friends in New York threw a fund-raising party to keep her going. It was there she met talent agent Jeff Wald, a man whose hunger for success matched her own. The two married a few weeks later, and Wald became her manager. He also represented such performers as Tiny Tim, comedian George Carlin, and the rock group Deep Purple, and he used his extensive connections to secure nightclub engagements and television guest appearances for his wife. For the next few years, though, real success eluded Reddy, until a 1970 performance on The Tonight Show caught the attention of Capitol Records.

Reddy's first recording for Capitol was a favorite song, "I Believe in Music," with "I Don't Know How to Love Him" from the rock musical Jesus Christ Superstar on the flip side. Leaving nothing to chance, she and Wald drove from radio station to radio station handing out records that winter. The couple's perseverance paid off--"I Don't Know How to Love Him" charted for 22 weeks, prompting a follow-up album of the same title in 1971.

Reddy's "I Am Woman," co-written with Ray Burton, also appeared on the LP, but drew little attention until it was included on the soundtrack of Mike Frankovich's 1972 film about women's liberation, Stand Up and Be Counted. Pressed by Wald, Capitol reluctantly re-released the piece as a single--including an additional verse--while executives worried that the strident song would quash Reddy's fledgling career. Wald again distributed the record to radio stations around the country, and it reached Number One on the pop charts in late 1972.

"I Am Woman" sold more than one million copies, with 80 percent of those purchased by women. When Reddy won a Grammy Award for the song in 1973--edging out industry heavyweights Barbra Streisand, Aretha Franklin, and Roberta Flack--she accepted the award, thanking Wald and God "because She makes everything possible." With that declaration the singer became a willing spokesperson for the feminist movement and made her work ripe for interpretation. New York Sunday News critic Lillian Roxon, for example, wrote that Reddy can restate "a man's song ... so that it gives you the most amazing insight into the way a woman thinks and feels." Over the next five years, the vocalist recorded a dozen more Top Forty hits, including "Delta Dawn," "Leave Me Alone," "You and Me Against the World," "Angie Baby," and "Ain't No Way to Treat a Lady." She frequently performed at top clubs, on television, and in concert, her earnings approaching $30 million.

By the late 1970s, however, Reddy's popularity had waned considerably. Critics often cited the singer's lack of musical versatility; as one People writer put it, "The strident, acerbic edge that served her well on I Am Woman is not always useful." Discussing Reddy's 1979 album, Take What You Find, in Stereo Review, Peter Reilly concurred; while acknowledging the singer's technically accomplished voice, he regretted her "inability to transmit the tenderer emotions of pop music," adding that "she's fine on fire and ice, but hearts and flowers seem alternately to baffle and annoy her." Following poor-selling albums in 1981 and 1983, Reddy lost major-label representation. Still, she seemed unperturbed by the development, having explained to one reporter, according to Irwin Stambler in the Encyclopedia of Pop, Rock and Soul, "I'll always sing, but I would like that to become a smaller part of my life." Focusing more on writing, women's issues, and environmental concerns, the vocalist still performs regularly at clubs and corporate conventions around the country.

Selective Works:
-I Don't Know How to Love Him Capitol, 1971.
-Helen Reddy Capitol, 1971.
-I Am Woman Capitol, 1972.
-Long Hard Climb Capitol, 1973.
-Love Song for Jeffrey Capitol, 1974.
-Free and Easy Capitol, 1974.
-No Way to Treat a Lady Capitol, 1975.
-Helen Reddy's Greatest Hits Capitol, 1975.
-Music, Music Capitol, 1976.
-Ear Candy Capitol, 1977.
-Pete's Dragon (soundtrack), Capitol, 1977.
-We'll Sing in the Sunshine Capitol, 1978.
-Live in London Capitol, 1978.
-Take What You Find Capitol, 1979.
-Reddy Capitol, 1980.
-Play Me Out MCA, 1981.
-Imagination MCA, 1983.
-Lust for Life Pair, 1986.
-Feel So Young Helen Reddy, Inc.
View the full website biography of Helen Reddy.