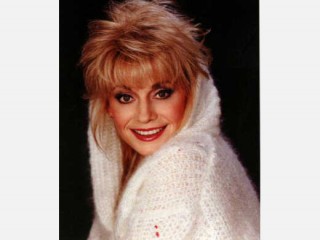 Helen Cornelius
Date of birth : 1941-12-06
Date of death : -
Birthplace : Monroe City, Missouri
Nationality : American
Category : Arts and Entertainment
Last modified : 2011-01-20
Helen Cornelius was known to country music fans as a singer/songwriter, but she also danced, acted, and played several instruments. She was born Helen Lorene Johnson in Monroe City, MO, and grew up on a farm with older brothers who played in bands. She and her sisters Judy and Sharon formed a trio, and their supportive father took the girls to their gigs. Eventually Cornelius left her sisters and began touring with her backup band, the Crossroads.

After graduating from high school, Cornelius married and worked as a secretary. She returned to touring during the '60s and became a songwriter, gaining recognition in 1970 when she was signed as a writer to Columbia/Screen Gems Music after submitting a demo tape. After the company folded, Cornelius sent a tape to Jerry Crutchfield and began working for MCA Music; he later helped her sign with Columbia Records. In 1973, she came to Nashville and recorded two unsuccessful singles, later signing to RCA. She released her first single for the label in 1975; neither it nor its follow-up charted.

The key to success proved to be Ferguson's pairing of Cornelius with Jim Ed Brown. The duo debuted in 1976 with "I Don't Want to Have to Marry You," which soon became a major hit. She again tried a solo single, "There's Always a Goodbye," but it did nothing. She had no other hits until her duet with Brown on "Saying Hello, Saying I Love You, Saying Goodbye" became a Top Three success. Later in 1976, the two began appearing regularly on the TV series Nashville on the Road. Cornelius went out on tour with Brown's road show and also made her debut on the Grand Ole Opry.

In 1978, she and Brown had more chart success with two Top 15 duet singles, "I'll Never Be Free" and "If the World Ran Out of Love Tonight," and Cornelius scored a solo hit with "What Cha Doin' After Midnight Baby." The Cornelius/Brown hit streak continued until 1981, when Cornelius, feeling as though she was losing her identity as a performer, decided to break up the duo. She then released "Love Never Comes Easy," which made it to the Top 50. Her next hit came in 1983, the year she also worked as a spokesperson for the Cystic Fibrosis Foundation. In 1984, Cornelius changed directions and joined the road revival of Annie Get Your Gun, also touring with the Statler Brothers. She released a self-titled album in 1985, and three years later, she joined Brown for the Reunited Tour '88.

The 1990s saw the grand opening of Helen Cornelius' Nashville South, located in the thick of Gatlinburg, TN, a thriving entertainment district. The facility featured live country entertainment by Cornelius and her band nightly, and saddles for stools in the cocktail lounge. 2002 and 2003 found Cornelius performing at the Jim Stafford theater in Branson, MO, as a rotating part of the women-in-country entertainment production Us Girls!.


View the full website biography of Helen Cornelius.