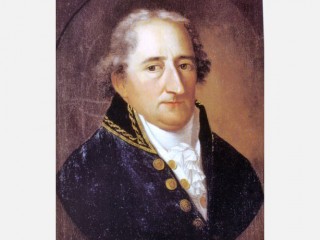 Heinrich Friedrich Karl Vom Und Zum Stein
Date of birth : 1757-10-26
Date of death : 1831-06-29
Birthplace : Nassau, Prussia
Nationality : Prussian
Category : Politics
Last modified : 2011-01-05
The Prussian statesman Baron Heinrich Friedrich Karl vom und zum Stein was the initiator and planner of the Prussian recovery after the collapse of 1806.
Baron Stein was born in Nassau on Oct. 26, 1757, the scion of an ancient knightly family. He studied at the University of Gottingen and entered the Prussian administrative service as an expert on mining in 1780. He served reliably but without extraordinary distinction in that capacity for a quarter century. Most of his service was in the detached Prussian provinces of Cleves and Jülich, a circumstance that led him to conclude that centralized absolutism of the sort that characterized most 18th-century states could not be made to work very well. In 1804 he was appointed minister of commerce but was dismissed after 2 years by Frederick William III for insisting too stridently on administrative reform.
Stein retired to his residence at Nassau and composed a memorandum in which he declared that the only way that Prussia could recover from its collapse at the hands of Napoleon was to turn away once and for all from sterile absolutism and to associate all of its people with the Crown in the great work of regeneration. This argument so impressed the King that he not only recalled Stein but appointed him prime minister with extensive and unprecedented powers (1807). Stein at once proclaimed an end to serfdom and opened all professions to every citizen. He decentralized the administration, transforming the larger towns into practically self-governing units, while standardizing administrative procedures throughout the realm. He also laid plans for calling to life elective assemblies which would share in the power of the Crown and which would be elected by all landowners.
Stein was unable to effect this last reform, as his conduct of foreign policy brought about his fall. Unable to obtain from a victorious Napoleon a reduction of the enormous indemnities he was demanding from Prussia, Stein tried to convince the Austrians to join Prussia in a renewal of the war. These negotiations came to the attention of the French, and at their insistence, Stein was once again dismissed (1808). Four years later he was called to Russia as special adviser to Czar Alexander I and there worked on behalf of the Russian government to bring Prussia back into the war against Napoleon, which he succeeded in doing in 1813. In his exile he had concluded that only a united Germany could prevail among its more powerful neighbors. But, as this notion pleased neither his King nor the all-powerful Austrian chancellor Prince Metternich, who preferred to see Germany continue divided into a multitude of independent and powerless states, many of which would be dependent on Austria's goodwill, Stein found himself isolated at the Congress of Vienna. He retired into private life in 1816 and died at his castle, Kappenberg, on June 29, 1831.
View the full website biography of Heinrich Friedrich Karl Vom Und Zum Stein.