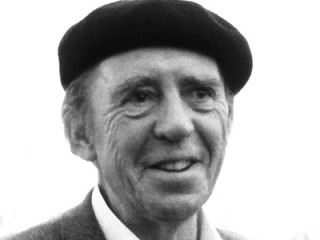 Heinrich Boll
Date of birth : 1917-12-21
Date of death : 1985-07-16
Birthplace : Cologne, Germany
Nationality : German
Category : Famous Figures
Last modified : 2011-06-02
One of Germany's most popular and prolific authors, Heinrich Böll gained international fame—winning the Nobel Prize in 1972—as a chronicler of the Federal German Republic (1949-1990). Critics have generally emphasized his strong ethical stance, which stemmed from his personal philosophy of Christian humanism and sympathy for the downtrodden.
Born in Cologne and raised by devout but liberal Roman Catholic parents, Böll embraced humanistic ideals early in life. As a schoolboy he stood up to peer pressure and refused to join the Hitler Youth. In 1939, however, he was drafted into the German infantry, serving throughout the war and suffering several wounds. Returning to Cologne after the war, he published his first short story in 1947. Critical and popular acclaim followed quickly, enabling Böll to devote his life to literature.
Böll's early works focus on the impact of Nazi rule on ordinary people, particularly soldiers like himself, affected by events beyond their control. In Der Zug war puenktlich (1949; The Train Was on Time), a haunting story of a soldier who foresees his own death while waiting to be transported to the eastern front, and Wo warst du, Adam? (1951; Adam, Where Art Thou?), he describes the horror and absurdity of war. As a writer, Böll reacted to the war with anger and condemnation. While revealing the complicity of respectable institutions, such as the Catholic church, in Hitler's political success in Germany, Böll points to the catastrophic consequences of Nazi policies. According to Wilhelm Johannes Schwarz, Böll's "predominant attitude to the war is disgust and vexation…. He tells only of its boredom, of filth and vermin, senselessness, and futile waste of time."
Postwar Germany is the setting of Boll's novels of the 1950s. Und sagte kein einziges Wort (1953; And Never Said a Word) relates a family man's difficulties in adjusting to civilian life. This novel received much critical attention and helped establish Böll's reputation as a master storyteller. Haus ohne Hueter (1954; The Unguarded House) is about the struggle for daily survival in a warn-torn city as experienced by two fatherless boys.
Böll's novels written in the 1950s and 1960s examine Germany's efforts to forge a new identity while exorcising the demons of its Nazi past. As in his earlier work, he approaches his subject from an individual's point of view. Always a perceptive and ironic oberver, Böll mercilessly uncovers the moral blindness, historical amnesia, rapacity, vulgar consumerism, and indifference to human values of a production-oriented society that adopts materialism as a means of forgetting its infernal past. In Ansichten eines Clowns (1963; The Clown), a frustrated performer exposes the hypocrisy of prosperous Germans, including his own family, who subordinate ethical principles to opportunistic concerns. Gruppenbild mit Dame (1971; Group Portrait with Lady), an ambitious work that received a mixed response from critics, is structured as a biography based on accounts by the protagonist's friends and acquaintances. Late works, such as Fuersorgliche Belagerung (1979; The Safety Net) and Frauen vor Flusslandschaft (1985; Women in a River Landscape), treat the complex political reality of the last decade of the Federal German Republic.
Critics have praised Boll for his ability to convey his feelings and ideas in simple, concise, and effective prose. Furthermore, some commentators view Böll's style as a conscious protest against the formal complexity of classical German literature, comparing his work to that of Ernest Hemingway, whom Böll himself cited as an influence. The directness and accessibility of Böll's prose especially comes to the fore in his witty portrayal of the absurdity of everyday life, as exemplified by his two short story collections, Wanderer, kommst du nach Spa (1950; Traveler, If You Come to the Spa) and 18 Stories (1966).
Although aware of his importance, critics have hesitated to bestow unqualified praise on Böll. As Robert C. Conard concluded: "Böll has never received universal critical acceptance, not even from those who find his stories some of the best written in the middle decades of the century. That sentimentalism and idealism dominate his work and that he cannot always adequately execute his intentions are the charges most often heard. Minor weaknesses in Böll's work, however, seem not to affect his popularity with a discriminating public. Already he stands in the company of two of his favorite writers: Dostoyevsky and Tolstoy. Like them, he has produced eminently readable work imbued with moral power."
View the full website biography of Heinrich Boll.